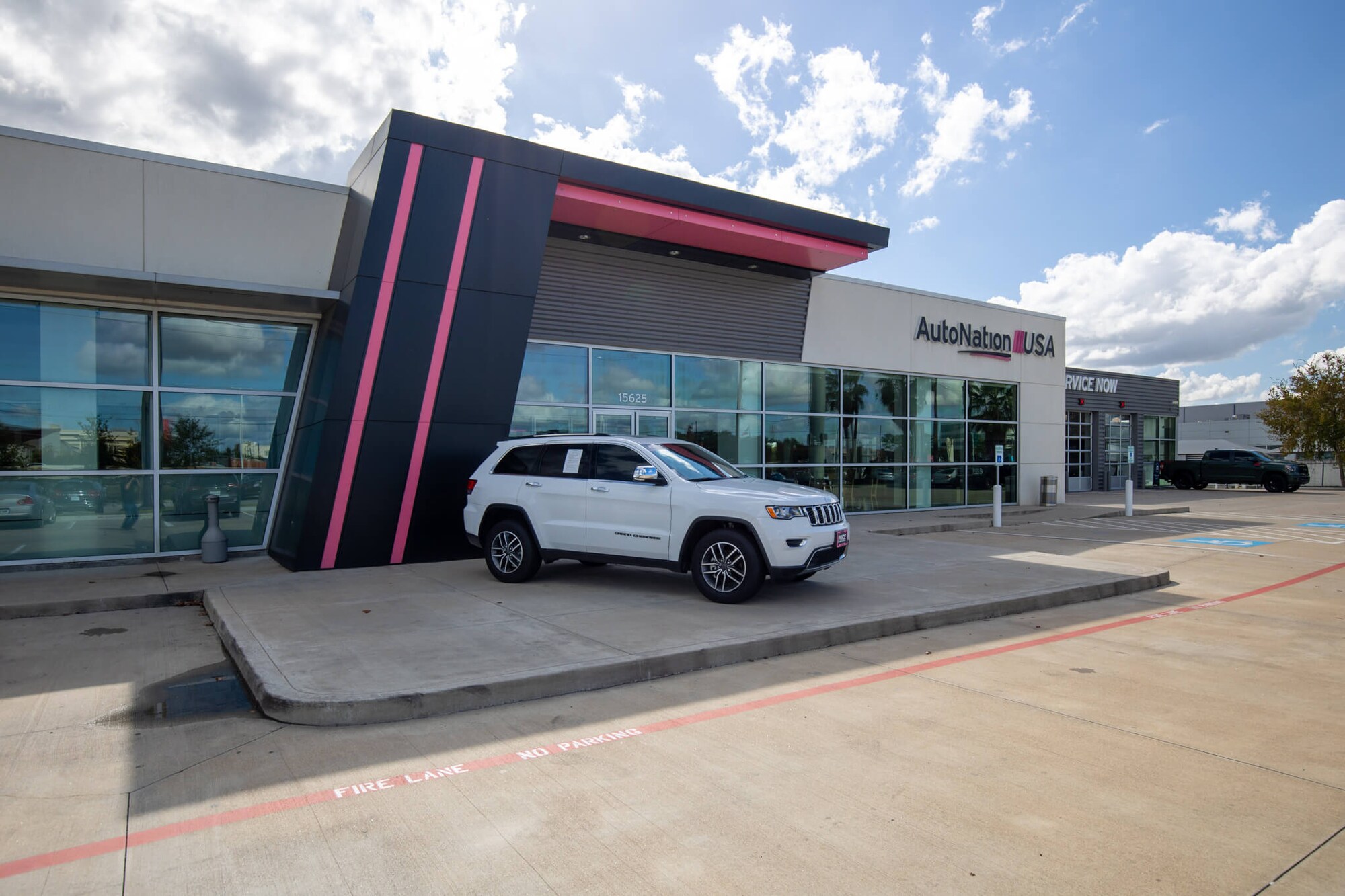 About AutoNation USA Katy
Looking to Sell Your Car in the Katy area? We've got you covered! We'll buy your car, no purchase necessary.
Browse thousands of quality pre-owned vehicles, each with a low no-haggle price.
Shop by Bodystyle at AutoNation USA in Katy
Shop By Used Car Brand in Katy
Top Used Models For Sale in Katy
Get in Touch
Contact Our Sales Department

:

(832) 436-0599
Monday

9:00am - 9:00pm

Tuesday

9:00am - 9:00pm

Wednesday

9:00am - 9:00pm

Thursday

9:00am - 9:00pm

Friday

9:00am - 9:00pm

Saturday

9:00am - 9:00pm

Sunday

Closed
Stress-Free Car-Shopping
Here at AutoNation USA Katy, it is our mission to be the automotive home of drivers in the Houston area. We provide a vast selection of used vehicles, exceptional car care and customer service with a smile!
Our local used car dealer keeps a great stock of used cars, trucks, and SUVs in inventory. You'll even find specialty vehicles like used wheelchair vans for sale here! With competitive prices offered on every pre-owned model for sale on our lot, you won't find a reason to visit any other dealership in Houston.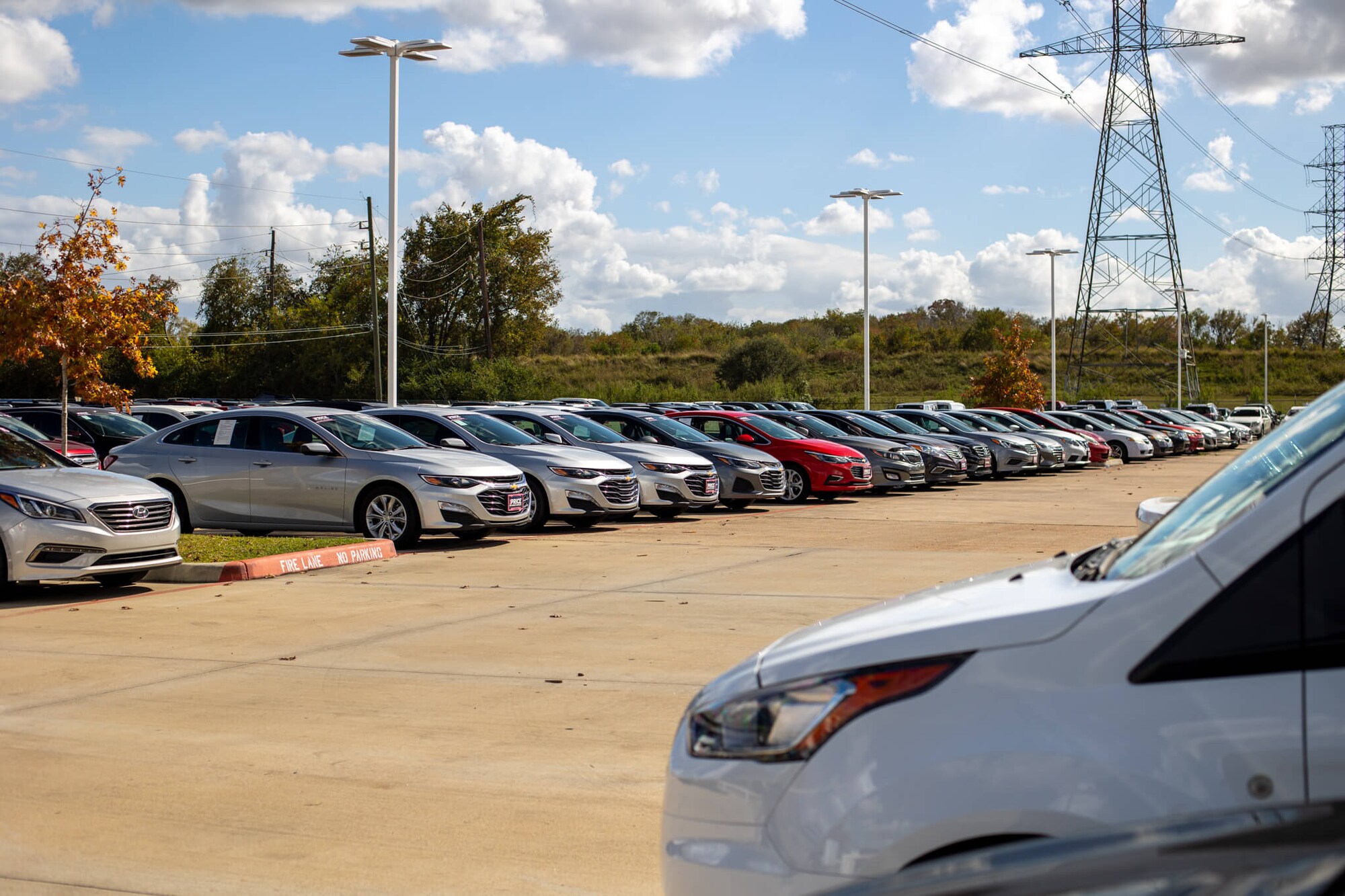 *Money-Back Guarantee is valid for 5 days or 250 miles, whichever comes first. Subject to certain terms and conditions. 
Recent Reviews from AutoNation USA Katy
Had a great experience here. The sales guy, Robert White, was top notch. He sent me a walk around video of the car, and had it pulled up before I arrived. Car buying sucks, but these guys made it super easy.
Kyle Marcus
Apr 16, 2021
I decided it was time to update my vehicle, my sales associate Anthony was very patient as well as the sales manager Dan. From start to finish the process went very smoothly I am very happy with my new vehicle ☺
Adriana Garza
Apr 15, 2021
I got in a car accident a few weeks ago and needed a car to go to work. My friend recommended Autonation USA Katy because their cars were priced well and reliable. So I checked them out and they did me solid! I got a clean Mercedes Benz and took it to my mechanic friend for an inspection and he said it was a good buy! They worked hard to get me approved and now I'm referring everyone I know!
Mila Gee
Apr 14, 2021
The whole process could not have been easier. After being quoted a reasonable offer for my car I brought it in for inspection and was then offered an additional $350. All the paperwork took less than 30 minutes; I received a check and you ordered an Uber ride home for me. Robert Merchant was professional, friendly and made the transaction a very pleasant experience.
Sally Balthaser
Apr 14, 2021
The whole process could not have been easier. After being quoted a reasonable offer for my car I brought it in for inspection and was then offered an additional $350. All the paperwork took less than 30 minutes; I received a check and you ordered an Uber ride home for me. Robert Merchant was professional, friendly and made the transaction a very pleasant experience.
Sarah M Balthaser
Apr 14, 2021
Went in helping my brother look for a used vehicle thanks to the amazing sales staff and most definitely the manager Mr. Ruszkiewicz. He was most helpful and knowledgeable. Very pleased with everything!
Maria Grimaldo
Apr 12, 2021
Francisco helped me buy a car the whole experience was simple and easy. He is very professional! Kelly helped me with the finances she made things easy to understand. Chris the manager is very helpful to get a minor repair done simple and quick! Thank you Autonation- I love my new car!
Sheryl Beckman
Apr 12, 2021
Went in helping my brother look for a used vehicle thanks to the amazing sales staff and most definitely the manager Mr. Ruszkiewicz. He was most helpful and knowledgeable. Very pleased with everything!
Maria Grimaldo
Apr 12, 2021
The service here was awsome from the salesman to the management everything was on point!
Oscar Rivera
Apr 10, 2021
I was very happy and impressed with the body shop at AutoNation Katy. My front door was broken into and they were able to squeeze me in for an repair quote the same day. I was leaving out of the country the next day and was able to drop the truck off on the way to the airport. Mark Castaneda was kept me informed throughout the entire time my trucks was getting repaired and made the whole process exceptionally easy. I would highly recommend this department.
Justin Kucera
Apr 8, 2021
The staff were very helpful, my salesperson made the whole process simple and easy to understand. Richard really helped with getting me in the range of monthly payments I wanted without having to compromise on the vehicle I wanted.
Carolina G
Apr 8, 2021
PJ WAS VERY HELPFUL DIDNT RALLY TALK TO ANYONE ELSE BUT EVERY STAFF MEMBER WERE QUITE FRIENDLY
Terell Bowie
Apr 7, 2021
This was my first experience buying from an AutoNation and WOW they totally outdid my expectations!!!! They purchased my car above the Carmax quote and made the buying process so easy! Robert White is literally the best sales consultant I have ever bought an SUV from! He was efficient, listened to my preferences and had just the right amount of follow up; I never felt pressured to buy! He was honest and made the buying process so quick! It literally only took 4 hours to sell my Jeep and purchase my new Cadillac XT5! It is like brand new and I could not be happier! Go see Robert White, you won't be disappointed!!! Thank you Robert, we are loving our Cadi!
Angela Skrabanek
Mar 31, 2021
Derek is a amazing salesman Waited till we were done purchasing my dream car so thank you Derek 🙏🏽
Edward Kurosaki
Mar 29, 2021
A great experience! Sold my vehicle here and the process was smooth and efficient. The team kept me updated during the entire transaction and there were no surprises! If you're looking to sell a vehicle - give them a shout!
Sharon Zubrod
Mar 29, 2021
I wanted to give kudos to Elena and Robert. I haven?t experienced a level of customer service and professionalism like that since the 90?s. They made my experience amazingly pleasant and stress free. I will continue to do business with AutoNation in the near future. Thank you.
R Saunders
Mar 29, 2021
I was very happy with the service I received. I would not hesitate to refer a friend to this dealer.
Azaz Salih
Mar 27, 2021
Francisco is the one to go to if you need anything done! HE'S THE GUY !
taiya's life.
Mar 23, 2021
Tommy (the salesman) and Rashad (finance) were great and they focused on what I wanted and needed and what was best for me rather than just trying to sell me anything. I highly recommend this place and ask for Tommy.
Pierre Whittington
Mar 23, 2021
Mr Kirk was very helpful and nice throughout the entire process great customer service
Lexus Hall
Mar 23, 2021
AWESOME SERVICE
Melinda Garrette
Mar 22, 2021
Sold my car with Elena and Rob and it was a great, easy and fast. Elena helped me before even going in she took my calls and questions. Very appreciative of her and her kindness and patience ❤
Jessica Garza
Mar 20, 2021
My wife and I bought a new car from AutoNation and the customer service from our salesperson Francisco was awesome he was knowledgeable about our car and gave us a complete walkthrough. Before the test drive. The only complaint I had was the time it took to complete financing and paperwork.
Kenneth Morris
Mar 19, 2021
Gregory Harrison when above and beyond for me while I was try to buy this truck. Mr. Harrison has great communication skills and a big heart.
Carlos Gallegos
Mar 19, 2021
Jhan Gonzalez helped me and my family out, my credit is not close to good, from poor younger decisions, but he did everything he could to let us drive away with a beautiful Cadillac. Gave a very good amount for the trade in I had and everyone there was very kind. If your looking to trade in a car, this is the place to go!
Enrique Benavides
Mar 17, 2021
A great Auto company that will work with you and myself girl Britney did a great job
Jessica Williams
Mar 5, 2021
Amazing service, outstanding customer service. Helpful, knowledgeable and courteous sales man. Great selection, great location, no hassle, no haggle, all together a smooth process. Highly recommend this location.
Jacinda Baker
Mar 4, 2021
Manuel Rosas helped me choose the car that was at my interest economically and look
Noe Luna
Mar 4, 2021
The sales manager Chris Ruszkiewicz was really what made our shopping experience smooth and seamless. After being danced around with at a different dealership i wont name any names cough sterling mccall xxxx, we almost didnt even want a car but my wife wanted to take a shot at Autonation. Long story short we found the vehicle with exactly everything we wanted and Chris handled everything with us, they really live up to the No Haggle experience and we will be lifetime customers at Autonation. 克里斯一直努力奋斗,事业蒸蒸日上。销售经理 真正使我们的购物体验流畅无缝的原因。😊😎 GO AUTONATION CHRIS KEEP SELLING KEEP BEING AWESOME SELL LOTS OF CARS.
Brian Lien
Mar 3, 2021
Dio was awesome . He got me what I wanted .The facility was clean and the environment was calm
Pearra Andrews
Mar 2, 2021
very good service they treated me very well very reasonable oscar rivera
Roman Garza
Mar 1, 2021
I never brought a car from a deal and I'm 43 years old this was my first time let me tell you they have a customer for life. My sale man was p.j that guy went beyond to get me what I wanted. So thank you for that I do recommend going early cause it was a long Process but over all I was happy thank you PJ
Jai Colquitt
Feb 27, 2021
P.j went beyond to help me get what I really wanted thank you so much
Jai Colquitt
Feb 27, 2021
I worked with Dan Driscoll, George Schulz and Will Rubio. I am very pleased with my dark blue convertible E 350. The transaction was completely on line. From both sides we carefully documented the purchase. The car was shipped from California and made it safely to Jefferson City, MO.. Thanks again, it was a great experience. I also wrote a review for the Mercedes Benz dealer in San Jose to thank them for the good service. Johan K, Jefferson City, Missouri.
Johan Keeven
Feb 26, 2021
Thanks to the help of Christopher R and Greg they made my experience here very wonderful! The process was smooth and will definitely come back here again for future purchases and recommend them to family and friends
Karen Garcia
Feb 26, 2021
So my wife and I are heading back to Australia next month. We therefore sold both a 2018 Ford Explorer and a 2018 Nissan Rogue to these guys based upon a verbal recommendation from a neighbor. I cannot praise them highly enough. Polite, courteous, straightforward and a very fair price was our experience on both occasions. We dealt with Chris Tansiongco for the Explorer and Robert Merchant for the Rogue. I don't often take the time to write reviews but these guys really do deserve it. First class service all round, in and out on both occasions in under an hour and all parties happy. It just doesn't get much better than that and in an Industry that sometimes suffers from an image problem, these guys are stand-out pros. Don't waste time looking elsewhere, go to AutoNation USA, Katy. Great job guys.....
Al Barrett
Feb 25, 2021
Having purchased all my previous vehicles from dealers or private parties, I wasn't sure what to expect from an operation such as AutoNation. Let me say, my purchase was quick, easy, totally painless. We had to drive around 50 miles to test drive and give the car a good once over. Our salesperson, Dio Zorrilla, was a pleasure to deal with. He walked us through the ins and outs of the car, arranged to have a repair done, had all the paperwork ready to go, and snacks to boot. I highly recommend speaking with Dio when you're getting ready or are ready to buy a car. He's a class act.
Larry Spitzer
Feb 25, 2021
Good attention and service, answered to my questions. Thanks
Esperanza Lopez
Feb 25, 2021
ASK FOR FREDDY!! He is AMAZING. He went through every GLC option available to make sure I got the one with the features I need the most. He was kind, respectful, and very patient with me. Rashad in finance was also very helpful and made sure I got all the coverage I needed. I had a great car buying experience. I never felt like they were trying to get over on me. They didn't just treat me like a regular customer, they treated me like family. Go Autonation USA KATY, their customer service is out of this world compared to other dealers.
Transition With Mel
Feb 24, 2021
I recently was at AutoNation USA on a Katy Freeway and I will say that my salesmen RJ and his sales manager I do believe Chris ruszkiewicz you are very helpful more so than last places I've been to over some years. I went and got my plates and there were very helpful and friendly and knowledgeable the sales manager Chris went above and beyond it's refreshing to know there's still some car dealerships out there with people that care
JAMES BOSTON
Feb 24, 2021
bought a car there and the vehicle is great! also great costumer service from Chris R and RJ. good price and good quality.
Anna Rivera
Feb 24, 2021
I had a good experience with my salesmen are Jay and his sales manager Chris ruszkiewicz I was surprised they went above and beyond it's nice to know they're still do ships out there like that.
James Boston
Feb 24, 2021
I bought my car with Chris R and RJ, great service and price. I am happy with my vehicle! They made my purchase easy and simple.
Anna Rivera
Feb 24, 2021
Had an excellent experience handled by Francisco Cruz and Finance manager Rashad. Have made a loyal customer out of me from this purchase. Would be happy to refer others here.
Andrew Ojeda
Feb 23, 2021
PJ Lewis was a great Salesman to us. Wasn't over aggressive with the sale process. Also gave us the space we needed to make our decision. Overall PJ Lewis was great. 10/10
Demond
Feb 20, 2021
PJ was professional and helpful. Thanks!
R Jo
Feb 19, 2021
Short staffed but still good courteous service. Still suffering from the freeze but they made it happen.
Joe Garza
Feb 19, 2021
Gregory was awesome! Will is the best! No pressure and very nice. Very accommodating. I recommend this place!.
Diane Lancaster
Feb 8, 2021
When my son and I arrived to AutoNation Katy (15625 Katy Fwy Houston, TX 77094) I was very nervous and I didn't have a lot of confidence in being able to get a vehicle. But the salesman PJ was great to work with!!!!! He insured me that I would take home a vehicle that day. He went above and beyond to help me secure a desired vehicle of my choice. His communication was impeccable in that he kept us well informed along the way about timing and next steps. It was a pleasure working with him and I would highly recommend him. Thank you so much PJ and AutoNation Katy!!!!!
Mijama W
Feb 7, 2021
I highly recommend Autonation Katy Mr.Gonzalez was very helpful and very nice and patient with me he used all his power and knowledge to help me purchase a vehicle i really wanted which was a Equinox.So if you want a good vehicle go to Autonation katy and ask for Mr Gonzalez again thank you so very much
Shemeika Royal
Feb 6, 2021
We have never had an easier car purchase ever. The car I wanted to see was not at this lot. Rob White dropped what he was doing to go get it. Once test drive done with we were on way to finance and out the door. No issues. Very attentive to customer service. We would recommend Autonation to anyone.
Sheila Fumerola
Feb 6, 2021
I highly recommend Autonation in katy my sales rep was so very nice and helpful he did everything in his power to put me in a Vehicle i want to thank you Mr.Gonzalez on helping me purchase My Equinox
Shemeika Royal
Feb 6, 2021
My wife and I were both extremely pleased with the entire purchase process. Everything was ready when we arrived, and there were no time consuming delays. We do, though, want to single out our sales person, Dio Zorrilla. I can't count the number of cars and trucks I've bought over the past 50 years, and by far, Dio was the most competent, helpful, engaging, prepared sales person I've dealt with. From having the car up front and ready to go, to explaining the ins and outs of the car, Dio was the best. When a couple of roads bumps came up, Dio took care of them without missing a beat. Many thanks, Dio.
Lawrence Spitzer
Feb 5, 2021
First time purchasing a vehicle from AutoNation and I was impressed with the no hassle process and the salesperson?s assistance to make the sale happen Thank you and hope to do business together in the future
Abel Coronado
Feb 5, 2021
Highly recommend Autonation Katy for the sale of your car. Robert Merchant made the process seamless and my wife and I were done in less than an hour. Online Autonation had the best quote over others that will buy your car without a purchase.
Jose A. Payan
Jan 31, 2021
Robert Merchant is very professional, courtesy and on point. I am in and out about an hour, highly recommend to all my client to AUTONATION over CARMAX and TEXAS DIRECT any day!!!!!
David Le
Jan 20, 2021
Robert Merchant is very professional, courtesy and on point, I am in and out selling my vehicle less then an hour. Highly recommend to all my client to AUTONATION USA over CARMAX Or TEXAS DIRECT any day!!!!
Tranformer Le
Jan 20, 2021
Best car buying experience I have EVER had. Robert White not only went wayyyy out of his way to get us into a vehicle, but the one we wanted. He is the friendliest salesman I have ever encountered and gnuinely cared about our needs. If you ever need a car or truck Go see this guy! Robert White @AutoNationUSA in Katy Thankyou so much. Roy and Robinn
Rob Roy
Jan 19, 2021
I purchased a car remotely from Northern Minnesota. I dealt with Robert White II,from the first contact everybody at this location treated me with respect, no pressure and honesty.After I flew into town my experience continued to be stellar. I dealt with Rashad, in finance. He is another class act. After purchase I noticed a small issue with the sunroof. The shop got the car and immediately adjusted it. Thank you for providing such a great car buying experience! Sincerely Gary Wright
Atv Marauder
Jan 19, 2021
The sales man George and finance guy Rashad were honest and genuine. They were very helpful and made me feel comfortable during the buying process! Thank you guys for a great experience!
Mohammad Nasser
Jan 15, 2021
This Was a blessing from God!!!! He put me in a position to be with awesome service and awesome people!! It was 1st class treatment.
tuscac08 you
Jan 12, 2021
Fast and easy. They were straight forward and the process went very smooth.
Jennelle Lynn Treat
Jan 12, 2021
Fantastic Service and quality vehicles without all the xxxxxxxx.
David Nieberding
Jan 11, 2021
This was the easiest car buying process I have ever had & I have been through this process more than several times!! Everybody was great to be around from the salesman to the managers & finance managers!! The GM even told me & even went as far as showing me how great of a deal I got on my vehicle!! THANK YOU AUTONATION USA KATY!!!
Boss Ziggy
Jan 8, 2021
Took my truck here to see what they would offer me for it after visiting with Chris T. on the phone. He had told me that they would beat any written offers I presented from any other dealers. I was skeptical of this but sure enough he stuck to his word and gave an offer I could live with. The entire process was a smooth and easy transaction and I would recommend Chris and AutoNation to family and friends.
Susan Johnson
Dec 11, 2020
The sale process was fast and very easy! Thanks AutoNation USA; MAY GOD BLESS YOU ALL.
Francisco Cifuentes
Dec 10, 2020
Very proud to say I am a first-time customer, and will be a repeat customer! My car buying experience was awesome. Everything went so smoothly and professionally from start to finish. Nuri D. (sales associate), the service technicians, and the paint and body team took good care of me and really went the extra mile to ensure my pre-owned buy both looked and functioned like brand new. I felt like they truly valued my business. I am a happy customer!
Amy B.
Dec 8, 2020
I like the haggle-free pricing, just make sure you understand what options come with the vehicle vs. what's best for the vehicle and your driving habits. I was "required" to add window tint coverage and yet at the time of sale, there was no mention of other options that would've been more suitable for the vehicle I purchased. Like some other reviews mention, key fob didn't work and warranty was not explained so be sure you check and understand everything within their 5-day return period. You may be the better expert about the vehicle than Sales so stand strong in your knowledge, ask questions, and don't feel like you have to rush the purchase. I found management to be service-savvy and professional...Finance, not so much. Overall, I'm happy that my daughter is happy with her dream vehicle.
B Scott
Dec 6, 2020
Outstanding sales team! Never had the pleasure of buying a vehicle with the simplicity and expedious sales and financing team!
Pamela McNatt Smith
Dec 5, 2020
Had a great experience purchasing vehicle here and people are very helpful and knowledgeable about what they do . .thank you and shout out to JEREMIAH FRYER thank you for all your help the best sales agent .
Angelacambel
Dec 5, 2020
Although I knew it wasn't going to be easy, autonation katy made my car buying process not so bad and they went above and beyond to help me get what I wanted
Marcia Davis
Dec 5, 2020
Tommy Kirk Jr was an exceptional salesman! He went above and beyond and made the entire transaction so easy! He even personally delivered my vehicle from Houston to Dallas! I would highly recommend him and Auto Nation to everyone! Also Will Rubio in financing was amazing to work with too! Ya'll beat other dealerships hands down!
Crystal Garvin
Dec 2, 2020
Pros: Easy and fair. No hassle. Cons: I walked in the sales manager that purchased my car did not have a mask. Ditto with the sales guy that he recommended to assist me. Major turnoff. I could not leave fast enough. They did have the car I wanted but I chose to walk away. Found my car at Carmax
Vita
Dec 1, 2020
Very kind and helpful service. I highly recommend seeing Leo or RJ! They did everything they could in order for my fiancé and I to drive off with our new car. We've had the car for about a week now and we LOVE IT ! Thank you guys again!
Alexis Dibler
Nov 28, 2020
A lot of back and forth because of car issues but they were always nice and pleasant with me. Once I was even in the building an hour after they closed and still never made me feel unwelcome or rushed.
JKing
Nov 28, 2020
Well my first time buy a car at autonation they offer the best quality and service like no other you should stop by and try it when you need to buy a car
Sang Nguyen
Nov 27, 2020
Great and painless car buying experience. Nuri was a wonderful salesperson, friendly and flexible to help make sure all of my needs were met in a timely, efficient, and effective fashion. Competitive prices, wide vehicle selection, and soild warranty program on AutoNation Certified used vehicles. Would recommend and buy from again.
Michael McCloy
Nov 21, 2020
nurideen was very helpful during my vehicle purchase with autonation, he answered all my questions at a goal, good place to buy any kind of vehicle.
olawale olaniyan
Nov 20, 2020
Awesome staff
Dawnie Boston
Nov 19, 2020
Had the car ready to go for me to look at.
Mark Feferman
Nov 16, 2020
Our salesman Oscar was very friendly, helpful, knowledge about cars, etc. We will be back in the future to purchase another vehicle.
Jalynn Hobbs
Nov 16, 2020
Worked with Robert earlier this week in order to sell my vehicle to Autonation Katy. He is a gem... I've dealt with other dealerships and this was the most upfront, communicative interaction that I've had. Robert is a professional and a great communicator. Within a day of inquiry, I drove there and sold my car within the hour. There was also no pressure to purchase. I appreciate the value of my time and that I was able to get a reasonable offer on my car (paid with check on site).
Phoefe
Nov 14, 2020
They were very patient and determined to help me; because I?m a first time buyer it was a critical process but they help every way possible.
Kaila Brinkley
Nov 13, 2020
SOLD MY JEEP IN 30 MIN NO PRESSURE GREAT TEAM
Stacey Culpepper
Nov 10, 2020
I am so happy with my 2nd purchase with Kp. Thank you Kp for making this happen. Kp showed great consideration and took his time to get us what we wanted. If you are looking to purchase, he is the best in the business. Ask for Kp if you want it done!
Ucy P
Nov 8, 2020
The experience at Autonation katy was awesome . Kai & Isreal did an awesome job and just around great , polite & friendly guys on my last 2 visits . Will definitely take my Ram promaster van there again for service if I have any other problems with it . Thanks Autonaton katy .
MrRolandvalentine
Nov 4, 2020
My salesman Jhan Gonzales was great. Super nice, welcoming, very knowledgeable. Didn't rush me into anything and let us make all the decisions. Great service being here, staff is awesome and so polite. I would highly recommend this place.
Lorrie _
Nov 3, 2020
Great experience!
Shontele Redeaux
Oct 31, 2020
Sold my car to them and it was quicker and easier than I expected! It took less than an hour to sign the paperwork and receive my check. The offer they gave me was unbeatable.
Catalina Ivan
Oct 30, 2020
I used the services of Auto Nation to sell my vehicle. Chris was the salesperson who helped us out. He was polite, professional, and very courteous. He offered good value for our vehicle. I would recommend Auto Nation to other people.
Gkhan100
Oct 29, 2020
Kevin and Amand were making things happen for me and my family! Quick ,efficient, clean and will work a great deal!
chandra spurlock
Oct 26, 2020
Chris was very professional and efficient.
Huang Tao
Oct 26, 2020
I used KBB to get an instant cash offer for my vehicle. I was contacted by various dealership, but AutoNation was not pushy like the others. They were willing to work around my schedule without a pushy way of selling. They offered honest money for my vehicle, whereas the new dealership I purchase my new vehicle offered roughly 65% of what AutoNation and KBB reported. I would highly recommend selling your vehicle to AutoNation and if you are in the market for one, they have a nice selection.
JCBaseball
Oct 25, 2020
Nuri and the team here was very helpful and fast in helping us purchase our Mazda! We will definitely be back for our next car in the future!
Kyra Curtis
Oct 24, 2020
Amazing experience selling my grandmother's car here. Mr. Robert Merchant was professional and his customer service is top notch. They gave top dollar for the value of her car and I HIGHLY recommend them to anyone looking to sell a car!
E. R. Pettus
Oct 23, 2020
Comfortable environment and great service from Chris Tansiongco. Really fast to process the sale.
DKN DKN
Oct 23, 2020
I liked the staff, very helpful, but when we were done, they said they washed the vehicle. It was cleaner than before, but there were water spots everywhere despite the vehicle being in the garage. The inside of the vehicle wasn't cleaned, and although the car drives smooth, I'm already having idle control problems and need to return it to get seen. There is definitely room for improvement over there. I've received much better service at other dealers. I'm glad I got warranty, because I'm already needing it out the door.😕 Other than that, I did receive a good deal on the vehicle and also received more than expected on my trade in.😊
Gunther Cabarcas
Oct 22, 2020
Very good and fast service! I was able to browse around and test drive about 3 different cars, Leo was very patient and answered all my questions because it was my first time buying and when I came back with my mom to check out the car I was interested in again he was very kind and answered everything all over again for my mother.
Chasitey Ureste
Oct 22, 2020
We went there about 2 weeks ago looking for an Suv. They showed us they different options and unlike other dealerships (which we visited a day or two before) they will actually do their best to get you the best deal possible1
Carlos F.
Oct 22, 2020
Service is HORRIBLE. Headlight was not working on the car we purchased so we agreed to share the expense of the repair - which didn't fix the issue. Had to take the car back several times. Could not get a call back from the services manager after a week of trying; I was able to get a scheduling person who answered the phone to email the general manager and we finally heard back from our sales guy the following day (have still not heard from services or general managers!). Currently waiting in the lobby for them to finish the repair (hopefully) and it's been 7.5 HOURS so far - the only status updates are from the sales rep and only when asked for. If we had known it would take this long, we could have dropped it off. VERY disappointing. Better make sure everything that needs to be working is, before you drive off the lot! 10/21 follow up - I was finally contacted by the manager with an apology and the explanation that communication was not handled correctly on their end. After one additional trip to the dealership to replace wires that were damaged during the initial repair, the lights are all working. Long process but the repairs are done and we are happy with the car.
kathleen powell
Oct 21, 2020
Good, helpful people here! Salesman George was helpful and went through options and inventory with knowledge and skill. He hekped my first-time buying son get a positive impression on the car buying experience, so he may be a lifer with AN. I like the fact that you can get any vehicle quickly that is in local inventory even if it's not on lot.
Geoff Dobbin
Oct 20, 2020
I sold my father's Cadillac at Auto Nation and the service was outstanding from start to finish.
James B DeGeorge Jr
Oct 16, 2020
Service was fast, priced right and very professional
dan driscoll
Oct 13, 2020
Soltero and Robert did an excellent job communicating every step of the process and assuring me that everything was under control. I felt confident that my car would be well taken care of while at AutoNation Katy West. When I picked up my car, it was like it was brand new. I couldn't tell it had ever been involved in an accident. The car was detailed and looked amazing. This team did an exceptional job!
Henry Howell
Oct 13, 2020
Brandon is very friendly and went above and beyond to make sure we were taken care of. Would definitely come back as well as recommend them for your next car. Great selection and price.
Qiana Edison
Oct 12, 2020
If you need a salesman, ask for Robert Merchant! The man did wonders for me on my "Hoopdee" car. The fact that he was willing to even give me an Uber just in case I wasn't able to drive it all the way there made the sale flawless. He went beyond the call of duty and I'm very grateful! When I'm ready to sell my Mazda years from now, I know where I'm going! :)
Nathan Dowlen
Oct 12, 2020
We came to sell our car. COVID brought misfortune to my family and had to make the hard decision to let go of our car. Chris T helped us make this painful transition the best case scenario we could have hoped for. Would recommend them any time!
B. G. S.
Oct 10, 2020
I strongly recommend to trust them and to make deals with them
Mohamed Nasser
Oct 7, 2020
Great experience selling a car. Highly recommend AutoNation!
Eric T.
Oct 5, 2020
All the people I encountered at AutoNation USA Katy were very friendly and helpful. I came in on 9/24 for a vehicle, unfortunately I decided to bring the car back and had misunderstood their return policy. The manager Kyler was really personable and helpful in taking the time to reach out to me and resolve everything. He and his team went above and beyond to make sure I left a happy customer. Even though the car didn't work out, I'm really grateful for their quality care and service. They really care that everyone that walks through their doors leaves with the perfect car for them. It's a personable experience working with AutoNation, Kyler even remembered my birthday! These guys care about what they do, and in my search, I found they have a great vehicle selection and fair prices, I also love the pink everywhere. You can rest easy you and your car are in good hands here.
Hannah A
Oct 5, 2020
Honestly had a really good experience here. In and out fast, car was great, price was fair. Would return in a heart beat!
Eddie George
Oct 3, 2020
I recently sold my SUV to AutoNation. I had done my own research and knew what my vehicle was worth. I was offered more than I was expecting without having to haggle for a better offer! They purchased my car on the spot. I left with my loan paid in full and a check in my hand for the extra amount. AutoNation made this process extremely easy and took less than an hour! I would highly recommend anyone wanting to purchase or sell go to AutoNation!
Amy Burke
Sep 26, 2020
Originally I purchased a vehicle from AutoNation. At that time I chose not to trade in my SUV because I was purchasing more of a recreational vehicle(convertible that was not intended to drive daily). The purchasing process was extremely easy! The staff was excellent. After about 2 months, I considered selling my SUV. I went back to AutoNation. I had done my research and knew what my Nissan Pathfinder platinum edition was worth. Their offer price was more than I had expected. I never even had to haggle! They purchased my car on the spot. My loan was paid in full and I received a check in my hand for the extra before leaving their lot.
Amy Burke
Sep 26, 2020
Fast and friendly had no problems I even got a ride home. Great experience!!
Eddie Mertes
Sep 21, 2020
Really great experience. Nice environment and friendly employees. Car salesman George helped my friend trade her truck and got her into the car she wanted and more. He was exceptional and went above and beyond. Not to mention he was straight forward and didn't try to get over. Excellent job Auto Nation
Stephanie Lombard
Sep 17, 2020
Excelente atención al cliente!
Claudia Mora Ortiz
Sep 17, 2020
AutoNation is the best! Great customer service and deals. During my visit. Charles at Katy branch was awesome! Great guy! It was a memorable visit.
Alex Okwechime
Sep 17, 2020
Well as my first experience at Auto nation I must just say, wow!! Mr. Nurideen and his team made us feel very comfortable and answered all our questions in a courteous manner. I went in with an expectation of a good deal and men did I get it they budge with me till I was comfortable with what I was paying. I will definitely come back me and my husband are still in ahhh with our new vehicle. Once again thank you and we will be back soon.
Jessica Murillo
Sep 16, 2020
Excellent, quick, honest service
Trevor
Sep 12, 2020
Amazing customer service, quick process yet very thorough. I was treated fairly and received a fair price for my vehicle. Thank you Chris!
Anita Fernandez
Sep 9, 2020
Chris Tansiongco and his manager was awesome. They helped me and got the best trade in value for my traded. Thank you Chris.
minh nguyen
Sep 8, 2020
Friendly, quick, and no hassle service!
Juan Diaz
Sep 8, 2020
I worked with Francisco and he went above and beyond to work with me and ensure I was satisfied with my purchase. After I had purchased the car, they had driven it to a meeting point so I could take it from there. I realized after they left there was a scratch on the door. I messaged them later on that evening. Unfortunately, I was told the scratch could of been from them or from me, however there was no way of telling. Francisco worked with me and was able to just get the entire passenger side redone so there were no scratches period. I plan on going through him again for my next vehicle purchase, hopefully in December!.
Jonah Garcia
Sep 8, 2020
The store policy is a guarantee to have you processed and out the door within one hour of an agreed upon price. I was there for two hours after the agreed upon price. Every time I asked the salesman about the guarantee he deflected the question. He kept saying his manager wasn't there but wouldn't be happy about us waiting, But he never did anything about it. I finally got a check, but when I went to deposit it at my bank they told me the account it was written from had returned checks associated with it and the check was put on extended hold (- still waiting). Not at all the professional experience I was expecting. Make sure to ask the Manager what the Guarantee for the wait time is and let me know - I was never told.
peter tsamis
Sep 7, 2020
I had a great experience at Auto Nation in Katy. Highly recommended! Very personal salesperson and a team of leaders who were quick to ensure my satisfaction. Chris T, Robert M and Kyler are a major part of the success of the location. Take a moment to stop before choosing another company. They are worth the trip. Thank you for the great service and especially the safe ride home. The other company told me to find my own way home?!?
Victoria Handy
Sep 7, 2020
Visited AutoNation Katy to sell our vehicle today. Had a schedule with Robert and were greeted by him. Sales procedure was fast and smooth and we were out almost in an hour with our check. Our offer was reasonable and in the range we had expected. We suggest this dealer compared to Texas direct auto or Carmax since non of them had a clue of how much our car was worth. We will definitely consider this location for our future car purchase too.
Masoud Irani Texas
Sep 7, 2020
My wife purchased a car at AutoNation. It was easy. Great vehicle!! Had to bring it back for a rear brake issue. They fixed it quickly with no hassle. We're very happy!!
Dr Mike
Sep 5, 2020
This place was awesome!
Kimberly Kably
Sep 2, 2020
Leo my salesman was excellent. He made the sale flow smoothly. I purchased a car and changed my mind and he let me swape and purchase a different car. I would highly recommend Leo and Auto Nation USA Katy
Ben Moore
Aug 30, 2020
What a lovely experience after being out of a car for a year and 2 months Jorge and Cornell were two of the most helpful salesman I could have had to help me with my experience. Their professionalism made it an easy process to walk away with with a smile. Thank you thank you thank you guys I definitely made a great choice coming here!
Shalonda White
Aug 25, 2020
My car buying experience was awesome! Kevin Peters was the sales advisor assisting me and he went above and beyond to ensure that I drove away in the car that I desired. He really cares about the customer and isn't just trying to make another sale. I highly recommend asking for him when visiting this dealership. Teresa in finance was also a really big help.
John Alford IV
Aug 25, 2020
Leonard Mike (Leo) helped me purchase a car here. Their prices were better than what I was able to find elsewhere, and Leo and his manager Chris were courteous and always willing to assist. I had a great experience and the transaction took place without a hitch. Thanks, guys.
Hissan Anis
Aug 24, 2020
Great place.. great service.. and fastest!
Ariel Mouzo
Aug 24, 2020
Nice and courteous service. @ Mike - Sales Manager was awesome , very helpful and communicative.
Shubhajeet Chakrabarty
Aug 22, 2020
Courteous and Friendly Service. #Mike - Sales Manager is very helpful and communicative with complete process of purchase.
Shubhajeet Chakrabarty
Aug 22, 2020
I just bought a truck that I really love at the Katy location... twice. It's an embarrassing story (I won't bore you with) that involves low blood sugar, fatigue, and several multi-tasking fails on my part. Long story ... short, I bought the wrong truck. I know you may be thinking to yourself "What!!!??? How is that even possible???!!!" And I will kindly thank you Judgy Judgersons to remember that I'm telling the short part of the story so you can keep all your extra exclamation points and question marks to yourselves, Thank You very much. So anyways, within a span of less than 24 hours, I went through the entire shopping, evaluation, and purchasing process TWICE at AutoNation's Katy, TX location. And both experiences are tied for my best car buying experience ever! Francisco, Jahn, and Chris patiently researched and answered all of my many questions while simultaneously excelling in the Herculean task of refraining from raised eyebrows, incredulous looks, and overt laughter. And Teresa patiently and kindly set up my financing, extended warranties, and title exchanges all without succumbing to what must have been an almost overwhelming urge to ask " You look familiar. Have I seen you before?" or "Are you really, really, really sure this time?" Thanks to everyone at the Katy location - those that I met in person, and those who worked behind the scenes. I'm very grateful to you all!!!
Brent Perry
Aug 20, 2020
Overall good experience. Good pricing on their truck and good offer for my trade. Chris was courteous and patient and went above and beyond to help me. 4 stars due to the attempt to charge $400 for window tints that wasn't installed and not having the choice to have my plates mailed because I live within Greater Houston.
Daily Dash Cam
Aug 18, 2020
One of the least stressful and seamless experiences I've had when purchasing a car. My awesome sales woman Karla was very patient, transparent, and professional with her service. It honestly felt like a friendly neighbor was helping me get a car, not an employee of a dealership. Thank you again to the great team at Autonation of Katy!
MiilanH
Aug 18, 2020
AutoNation wants to make deals. They are an exciting and honest group of folks. Before wasting your time on AutoTrader or Facebook marketplace, go to Auto Nation.
Matt Duffy
Aug 17, 2020
I received an offer a Tuesday at 9 PM, walked out the Autonation's building on Wednesday at 9:30 AM with a check on my hand, really quick, easy and simple, thanks for your business Autonation.
MIGUEL ALVAREZ SALAZAR
Aug 16, 2020
Teresa Blake was wonderful to deal with!! George was wonderful also!
Charles banner
Aug 16, 2020
My salesman Nuri was very helpful! Made my out of state experience go very smoothly!
Bill McLeod
Aug 15, 2020
superior customer service
Hollie Wolfe
Aug 12, 2020
Great people to work with.
Gold Fish
Aug 12, 2020
Sales was great only a few things that could have been completed at your dealership but it wasn't and that is the only issue I see at this time.
Dr-Rosalind Queen
Aug 11, 2020
I highly recommend Autonation USA Katy to anyone trying to purchase a vehicle. Theresa Blake was extremely helpful! She took great care of us and got us an awesome deal with a great interest rate! Chris was also very helpful and made sure we were taken care .
Tina Swain
Aug 8, 2020
Great place to sell your car. Service was personal and considerate.
Jay Drummond
Aug 8, 2020
I sold my BMW X5. I dealt with Robert and Chris who were both excellent to work with customer oriented as it really should be. They offered a reasonable price for my car and bettered some other offers that I got. The process to hand in the car and get the check was very straight forward. I recommend Autonation USA Katy!
Bert Krieckaert
Aug 8, 2020
Extremely well received and taking care of by the purchaser. All done efficiently and fully according to on line estimate!
guilhem arcier
Aug 7, 2020
Everything was five star all the way across!!! My sales guy Michael mabrym was never pushy, walled me through the process and got me everything I asked for . Highly recommend. The sales manager and finance team were also very pleasant and accommodating! Will be doing business with them again in the future
D D
Aug 6, 2020
My sales rep Lorenzo was great. My experience was awesome from beginning to end
Annissa Kirton
Aug 3, 2020
The no haggle price made finding and buying a truck easy. Nuri was professional, took the time explain everything, and there was no pressure. I left with exactly what I wanted. Would recommend AutoNation USA Katy.
Zak Mohundro
Aug 2, 2020
I'm so glad I went to here to buy my car. I was dreading shopping for a car. I hate pushy sales people and the whole experience makes me extremely anxious. Leo was awesome, super helpful, and never made me feel pressured. It was such an easy and smooth experience! I've already recommended to my sister and mother to go see him for their next cars! Love this place!
Lauren Corning
Aug 1, 2020
Great costumer service
Brian McClanahan
Jul 31, 2020
Robert was excellent. He beat the offer from CarMax right away. Love his no pressure attitude and the respect he gives to customers.
Yasin Chinoy
Jul 29, 2020
My experience with Robert Merchant @ the Katy Freeway, Houston store was amazing. He is very quick, knowledgeable and super personable. My family has done business with him twice and will continue to do so. I will also be recommending him and the team to anyone I know looking to buy or sell a vehicle. 5 STARS FOR ROBERT MERCHANT!!!!
Dane George
Jul 24, 2020
Love my new car. I was greeted at the door and felt comfortable. My salesman Brandon Pincheira was the best and Rashad Pride in finance made the purchase smooth. Never any pressure and stress free. The dealership is clean , the best I've been to in a long time. I will recommend to others. Thank You !
gl g
Jul 23, 2020
Great pla
Sharon Williams
Jul 23, 2020
I am not happy that I was only given 1 key and beat up control. I was told inspection was done on truck but the tire pressure is different in 4 tires so tires were not checked I believe
Norma Rivera
Jul 21, 2020
Great service and customer reiation. Will definitely recommend to others.
Paul Eri
Jul 20, 2020
All I can say is that Kyler at AutoNation, made all the difference for me and my family in purchasing a vehicle. Due to the pandemic, various things were understandably, lost or dropped between my cross country purchase. Kyler whisked in and almost literally, and single handedly, saved the day. Without his strong follow through, communication, and commitment to help me "get the job done," I may have ended with a much different report and experience. Instead, I have the exact car I wanted and am enjoying every minute! I can't thank Kyler enough for all his help and kindness through this process. THANK YOU, Kyler!
Beth Rakozy
Jul 20, 2020
S/o nuri he's the best! Thanks to him I love my new car!!💯🤟🏾
Jasmine Nicole
Jul 20, 2020
Friendly staff , just a bit unorganized , a lot of unecessary red tape
GL450 me
Jul 20, 2020
Professional and kind. Quicker results than any other dealership in Houston. Go see George Schultz
Pre Metoyer
Jul 17, 2020
10/10 George was so attentive and helped me get my dream car. The whole staff is AMAZING! The car buying experience was so easy Will was so good at explaining the whole buying process with me. I would recommend everyone to visit this location.
Paige Watkins
Jul 15, 2020
Great company! Nice and easy to work with. Employees are extremely nice! Competitive prices and I was in and out in less than two hours.
Katherine Hoskins
Jul 14, 2020
I liked the way Rob explained the process of selling the car. I definitely refer to my friends about Autonation as a Trusted service. Good job guys and keep the same spirit.
Pradeep Ageer
Jul 13, 2020
Recently purchased an SUV and I could not be happier with the service Harvey Morales provided. He was patient and determined, worked through every obstacle that came our way and got it done! He also made it a fun and enjoyable time! So grateful!!
alma barrios
Jul 12, 2020
Great experience...no hassle and great vehicle!!
Michael K. Jones, PhD, PT
Jul 11, 2020
Excelent care.
Evelio Ferrer Carnesoltas
Jul 10, 2020
The process was pretty straight forward and quick. The sales rep (Nuri) was polite and not pushy and the place was very clean.
Otto Muniz
Jul 9, 2020
Jhan did a fantastic job getting us into our new SUV. We really appreciated his approach and follow up. It was clear he truly wanted to make sure we were well taken care of and even called to check in a few days after we bought the car to make sure everything was well. We are happy with the purchase and were very satisfied with our experience working with Jhan! Would highly recommend giving him a call if you are in the market for a new car!
joseph bird
Jul 8, 2020
I have say "Today was a Good Day "🎶. Cornell Lindsey Is the Best Sales Consultant!!!!!!!! He beat the Price that I was quoted on. I mean I definitely thought he was B.S. but he fulfilled his word. thanks Cornell !!!! Ask for Cornell he definitely a Great.!!!!
Dillon Saks
Jul 4, 2020
Quick, professional and felt like I was dealing with someone I could trust
Xxxxxxxx
Jul 3, 2020
My salesman Austin was not pushy & very professional. Also Teresa was very nice & made buying the car a pleasant experience. Will definitely recommend others to buy at AutoNation.
Ryun Wahlgren
Jul 1, 2020
The sales person was very engaging, informative and patient. Because of these characteristics, he made the sale!
Rodney Porter
Jun 30, 2020
Thanks to AutoNation USA Katy for their exceptional customer service. My visit was handled with class. Robert Merchant dealt with me professionally, courteously, and made the deal experience effortless and enjoyable. From initial enquiry to conclusion of the deal, it was handled exceptionally well. I appreciate the authenticity, integrity, and fairness - combined with a personal touch that made a real difference. I am impressed and would highly recommend.
JR Stoll
Jun 27, 2020
They did a great job installing the window tinting, but they took a lot more time than what they told me. I had the first appointment that morning and was told it would be done in about an hour, but I was there over two hours.
Maniper
Jun 26, 2020
Robert gave me the best price on my trade in even after we told him we were not purchasing from him.
Kwinning
Jun 24, 2020
I had a great experience purchasing a car from this AutoNation location. My sales guy, Harvey was super nice and went above and beyond to take care of a few minor issues that the car needed to be addressed. The finance manager i dealt with Rashad was also very friendly and helpful and they both made the buying process super easy and fast. The dealership keeps the facility including the service bay very clean. They also have a glass wall between the lobby and service bay so you can watch your car being serviced. I would definitely buy another car from here.
Fozzy Bear
Jun 23, 2020
I had an AMAZING experience at AutoNation USA in Katy. My sales men Austin and Nurideen were very sweet. Nuri and his manager Ricky we're attentive to every question I had and were always making sure that I was taken care of. The best place to buy a car honestly.
Rose Sanctuary
Jun 18, 2020
Buying a car here was so much easier than going somewhere where you have to go back and forth on a price or worry about hidden fees added onto the sales price. Marisol was our sales rep and she was great! (As well as everyone else we dealt with...) We also received higher on our trade-in than we were quoted at other dealerships. This is the second vehicle we have purchased from an AutoNation and likely will not be our last!
Kimberly Bernardo
Jun 18, 2020
Nurideen was extremely sweet and helpful during my car buying process and he did everything he could to help me walk out with the car I wanted. The whole staff was very nice and attentive. 10/10
Rose Roberts
Jun 18, 2020
Because of Salesman Robert Merchant, I would highly recommend AutoNation, Katy to family, Friends or anyone looking to sell or purchase a vehicle. He was very personable and professional.
Vickie C
Jun 16, 2020
I would recommend AutoNation Katy. My experience was excellent with Sales Associate Robert Merchant. He was very professional and very friendly. An asset to AutoNation.
Vickie Cary Carlson
Jun 16, 2020
Leo was Great & Teresa Love my new car thank y'all for everything!!
Xavier Alvarado
Jun 13, 2020
LEO was A M A Z I N G ! He was super helpful, informative & knowledgeable about everything. He had such a positive energy & helpful spirit he made the transition of getting out of our old car & into a new one so easy. Thank you Leo, you are appreciated !
Tori L.
Jun 13, 2020
Let me give thanks to MR.GREG and AUTONATION for all the help when i was getting denied LITERALLY EVERYWHERE (10 DIFFERENT DEALERSHIPS Y'ALL 🤦‍♀️)for having no credit and needed a car ASAP. It was so frustrating but then i ran into Autonation ❤ I found a black GLK350 Mercedes-Benz i was interested in, and they got me in my new car!❤ Sooooo happyyyyyyyyyyy!!!!! GREATLY appreciated y'all!!!!!❤❤❤❤❤❤❤❤❤❤❤ Oh and you can't leave off the lot without FULL coverage auto insurance, so be prepared you guys!
Mrs Rose
Jun 12, 2020
Great Friendly Service, Safe Environment. Definitely the Customer Is TOP PRIORITY !!! Thank You AN USE
Felipe Jacquez
Jun 11, 2020
Had a great experience, my car salesman Chris was awesome very informative about the truck I bought. We were there for a good while. He offered us pizza, water kept us company while finance did it's thing. Would definitely refer my family and friends to Chris! Thanks again..
Ana Campos
Jun 10, 2020
After reading these reviews, I was a bit cautious. My first interaction, via email, was very professional. My first in person visit (unannounced) the sales person I was working with Richard, was at lunch. Leo stepped in and helped, keeping Richard informed. They both were extremely professional, straight forward and true to their words. Going into the Finance office, I was still cautious. Once with Teresa, I was in and out in 20 minutes. No pressure, didn't try to sell me something I didn't want/need. Overall was one of the best (if not the best) car purchase experience I have had!
Tim
Jun 10, 2020
Very quick and painless process. Robert Merchant was so nice to work with.
Melany Bastubee
Jun 9, 2020
Brandon was very helpful and patient and helped me get the Frontier which I absolutely love
Hope Thomas
Jun 7, 2020
Completely enjoyed my experience from start to finish. Purchased a 2018 Audi S5. Loved my sales person, was very helpful and provided any information, any time that I needed. Go AutoNation!!
MadmanAudi
Jun 6, 2020
I had a great experience purchasing my first truck from yall. George was easy to talk to, upbeat, and not pushy for the sale at all. I actually didn't know I was going to leave with the truck when I arrived, but thankful I did. They even bought my jeep for way more than I thought I would get for it. Im totally satisfied. Thanks AutoNation USA Katy!
HallerRebel
Jun 6, 2020
Cornell Lindsay and George Schultz were Awesome!!
Jennifer Chavez
Jun 5, 2020
Alex Cumi and Justin were professional helpful and responsive. He even gave my 4 year old son a cap to match the tundra. Recommend to anyone.
Carmine Battista
Jun 5, 2020
Wonderful experience from the moment we got down from our car to the moment I drove off with a spectacular car. The sales man Mr. Kevin Peters was very kind and greeted us the moment we got there I am going to highly recommend Mr Peters to family and friends. Exceptional experience.
Ruth Silva
Jun 2, 2020
Nuri and Will Rubio were amazing! I was greeted as soon as I walked in the doors and offered complimentary water. The energy from the staff and smiling faces made me feel welcome. Other sales associates that walked past me also greeted with a smile and acknowledged me being there. Everything went smooth from the application to the test drive. I arrived and the vehicle was already washed and filled with gas thanks to Nuri! Impeccable customer service and I will definitely recommend these guys and gals to everyone I know! Thank you all at Autonation!
Tyikee Reed
Jun 1, 2020
Polite and efficient
Tom Robertson
Jun 1, 2020
George and his team are great.
Norma Bernal
Jun 1, 2020
My husband and I had such a smooth and easy process. Everyone was nice and had a sense of humor. Our salesperson RJ was the best! Would definitely do business with him again.
Queenita Brown
May 31, 2020
it was as great experience. The sales person went above and beyond his normal duties to keep his commitment to helping me obtain a second key for our car at no cost to me. I really appreciate it
fredieo
May 30, 2020
Best experience I've had selling a vehicle! I received a quick fair price and was in and out Of the dealership in no time. I've never encountered a more professional salesman in a dealership than Robert, his colleagues could learn something from him they all acted like emotionally abused kids.
TexasRex
May 22, 2020
I only have great things to say about my experience. I was greeted and directed to meet with Robert, as we had scheduled an appointment. Robert was prompt and polite. George Schultz made sure my requests to see and test drive cars were handled quickly. George was informed, thorough, and a pleasure to work with. George provided a great, no pressure experience. Job well done. Theresa Blake finalized our paperwork. She has a great personality and infectious smile. Awesome job all around. Exceptional customer service.
Matt Carter
May 8, 2020
Best service I have ever experienced hands down. Thank you!! You guys rock!!
Sean Pruitt
Apr 27, 2020
Fast start I just wish that they had the right tools to do the job on my Malibu. I would consider going back if they invest in more tools to do the jobs. Kind and friendly staff.
gbmoney01
Apr 26, 2020
Quick response to email communication, clean dealership, and relatively painless closing process without the typical pushiness experienced elsewhere. Vehicle was clean. Had to return to deal to complete paperwork as they forgot to finish some details. Otherwise, pleasant experience.
Road Warrior
Apr 22, 2020
RJ was great to deal with, very professional would recommend dealer to friends and family
stumo4475
Apr 21, 2020
⭐️⭐️⭐️⭐️⭐️ Speedy repair, excellent work and customer service!!
Jeff Schultea
Mar 27, 2020
So far, my entire experience with AutoNation has been nothing but fantastic. First rate on every level. The best car buying experience I have had. Thank you!!
SeanzyD
Mar 27, 2020
Chris Tansiongco did an outstanding job. It was a fast, pain free experience. He went out of his way to make our experience pleasant. Robert Merchant helped with the process and was excellent as well. We will definitely recommend AutoNation to everyone. 10 out of 10.
Eric Allen
Mar 26, 2020
Both Bob and the repair staff performed above my exceptions. The car looked like new and ther were no areas where the magnet did not pull toward the area of repair. the workmanship was as promised.
JE Great Job
Mar 21, 2020
Overall it was a great experience, it could have been exceptional if the wait to sign all the documents could have been quicker, I had to leave and come back the next day to finish my paperwork because it was such a long process.
Debbie7
Mar 6, 2020
Dropped my truck off, ran an errand, and vehicle was ready that quick.
silvauh60
Feb 13, 2020
Terrible service no tire rotation wrong stick for next oil change was place on my car no detail diagnosis done
Joseph G
Jan 30, 2020
Got me in and out. Great customer service
Alhassann
Jan 20, 2020
This Place is Amazing. I Have Owned 29 Vehicles in My Life Span From 19 Years Old UNTIL Now at 46 And I Always Purchased Cars From Small Note Lots, Buy here pay here Lots OR Private sales And FYI I Will Never Buy Anymore Vehicles Unless it's from AUTONATION. I'm A Customer For Life..
K'Harold Tha Prince Stevens
Jan 17, 2020
We bought a care from Deo this past weekend. He was honest and so helpful! We found an awesome car for my daughter with a great price. I also love that this company gives back to help with breast cancer research. I am in remission from breast cancer, so this really meant a lot to me.
Josie
Jan 8, 2020
awesome service department very honest and up front with everything
makkoo.
Dec 28, 2019
Very helpful and understanding my needs. Too bad I can't say that about AutoNation Ford Katy who lost my Wheel lock and want to charge me a few hundred dollars to take the locks off of my wheels and told me it would take all day to do it.
M.Ebanks
Dec 28, 2019
They were very friendly, super efficient, and quick.
SandraD
Dec 3, 2019
Come in for a promotion oil change. - The online schedule is a great experience - The very nice and accommodating facility. - The service job is done very quickly, in and out for about 30 minutes.
VietChi
Nov 14, 2019
Auto Nation USA Katy, is the dealership we bought our truck from this week. We had the best experience with the professional staff there, and especially Leo!! I would rate them 5 stars!!
Edna Hathhorn
Nov 12, 2019
Great service experience. This team is exceptional. Service was fast, staff was professional, and prices were reasonable. Highly recommend this dealership!
Falcon78
Nov 12, 2019
I had a very good experience at AutoNation USA Katy! The staff here was amazing and everyone was very polite creating an excellent experience. I have to say that Wayne Brown is a true professional and made the vehicle acquisition very easy, and did so in a timely matter. THANK YOU!!!
Eric Schoenfield
Nov 7, 2019
I contact auto nation and set up an appointment to sell my 2017 Camaro. The whole experience was great, only took and hour and I got top price, I know this because I also went to Carmax and they low balled me $3,000 lower than Auto Nation, smooth experience, was very happy when I left.
jcole732
Nov 4, 2019
I have sold my car to AutoNation and it was easier than what I thought and quicker than other places. Also, they gave me a better price by matching another competitor.
farouk007
Oct 28, 2019
Amazing customer service! Staff is very attentive. Everything was communicated & explained to me thoroughly. I was there for service, but watched the rest of the staff interact with customers & they were awesome. I love this place.
Sandra Duran-Mann
Oct 17, 2019
I was looking to sell my used F350 and considered several used vehicle channels. However, AutoNation made the process simple, smooth, quick and came forward with a very competitive offer. Awesome to work with and I would definitely reach out to them again! Several years ago, I purchased this truck new from them and would highly recommend them for a new truck purchase as well.
Txdroneman
Oct 15, 2019
The car price was not up & down or fought for. He (car) was very clean. The sales finance staff were actually open & truthful. We laughed & talked about real world things. 5star to me.
Yo mama 123
Oct 14, 2019
This people are really, very good customer service representative, they are God sent , it works like you will never believe it , AutoNation God bless everyone of you for buying my car and giving me check at a spot, without buying any car from y'all, I will recommend this trustworthy people to all my family and friends!!! Thanks so much Amaka 👌🏻❤️ AutoNation I love 💕 you all
Amaka Johnson
Jul 6, 2019
Purchasing my Toyota truck onJune 26,2019 was a simple, very satisfying experience. The Autonation staff very knowledgeable and helpful: Wayne and Jhan in sales and Reggie in finance. I would gladly recommend this Autonation store to anybody wanting to buy a vehicle.
Bob Brown
Jun 27, 2019
We went on a Thursday to get my son a car, Nuri, Robert and Frank helped us. We had our eye on a few cars, but one specifically. Nuri reserved the car for us through the weekend and communicated and helped us all weekend. He continued searching cars and sending us options, was extremely dedicated and so helpful! After we searched more around the Houston area we could not find a better deal or dealership with the kind of attention and friendliness Auto Nation provided. We went back on Monday and bought the car. They took our old car for whatever price other places were offering us. It was incredible! They were so patient, helpful and extremely attentive! This is definitely your place to look for a car, with awesome customer service and incredible communication!!
Tatiana Salvo Iglesias
Jun 26, 2019
Leo Mike was a great help. he was quick and courteous. gave us a great deal.
JP Duberg
Jun 14, 2019
Great experience with Richard. We went twice and he showed us multiple cars and much patience during our decision making progress.
Nadia Hernandez
Jun 9, 2019
I had an amazing experience buying my new car today! Nurideen was very helpful and had the deal ready for me when I got to the dealership. At first I was nervous because I was driving from Austin and felt like this was going to be just like the other dealerships— full of BS. But to my surprise they had my car ready for me honored the price and actually gave me more for my trade then what they offered before they saw it. Hands down the best car sale I have been part of. Thanks Nurideen!
Anthony Harris
Jun 3, 2019
Best car buying experience ever! I recently purchased a vehicle at this location and had nothing less then 5 Star service from their whole team. Make sure to ask to work with Rashad Pride! He was knowledgeable about the cars and had a good variety of vehicles to choose from within my price range. Everything from choosing the car to financing, Rashad made it quick, effortless and stress-free. I am enjoying my new car, and I will definitely purchase my future vehicles with them when the time comes!
Ashley Gipson
May 17, 2019
Nothing but a great experience , thank you Katy Auto Nation, B. Mhoon and Jhan!
Tracy Brooks
May 15, 2019
Everyone was so helpful and nice. Marisol made sure she found me the exact vehicle i wanted! Great Customer Service 👍🏽
Star Renette
Apr 12, 2019
Great service repair dept!! Exceptional facility and staff!! 😍
Beulah Ann
Mar 23, 2019
Great Value, Amazing Customer service very friendly environment. Nuri provided us the excellent customer service.
Jasmeet Singh
Mar 11, 2019
Amazing experience stop there and they were out there helping us within 10 minutes. The whole staff was great helped us with everything we wanted to giving us what we wanted for our trade in to getting my wife the car she wanted. Pilpea got us approved and rolling all in the same day. And I'm returning today and buying a truck. So guys and gals if you want a great deal go see people a AutoNation of Katy, Texas 5 stars all around
Richard Gray
Mar 4, 2019
Nuri was very professional and forward. He took the time and answered questions. After applying for an Auto Loan with First Community Credit Union the buying experience was smooth sailing for their. Nuri answered all of our questions and all staff was friendly and helpful! My only concern was we didn't check the cigarette lighter it doesn't work. I would recommend AutoNation for your car buying needs.
Sandra Cabrera-Knight
Feb 13, 2019
Nuri, my sales person was very professional and straight forward. Made my buying experience one of the best ever. All the personal were friendly and helpful. Will buy there again!
Rauf Diab
Jan 22, 2019
just now This Car Buying Experience has been the easiest process ever! Even those that I referred to this dealership with Bad Credit got in a Vehicle! They work with all types of finance background. I was able to submit all my information online & didn't have to step in the dealership only to sign off on papers! I'm definitely coming back & referring everyone! Thanks to the Auto Nation USA Katy Manager Wayne & Sales Rep Richard for an Amazing experience!
Tanner Maldonado
Jan 16, 2019
They are nice and helpful, you can get good car with great deal and better service
Tarek Abdulrahman
Dec 22, 2018
I had a great experience from AutoNation USA! Kristy was my salesperson & I couldn't be more grateful for the experience I went through when purchasing my first car. I had previously gone to another AutoNation the day before, but I was so rushed I did not want to pick a car on just 3 cars I test drove. The next morning my husband and I went into this AutoNation, thinking we had an appointment, and Kristy was Kind, Polite & Professional from the time we walked in. We test drove a handful of good cars, but we were stuck on one of the cars we drove from the other AutoNation. She then mentioned that if we really liked it, she could bring it from the other dealer. It was mentioned that the car had already been sold, we were upset, but we test drove just one more car to see if we could make a deal that day. After the last test drive, she came back with awesome news that the car had not been sold and she was on her way to pick it up for us.. She was just as excited as we were to see that the car had not been sold. Overall, best experience I ever had buying a car. Def recommend AutoNation USA when it comes to purchasing a car! Ask for Kristy, she the bomb!💣😎
Tiffany Tennyson
Dec 17, 2018
I had a great experience. Rashad was very helpful. he got me in and out.
Selena Dinh
Dec 8, 2018
It was a great experience, Rashad was a great help throughout the whole process. During the test drive he made the drive not awkward as if you are driving with a stranger. It felt as if he was a friend joining you for a cruise. Although the process may have been a little long, but they had plugs on the table which help past time. Overall, it was a great time
Johnny Tran
Nov 29, 2018
Grcia por tanta amabilidad todo su esquipo en la compra de mitoyota para mi familia gracia Kristy reyes hi su esquipo
Milciades Suero
Nov 22, 2018
We had a great experience purchasing a vehicle for our college son. Juan was a great salesperson along with the entire team at AN Katy. Thank you Juan for assisting us with the purchase and still making sure we got out in time to meet our family for dinner! I highly recommend AutoNation USA Katy!
Rebeca Gonzalez-Aguirre
Nov 11, 2018
Great experience from Neri and AutoNation with the purchase of my new car!
Jay Moe
Nov 10, 2018
If you're in need of a vehicle, please, please go in and see Kristy. Many sales people can try to pressure but she took out the time to listen to me and cater to my needs and got me approved for the vehicle I wanted.
EL Stevens
Nov 3, 2018
Eder Ramirez is one of the best sales representative I have ever met. Ask for him when you visit AutoNation Katy Texas. Also ask for Suri.
Angie Ruffin
Nov 2, 2018
It was an awesome experience! Everyone was so nice!
Jackie Johnson
Oct 28, 2018
We had a very pleasant experience Nuri was our sales rep and he was very polite and answer all of our doubts. Lily and Wayne from credit and accounting were very nice to us too. My wife is delighted with her new car. Thank you AutoNation USA Katy.
Armando Rodriguez
Oct 27, 2018
They were excellent and James was so kind, thorough and thoughtful!
Jennifer Fields
Oct 26, 2018
Great sales experience overall.
Carolina Guevara
Oct 25, 2018
Had the best experience I could have possibly had with Rashad Price! He helped us for several days to find the right car as well as help make sure it was what fit our needs. From finding the car to the right bank for the right down payment and monthly payments he was honest from the get go didn't hide anything and definitely pointed us in the right direction. He was very helpful with making sure we were covered from extended warranty to gap insurance and kept everything out on the table and open. I have never been to a dealership where that was handled in such a professional manner. I would recommend this dealership to anyone I know looking to get a new vehicle. Thank you for the new car and look forward to do business in the future with you guys !
Parker Bazarewski
Oct 11, 2018
My salesman, Juan was terrific. The whole experience took way to long (no reflection on him). We were there over 3 hours and I had already picked out my car. We picked it up the next day and the sales manager didn't greet us, but a salesman did. I told him I was picking up a car I had purchased. The sales manager didn't even look up from his computer and said, "they bought a car last night". He was not friendly, didn't approach us or anything. Not great customer service. They didn't even bring the car to us or walk us over to where the car was; he just said, "it's right over there". I feel the sale had been made so he didn't care about us any more. When we got the car I was disappointed that the inside had not been cleaned up. I also thought the tank should have been topped off. I just feel it was horrible customer service, after the sale. We were checking everything out for at least 30 minutes and you would have thought someone would have at least come ask if everything was ok, but No, no one did. I guess they didn't make the sale and it was 9:00 in the morning and they couldn't be bothered. I think they have forgotten that most people don't buy a car everyday and purchasing AND picking up their car is a pretty exciting time. AutoNation did not share in that excitement.
Marie Jones
Oct 11, 2018
Thank you Auto nation for the great experience and letting me make the decision I wanted Wayne, Nuri and Temetris y'all were great thanks!!!
Nathaniel Bingham
Sep 29, 2018
AutoNation has great customer service
Rozell M. Hudson Sr.
Sep 26, 2018
Rashad was our sales rep, answered all our questions and concern; overall we received quality service from the dealership. Ambrose Isibor
Amadasun Uyi
Sep 26, 2018
First time bought a car ... tremendous customer experience and Wayne from day one has been a great support in any situation and great 👍🏻 Person as feels like driving into your own car 🚘 showroom!!! I would definitely recommend anyone interested to buy a car from here ... once again Wayne thanks a lot 😉
Be Hassan
Sep 11, 2018
We had a great experience purchasing our truck from AutoNation USA Katy. Our sales rep Richard was very helpful and polite. My only complaint was it did take awhile for the whole process, other than that we had no problems!!!
Tia Mahrer
Sep 5, 2018
I really appreciate AutoNation for the Corvette I love it and thank to my salesman Eder Ramirez for a great job getting me approval my next car I will buy from them thanks to all for a wonderful experience
Kelvin Reynard
Sep 5, 2018
I had a great experience buying a Toyota this weekend from Autonation. Rashad, the salesman, was awesome, patient, and helpful. He gave me my time to make a decision, change my mind, and make a different decision.. everyone was nice and encouraging (as it's my first car here in Texas) .. overall, it was a great experience!
Rasha Issa
Sep 4, 2018
Rashad was excellent and I love my car walk in told him what I wanted and he got it there with no problem
Jeronica Jones
Sep 4, 2018
I went to this location last minute and they still took care of me right away. My sales rep, Richard, even came to my house to pick me up the next day to pick up my car. The manager even put on my license plates for me late at night very close to closing time! Very nice team. 🤗 10/10 would recommend.
Chris Stoker
Sep 4, 2018
I loved my experience at AutoNation! My salesperson, Nuri was an exceptional salesperson - so knowledgeable about the car I selected, excellent customer service skills, and followed up to make sure I was happy and that everything was still great! WOW, how often does a salesperson follow up???!!!! Out of 1 to 5, Nuri was a 10! I so recommend that anyone stopping by ask for Nuri. Honestly, I was so blown away by the whole team!
Leslie Lawrence-Sullivan
Aug 13, 2018
Found a Sequoia on CarGurus and called Eder and he said he would pull it to the side for us. We drove the 100 miles to see it, made a very good deal with them buying the trade. Found a lender we signed papers and drove it home. Thanks to Eder the management team that All introduced themselves. We will shop with you again the next time the need arises.
Chris N Becca Simons
Aug 5, 2018
Sloan was great from start to finish!! Made everything clear and simple! He made my car buying experience as pleasant as possible. I will definitely be recommending Sloan Hood to all my family and friends. This is the experience everyone should have purchasing a car I'm truly blown away!! They are definitely doing things the right way here!! Sloan Hood is the man!!
Terrance Franklin
Jul 7, 2018
I highly recommend USANation to all. Staff's goal is to ensure the customer is satisified during the shopping process, the "paper" work, and during the "taking home the baby" (glk250). Wayne Brown is really awesome as well as Frank Reed, Lily Ayoubi, and many many more... I encourage anyone shopping for an auto.."try them" you will like them". I did and happy to be in the circle of life time members with AutoNation especially with my current disease( buy a car every two year disease) Thanks again AutoNation See you in 2 years
Greg Tindel
Jun 29, 2018
Great dealership! The staff is friendly and very helpful. I was helped by Jhan Gonzalez and I would recommend everyone to work with him--very knowledgeable and helpful. Thank you!
Kayla Scott
Jun 13, 2018
Good environment awesome experience so far! Awesome staff!
Jhan Gonzalez
Jun 7, 2018
I met the salesman Kimbrough Austin and he was amazing he really showed he cares and really wants to help you everyone there is so friendly and polite and it is a great place buy your car. I recommend you go there and ask for Kimbrough for the best service you can ask for.
Superfan
May 1, 2018
I just purchased a BMW X5 from AutoNation USA Katy. The salesperson I worked with, Wayne Brown, was a pleasure to work with. He was very helpful in allowing me to reserve the car, in following up with the prior owner for service history, and in quickly communicating with me regarding my questions. I interacted with a sales manager named Charles, who was professional and respectful. I also worked with the service advisor, James, and service manager, Matt, who both went the extra mile and helped perform additional inspections to the vehicle. The reason for not giving them 5 stars is that Robert, another sales manager, could have been much more professional in answering my questions or concerns. Overall, though, I would recommend this store if they have a vehicle you are interested in. Ask for Wayne!
Jacob Burnett
Mar 26, 2018
Found the perfect SUV online Wayne Brown reserved it for us Thank you. Tamika was very patient and polite with us as well. Proud owners of a Ford Explorer thanks to AutoNation
Patricia Martin
Mar 11, 2018
Great environment and you don't leave with buyer's remorse!!! My car was in excellent condition and Harvey was a great salesperson!! I totally enojoyed my car buying experience! 5 stars all the way ⭐⭐⭐⭐⭐
Chioma Johnson
Mar 7, 2018
My family and I have purchased several car from Autonation USA Katy, and we have always had a great experience. From the time Victor, our salesman contacted me, he was polite and attentive to my needs, even after the vehicle I chose was sold. My experience was so good, the hubby decided to purchase, also.
Tracie Simpson Mouton
Mar 5, 2018
Autonation USA, Katy was a one stop shop. My husband and I found the car we wanted online, I submitted a request for an appointment online and was immediately called by Juan Gomez, after. The next day we test drove the car, received an appraisal for our trade in, and had to get to an appt elsewhere. We later submitted a credit app over the phone and were approved shortly after. I had a specific car payment in mind and they met that request. We agreed to terms and went in when we were ready to sign papers. We were able to go to breakfast while waiting for all documents and then drove off in our car that had a beautiful pink bow upon arrival. I've never had a smoother car buying experience and will rave on about this location to everyone. All staff were pleasant, the facility was bright and fun, walls were artistic and specific to Houston, there was a okay area for kids and it was an all around great place to be. Juan took care of us and had a very efficient followup process to make the transaction easier. He answered all questions with ease and had great customer service. We are very grateful to have stumbled across a place like this.
Margo the REALTOR
Feb 14, 2018
Very good customer care, quality vehicles and ausom staff
Thomas Varughese
Feb 13, 2018
My son just bought his first car. We saw it on the website. Emailed the store. Reserved the vehicle online. Drove down from Dallas to Katy, TX to test drive and buy it! It was that easy!!! The GM, Frank, our sales associate, Alex, and ALL of their staff were courteous, friendly, professional, and helpful. They went out of their way to make our experience positive. The One-Price is a fair market value price for the quality of vehicle we bought. They definitely have competitive pricing. Thanks AutoNation USA! My son is one happy dude!
KT Petaccia Whitaker
Feb 11, 2018
The staff was friendly, relatable, and knowledgable. Unlike other dealerships, I felt zero pressure while going through the process. Huge thanks to Wayne, who was the one that helped me get my vehicle!
Joe Ybarra
Feb 10, 2018
My overall experience was quite well actually, the person I worked with was very kind and hands-on about the date/time I could come in and look at the car and the payment process and which would work best for me and which one wouldn't and if it would be easier to pay in all cash or do a monthly car payment. I was also a little confused over which model of the car was better to go with since one was a newer model but I liked the color on the other 1 better, so I went with the newer model because he/she explained the newer model held a little more gas per mile and had the updated back up camera and g-ps unlike the other model of the car, I could always go to an auto-repair place and get a good paint job in the color I like.
Sorelda (-:
Feb 6, 2018
The staff were friendly, very up front and easy to work with. I would go there again.
Geoffrey Goodman
Feb 3, 2018
More
Show next 5 Reviews
Our Commitment To You
1. Quality Used Cars at Guaranteed Prices - The price you see is the guaranteed price you get-online or in person. No haggling. This takes the pressure off you and lets our associates focus on your needs.
2. AutoNation USA Worry-Free Pledge - Each pre-owned vehicle comes with a quality inspection process and a Money-Back Guarantee*.
3. A Happy Sales Force -
 Remember how we told you our no-haggle, guaranteed prices take the pressure off you--and our sales associates? This frees up our sales force to focus on other things--like answering all your questions and providing you with all available resources needed to ensure your next pre-owned vehicle purchase is your best one yet.
4. Know Before You Go 
- We've made it easy for you to do all your research online first with our extensive pre-owned car inventory. Search by year, make, model, body style, price, and compare multiple vehicles at once.
5. Turn Your Car Into Cash - 
Get an offer on your current car in as quick as 30 minutes and take up to seven days to decide if you want to sell it, with no obligation. Our offer is good at any AutoNation store.