About AutoNation USA Phoenix
Looking to Sell Your Car in the Phoenix area? We've got you covered! We'll buy your car, no purchase necessary.
Browse thousands of quality pre-owned vehicles, each with a low no-haggle price.
Shop by Bodystyle at AutoNation USA in Phoenix
Shop By Used Car Brand in Phoenix
Top Used Models For Sale in Phoenix
Monday

9:00AM - 9:00PM

Tuesday

9:00AM - 9:00PM

Wednesday

9:00AM - 9:00PM

Thursday

9:00AM - 9:00PM

Friday

9:00AM - 9:00PM

Saturday

9:00AM - 9:00PM

Sunday

10:00AM - 6:00PM
Located at:
2625 W. Bell Road, Phoenix, AZ 85023
Your Premier Dealership in Phoenix, AZ
Looking for a
used car
for sale in Phoenix? Allow us here at AutoNation USA the pleasure of lending our decades-long used car sales experience to you and making some of the most attractive offers on pre-owned vehicles available to you -- right now. Here at AutoNation USA Phoenix, we stock a vast selection of used cars for sale in various colors and body styles. Each vehicle that we sell has been subjected to rigorous testing in order to satisfy our stringent requirements until it is considered showroom-worthy. 
Stress-Free Car-Shopping
Our sales experts are dedicated to providing the utmost courtesy service when it comes to finding the vehicle that fits your driving personality and everyday needs. We adhere to all your automotive questions and concerns on your select model, and we will guide you with expert advice and car knowledge to the vehicle that best suits your driving style. 
All of our used vehicles feature our 
1Price Pre-Owned Vehicle
 formula. The price you see is the lowest price possible, so there's no need for haggling or uncomfortable negotiations. Our no-hassle sales approach creates a laidback car shopping atmosphere so look forward to a stress-free experience when visiting our used car inventory in Phoenix. We take care of our customers and when you have questions, we have the solutions. Visit
AutoNation USA Phoenix
today!
Recent Reviews from AutoNation USA Phoenix
This dealership gets five stars from me! I had the fortune of having Ed as my salesman. Ed is hands down the best salesman I've ever worked with. He is so kind and understanding. I bought a 2007 Mitsubishi Eclipse Spyder from this auto nation and the car is beautiful! Wouldn't have been able to call this car my own without the help of Ed! Once again 5 stars, all thanks to you Ed!
Ian Reif
Nov 23, 2021
Amazing Service, friendly and reasonable. In Jesus name we will come back for any future purchase on a vehicle. Thank you Derek for assisting us. God Bless also the nice Loving Lady that did our paper work I totally forgot her name but not her Smile, She was Amazing thank you aswell!
Hiedra Martinez
Nov 23, 2021
Daniel is awesome great experience
John Smith
Nov 20, 2021
Very helpful and friendly
nancy dearcia
Nov 18, 2021
Great fast responses and went above and beyond.
Clary Roberts
Nov 14, 2021
Ricardo has been so easy to work with in the purchase process, and Svetlana made the finance process run smoothly! AutoNation has delivered a wonderful experience all around for this vehicle purchase!
Tracy Atencio
Nov 13, 2021
Alfredo Jimenez at Auto Nation was so genuine, kind, and helpful in buying my "new to me"pathfinder. No hassle, gimmicks, or high pressure, just kind & and honest which is really so appreciated when buying a car!! I would highly recommend buying a car from Alfredo Jimenez at Auto Nation @ 2625 W Bell Rd Phoenix, AZ 85023..
Leigh Massey
Nov 13, 2021
Best experience, Ask for Pedro and Adrian, they'll set you with a nice price and best rate
Manny L
Nov 12, 2021
I had a great experience form the beginning. Jorge M. was very friendly and Extremely knowledgeable about a lot of different cars! I appreciated the fact that he listened to my needs and was in no rush to "sale" me. I can tell he has done self development coming from a business guy who has read a lot of books. Although the car I wanted wasn't in the lot I will definitely recommend people to Jorge and check back in a month to see if my car is in the lot. Thank you Jorge for your time!!
Josh Medel
Nov 12, 2021
Best dealership to buy your used car from in Arizona. Free 90 day gold warranty 🤯🤯🤯
Jorge Martinez
Nov 12, 2021
Michael was extremely helpful and knowledgeable in getting me in to a new car quickly and without hassle. Very satisfied with the service at this location 👏🏾
Cody DeBride
Nov 12, 2021
I bought my car from Ed and he was lovely! He's very friendly and was able to give me the fastest services possible! Highly recommend Autonation USA Phoenix!
Alyssia Escobido
Nov 12, 2021
Everything was great. Derek was amazing. Only thing is when ur ready2close the deal expect2be there at least 2hours.
L T
Nov 11, 2021
I was looking for a used car something reliable and inexpensive I went there I met the sales manager he was right in the middle of the show room his name is Aslum he guided me to a sales professional Michelle he showed me around find me a car that fits my budget and they are very transparent about work they have done to the vehicle I would recommend this place to everyone
Ozzy Khan
Nov 10, 2021
My husband and I had a wonderful experience at PHX AutoNation! We worked with Ed and their entire staff was helpful, not pushy, extremely friendly, and professional! I highly recommend checking them out.
Constance Everett
Nov 8, 2021
My daughter's 21 year old boyfriend bought his first car from this dealership yesterday and wow what a great experience it was! Max is such a great salesman not pushy one bit and was very smart and honest we really appreciated him and all his help! SOB was great to very personable! Definitely would refer them to anyone who wants to be treated with class and respect.
holly wellington
Nov 7, 2021
Bought us a Toyota Tacoma prerunner SR5 V6 and we are so in love.
Ardapony Jewelry
Nov 7, 2021
Easy and Quick Process. No hidden Fee's. Prices are lowest we found. Highly recommend! Dealt with GM Derek, and Svitlana Clemmer in Finance. Both took no time to get back to me on anything I needed.
Brandy
Nov 6, 2021
So far, we've had a great experience at Auto Nation in Phoenix! My dad and I worked with Ed and another very nice lady in financial!!!! Beyond friendly and not just a fake friendly but very kind and patient and knowledgeable about everything!!!!! We went in on the fly and ended up leaving with a great car and the whole thing was just great! Super stoked too about the 90 day/4000 miles warranty as well! This was my first time using auto nation at all and just the experience today was great so I wanted to share that! Not your typical mean and pushy car people that's for sure!!!
Jax Mae
Nov 4, 2021
I researched online through many dealerships and found 3 trucks I was interested in were located at AutoNation. My sales person was Michael James at 26th Ave and Bell. He was very patient and professional without hesitation to assist me while I test drove the vehicles. The experience took me 3 days to make my decision and there was no pressure from Michael or his team. I purchased a RAM truck with assistance from Adrian Chavez in financing and every question I had, was answered clearly. Best experience I've had in purchasing a vehicle!! Fantastic people at this location!!
Edwin Rodriguez
Nov 3, 2021
I highly recommend the fantastic people at AutoNation on 26th Ave and Bell. I had the best experience buying a vehicle!! Thank you Floyd and your crew for making my purchase easy and seamless,, no STRESS on my end!! I'll be back when I'm ready for my next vehicle!
crystal mckinnon
Oct 30, 2021
We just bought our second car at Autonation Phoenix and had a great experience again! We love our two Subaru's and we're treated so kindly during the process by Floyd, Bonita and Eleno . They have a great inventory and wonderful customer service. We will be back when it's time to look for a car for our oldest son!
Angela Pogany
Oct 30, 2021
I recently bought my second awesome car from Autonation Phx.! Last year we bought a 2019 pristine Subaru Outback and two weeks ago bought another pristine 2019 Subaru Crosstrek with only 5,000 miles. They have an great inventory of pre owned vehicles to choose from at a fair price! The customer service we received was top notch as well! Everyone is so kind and helpful and makes the process enjoyable. We drive up from Tucson to buy our cars here. Our oldest son will need a car in the next year and we will come back to Autonation to find one! I would recommend any family and friends to them. They will take good car of you and help you find a great car for your lifestyle.
Angela Ralston
Oct 30, 2021
I came in looking for a vehicle at this location and actually felt as if the dealership had my best interest in mind. From management to salesman I would recommend this location, the service is second to none in the car industry.
Zach Freeman
Oct 29, 2021
My family and I have bought multiple cars from Autonation USA Phoenix. Jasmine is always happy, smiling, does whatever she can, she puts the customer first. I will always go to Jasmine for all of my used car purchases. Thank you Jasmine for all the hard work.
Tim Rolfe
Oct 29, 2021
I cannot begin to explain how well I was treated here. It is more than evident that customer service is held at a high regard. I came in with lots of questions that were swiftly answered by a younger gentleman, Shahram. He gave me insight on the vehicle I was interested in. Usually car dealerships are a fight to get what is fair, the opposite was true here. I don't usually write reviews, but this was worthy of 5 stars because I was blown away.
Sparky Morris
Oct 29, 2021
I am so happy to have just purchased my vehicle from here. It is a huge load off my shoulders after an accident I was in that left my old car totaled. Vanessa made the purchase smooth and stress free. I feel even better that they offer great protection for my car after the purchase.
Laura Cincoski
Oct 29, 2021
The saleswoman jazmine really was one of the best. She helped me and took into consideration what I needed and helped me find exactly what I was looking for and didn't leave my side. Plus she answered every question I had
Juan Joel Lachonacity
Oct 29, 2021
Bonita was super helpful with not one but two of my car purchases! I would definitely reccomend shopping here for your vehicle! Everyone was super friendly :)
Jasmine Faulkinbury Jones
Oct 29, 2021
Very clean dealership with easy going, helpful people!
Jared Senne
Oct 29, 2021
Great experience with exceptional service! Will definitely be back! Such friendly faces and easy conversation with Daniel!
Jack Potkonjak
Oct 29, 2021
Jasmine T. was my saleswoman when I bought several vehicle from Autonation. I highly recommend her to anyone who wants to buy thier vehicle. She is very professional, caring and attentive to all of her customer which is a breath of relief to anyone who has gone through major hassles from another dealership. She will go above and beyond to make sure her customers are well taken cared of from the begining to the end of the deal. She even follow up with you to make sure everything is to thier satisfactory. Thank you Jasmine for being a sweetheart and selling me the car I wanted.
Criselda Thurber
Oct 29, 2021
Wonderful staff! Everyone is super friendly and helpful. Im extremely happy with my equinox, thanks for the help and answering all my much needed questions, Jasmine!
Calla Thurber
Oct 29, 2021
Michael James is the best
Alexander Peterson
Oct 29, 2021
Hats off to an excellent salesman Derek Tschilar!! I would like to express my gratitude and rate my recent experience at AutoNation Phoenix. I gave it a 5 stars. I purchased a very nice 2015 Ford Focus in a immaculate condition and it was a smooth process. Derek helped me and he listened to me of what kind of vehicle I was looking for without pressure and I didn't feel rushed. And lo and behold…I found the right car!! I highly recommend Derek Tschilar for his excellent service. He was genuine, kind, and a true professional. I'm very happy with my recent purchase at AutoNation Phoenix they made it quick and painless and made the process easy. Ahee' Derek Tschilar and AutoNation Phoenix! (Ahee' means Thank You in my Navajo Language ) Happy costumer, AG Harvey
AG Harvey (Andie)
Oct 29, 2021
I like the USA store because of the quality vehicles and the friendly staff and Mangers. Thier one price always keeps things simple and they don't waste my time!! Finance is great since they come out to you
Lisa Bene-Brown
Oct 29, 2021
Easy car buying process. Would come here again to buy a car.
Morgan Wellander
Oct 28, 2021
Mariah went above and beyond ! Excellent car buying experience.
Karenina Braun
Oct 28, 2021
This has to be one of the most relaxed places I've ever come to when buying a vehicle and Daniel has been a great help. I hope that others have as easy of a time being here purchasing a vehicle just like we have.
Raziel Umana
Oct 24, 2021
Mike was great! Got us into a vehicle no problem! Honestly today, he saved the day
Breenna Duran-Wernet
Oct 24, 2021
Daniel Asadi was wonderful. Super friendly and made the whole process super easy and not stressful at all for this first time buyer .I had a great car buying experience. Daniel really worked with my budget and got me in my new car in no time . Thank you Daniel and also thank you Sevtlana (financial advisor) she was also so friendly , super helpful and made sure to explain everything I was signing!
Aliea Nava
Oct 24, 2021
A great experience at this location. Sales rep Brenda was outstanding in her position. She was very professional and attentive. She answered our questions and met all our desires! Brenda is an asset to this dealership! Floyd the sales manager and Elton the F&I guy were professional as well. One of the best vehicle buying experiences and we've had a plenty! We hope Brenda keeps in touch and we'll buy from her again!
James R
Oct 21, 2021
Best car buying experience no dealer addons
Kurt Russell
Oct 20, 2021
Ricardo and Ed took great care of me!
Jason Gobbel
Oct 19, 2021
I would like to thank Mariah for the outstanding customer service. Wasn't able to get the vehicle I came for circumstance outside of her control. She was determined as me to get in the that I really wanted and we were able to do so. The process was long and dragged out for a couple days because things I was going through but she was very patient kept in contact but wasn't pushy. I really appreciated the amount of time and patients she had to help me! I would 10 times out of 10 recommend her. Thank you very much Mariah Chappell you're amazing and I appreciate you !! 👍
Romello Pritchett
Oct 18, 2021
Jorge was a huge help and friendly. Thank you.
Marlene Krause
Oct 18, 2021
Awesome customer service! Great dealership with lots of great people!
Eddy Contreras
Oct 18, 2021
Place was great! Quick and easy process on selling the car
Gigi Galindo
Oct 17, 2021
I bought my 2019 Fiesta St from AutoNation. It was the best car experience I have ever had. It was fast, friendly, and just a great experience. I drove all the way from Palm Springs to buy this car. The dealer took care of me. I bought the extended warranty, GAP and a piece of mind. Needless to say, I had some issues with my car. I called the dealer, spoke with Floyd Brown the manager. He did not even think twice and took care of me. They stood behind me and my car. I will forsure come back to buy another car from them. They are just amazing. Thank you Floyd and your whole team for my experience with AutoNation.
Toeknee Brymer
Oct 14, 2021
Mike was very helpful and knowledgeable. He made the entire experience very easy and smooth. I definitely recommend coming here to get a car.
Sav Bailey
Oct 12, 2021
Mariah was excellent! She had patients with us and offered the best opinions available!
Bryan Aparicio
Oct 11, 2021
Daniel took great care of us. He was very personable and helpful in all aspects. We really appreciated his patience and help with searching for cars for us.
David Weide
Oct 9, 2021
Went in and was helped by Vanessa Rivera, and the financial advisor was Clemmers and they both were so warm, welcoming and helpful. I didn't think i'd leave with a car based on my personal info, but they worked with me and got me a great contract based on my credit. I really enjoyed my time there. I adore my new car, and i hope to see them again in the near future
Lisle Allen
Oct 8, 2021
Mariah was exceptional at her job!! I came into the dealership not knowing what I wanted and she did a fantastic job at helping me narrow down my wants. She was super patient and didn't pressure me into making sale. She actually listened and worked with me as well as made my grandmother feel very comfortable, who was accompanying me. She's an awesome person and I HIGHLY recommend you ask for her, nobody else! Thanks again Mariah, I love my new truck!! Also, shoutout to the finance manager! He did everything in his power to get me a crazy low rate. Thanks again guys, highly satisfied.
spencer wade
Oct 5, 2021
Mike James is amazing! BEST car salesman ever!!!! By far
Pence Fam
Oct 2, 2021
Mariah was a good sales person. I had a great time talking with her. She knows how to sale auto 🚘 mobile. She got a five star rating we me.I will be back to buy a nother car from her. Thanks F Garza.
Frank Garza
Oct 2, 2021
Ricardo was amazing through out the entire buying process! He went above and beyond. Was super helpful and took the time to explain everything to me. I've already recommended him to friends and family. Best car salesmen I have ever had!
Irene Nenn
Oct 1, 2021
Mariah was such a sweet young lady. Very helpful, patient, and caring. Made sure the car I chose was detailed down to thec air in the tires. Loved the whole experience.
Sharon Kay
Sep 30, 2021
First time doing an online auto deal but it was worth it. Regen helped us quite a bit. Professional and outgoing, really appreciated that he wasn't like other salespeople in other dealerships who are constantly over your shoulder. He gave us our space and gave us the info when we needed it. Just 2 things we didn't care for, the vehicle we wanted and drove 200 miles for was not available due to a maintenance issue, the other was going in already pre-approved and having to wait 8 more hours to close the deal. We didn't get our vehicle till 3 days later, but Regen delivered it to us, so we wouldn't make that 200 mile trip again. That was awesome. Thanks again Mr. Howard.
Aaron Dxn
Sep 30, 2021
Mike was so friendly. He was extremely helpful when it came to my budget and provided a no hassle experience. This is my second time purchasing a vehicle from this location. I definitely recommend AutoNation.
Debbie Reed
Sep 28, 2021
Brenda was so wonderful in helping me get my car. She is very sweet, so patient and genuinely cares for her clients. She will go out of her way to do what she can to ensure you're happy when leaving with a vehicle! Thank you Autonation and Brenda for helping make my first time buying go as smoothly as possible.
Bekah Powell
Sep 27, 2021
Brenda was amazing and went above and beyond!! Thank you 😁
Jared Powell
Sep 25, 2021
Matthew Cascketta contacted me about a vehicle I had been searching for, the price was great and the vehicle was perfect. The manager, Steve Rogers gave me top dollar for my trade and the finance department had me in and out quickly. The entire process took just over an hour and I was driving away happy! Would recommend this dealer to everyone.
David DR Rogers
Sep 24, 2021
I am writing to you regarding Internet Sales Associate Vanessa Rivera, as she went above and beyond for me in purchasing the 1999 Chevrolet Corvette back in August 2021. I have been looking for a vehicle for my son for the past year and a half, as Covid-19 restrictions made car buying virtual instead of in-person. When I found a car I was interested in, I sent AutoNation USA Phoenix on 2625 W. Bell Road contact information to provide me more details on this car. I sent the information via email, and Vanessa contacted me within fifteen minutes of the inquiry into the car. Even though we did not speak, she left a detailed voicemail message with her contact information, and she texted me. I requested photos of the vehicle via text, and she took pictures of the front end, right and left sides, rear end, and underneath the corners of the car. When I requested more pictures of the Targa top and interior, she had the top removed, and took pictures of the interior and the rear interior of the car. As a consumer, we expect sales associates with this type of professionalism, and almost everyone that works at an auto dealership would do the same thing; however, since I have been looking for vehicles for the past year and a half, no sales associate has been so detailed, as well as willing to assist in my requests with swiftness. She was professional throughout the whole car buying process, and even though we spoke on the phone twice, she was helpful and willing to get back with me in a timely manner regarding every question I had. I must admit, she is an asset to AutoNation, and she made my car purchase very feasible. I appreciate Sales Manager Derek Miller and Finance Manager Svitlana Clemmer also, as they responded to emails in a timely manner, and I appreciated that. I have had bad experiences with other dealerships in the past with responding in a timely manner and requesting more pictures, and it took days or more for them to get back with me, and that was frustrating. AutoNation USA Phoenix on 2625 W. Bell Road went above and beyond with my car buying experience, and it is a professional dealership. Job well done AutoNation USA Phoenix on W. Bell Rd! I would purchase another car from you if the opportunity presents itself. -- Thank You, Randall Koonce
Randall Koonce
Sep 21, 2021
Wow..I didn't think buying a used car would be as easy and rewarding. We were taken care of with true passion. Robert Veign got the exact vehicle I was wanting and needing and Floyd (finance manager) helped me through that whole process. Im highly impressed and I am very grateful for all the help. THANK YOU
Candace Hall
Sep 21, 2021
My wife and I traded a corvette in on a Silverado and had the pleasure of working with Alfredo in sales. He got us a great deal and was pleasant to work with. I would absolutely recommend going through him to find your next vehicle whether you have a trade or not. Thanks for everything!
Bryce Marsolek
Sep 21, 2021
From walking in to walking out I was very pleased with my first time car purchasing experience. Financing is very flexible with no hidden fees. I had the pleasure of having Regan Howard as my sales associate. We gave him a very hard time making him go through all his inventory and he knew exactly what I wanted before I even did. He was very professional and made all the first time anxiousness go away. Highly recommend him! Thank you again to everyone at AutoNation. Keep up the good work.
Leia Maichel
Sep 19, 2021
Ms. Mariah Chappell was so much help. Love my new car and my daughter loved her.
El Martillo
Sep 17, 2021
Super recomendable,sus agentes son muy amables y muy atentos,en lo personal me gustó cómo me atendió Brenda Marmolejo agente de ventas,le doy 5 estrellas.hay gran variedad de autos,suv y pickups y de todos los precios!!!
Antonio Morales
Sep 17, 2021
Ed is great guy to work with and the staff were helpful, so I recommend Ed anything.
Fatmata Sannoh
Sep 16, 2021
Jasmine was super helpful and went completely above and beyond, got us in the perfect vehicle, thank you for everything!
Matthew Urias
Sep 15, 2021
As a transport driver picking up vehicles they are awesome get you in and out
John Baker
Sep 12, 2021
Vanessa Rivera, at the AutoNation Phoenix was so helpful by having all the different styles and models to choose from. I needed a new vehicle, I just wasn't sure what I wanted and could afford. Vanessa's assistance finding my perfect can was so helpful. She was patient as I was undecided about which option to chose that was best for me in my current situation. It felt like I was shopping with a friend and it was pretty fun. The financing was available with acceptable terms and there was no awkward "negotiation" about the pricing… it was smooth process with many extended warty and gap options. No high pressure and helpful associates with a wide variety of options. Would recommend and would shop again.
Jamie Tolle
Sep 12, 2021
I got into a terrible car accident and was looking to buy a new car and Micheal james was the absolute best person to help me. All of this has been stressful but he seemed to make it all so much easier for me
Haydan Smook
Sep 12, 2021
Mariah was a delight to work with! 👍👍👍👍👍
Theresa Roux
Sep 9, 2021
I worked with Mike on getting my Cadillac ATS was great and quick process
Robert Mathews
Sep 4, 2021
Best customer service and the sale associate helped us out a lot even though we had him back and forth for two days. If you need a good deal you should come to USA automation and ask for Alfrado he will make sure you are taken care of.
Nabor Jimenez Rosas
Sep 4, 2021
Brenda was fantastic from the moment she answered the phone to showing us several cars. Couldn't ask for a better person to work with. Thank you Brenda they are lucky to have you!
Michael Busby
Sep 4, 2021
Ricardo is awesome he got me more money for my vehicle then I expected these people are great and show interest in what they do and really help you thanks Ricardo !
Angelica Garcia
Sep 3, 2021
We drove by and didn't know we'd find the truck we had been searching for. One look at it and it was ours.! Jasmine was great with us, very sweet and professional. The whole staff there treated us very well in our short time there. Highly recommend AutoNation USA Phoenix.
Roxanne Cruz
Sep 2, 2021
Was a fantastic experience finally got the Jeep I wanted, Mariah our sales person was awesome she was very patient and present the whole time…. Desk Manger and finance manger also were great! Would defiantly recommend Auto Nation
Tracy Garrett
Sep 1, 2021
Overall, it was the best used car experience I have ever. Jasmine, our sales associate, was extremely pleasant and accommodating. She made the entire process fairly seamless. . We knew the vehicle we wanted and they made it happen for us; no pressure, no up selling, no hassles, no surprises. If I had one distractor, it would be the traditional long wait to get into financing. It seems there are not enough finance people in the building.But, once we were seen, the paper process was fast and efficient. I would buy here again.
Paradog Pro Srvs
Sep 1, 2021
Thank you so much for helping us Floyd
Marisa Parra
Aug 30, 2021
I have the best experience with Mr. Glean was helpful he listen to what I wanted and try his best to do everything that they can to make price the lowest they can go! Thank Guys!! #coolmomcar
Danyell Pickett
Aug 30, 2021
Regan was great! Very knowledgeable and helped us find a vehicle. The finance manager Adrian gave us a great deal on protections for my new car and was also a pleasure to work with.
mindalia Torres
Aug 29, 2021
Best ALWAYS…We have bought numerous vehicles and the customer service is excellent!!! Michelle Caldwell in sales & Svetlana in Finance offer world class service!!!
G TT
Aug 28, 2021
Drove there knowing what I wanted to look at and although things started out a little bumpy, Michael James grabbed the reins and made things happen. He made my car buying Experience fun and hassle free! Awesome guy who actually cares, very nice dealership. Thank you all.
Tawny Wigdahl
Aug 27, 2021
I wasn't sure what to expect going in, but getting my car here was a great experience. No pressure at all, no haggling, and overall very chill process. Ended up with a older used car for a great deal. Thanks all!
Katya Schwenk
Aug 27, 2021
Scam on Facebook salesman apologized profusely
Felicita Stafford
Aug 23, 2021
My previous experience at this autonation was not the best with some salesmen there, but Regan Howard turned that experience around! He was very helpful and honest about what cars we should and should not get, and I ended up walking out with an amazing car I love!
ari
Aug 22, 2021
Our salesman Reagan Howard is the best salesman I have dealt with at any dealership. He was honest with us given our financial situation and we ended getting a car that we really liked.
Daniel Ramirez
Aug 22, 2021
What a great experience we had at this location! Our sales person Vanessa Rivera was top notch, courteous and very attentive! Auto Nation is donating portions of sales to Cancer charities through September. I happened to be doing a push up challenge (25 pushups a day for 25 days) I asked some of the employees if they would get down and do 25 pushups with me, and THEY DID!!! Great job and great spirits at this location! Well done!
Ciro Giammona
Aug 22, 2021
Michael James was amazing. He took his time with us, explained everything and feels like part of our family. Always ask for Michael. He's amazing. Thank you Michael. Pamela
Pamela M.
Aug 21, 2021
Michael James is the best! So friendly and helpful
Madison Morgan
Aug 21, 2021
Michael was fantastic. He helped me get my first car, helped me with all the processing and paperwork, and showed me all the vehicle's filters. They are all great people at AutoNation extremely helpful.
PizXa
Aug 20, 2021
SEE 👀 DARIN !!! this guy was amazing very nice upfront he did me right got me a great deal that I couldn't turn down , I love the energy everybody there was nice the process was Quick , it's a lot different from any other dealership , no games no BS!! Thank you.
Ofc. AL-ANI
Aug 20, 2021
Very pleasant young.
Jennifer Russell
Aug 20, 2021
Mariah is the absolute best! She was so patient with my decision making, she showed me multiple cars through out the entire day until I found my dream car. She walked me through the entire process and answered all my questions. If you ever want to buy a car from someone who cares go to Mariah! She's amazing. Everyone at Auto Union rocks! Definitely coming back for my next vehicle
Felicia Russell
Aug 20, 2021
If you are looking for a dealership that will not push, haggle or peer pressure you into buying a vehicle, you have to visit AutoNation. My husband and I started looking for two vehicles for our teenagers and determined to find a good, clean deal. We visited many dealerships around the valley and each time we felt that each one had the mindset of "give the customer cancer, then cure it!" It was a frustrating and exhausting experience; after meeting with Darin Lawrence at AutoNation Phx and seeing his good and honest approach we decided to stick with him for our purchase.Thanks AutoNation for the clear communication and straightforward approach, you truly made your customer happy!
J G
Aug 15, 2021
Ricardo was very professional and answered all of my questions for me.
Behnan Giso
Aug 15, 2021
Regan was very nice, helpful, and patient he's a great employee would give more stars if I could
kyrin talley
Aug 14, 2021
He knows his job, Regan is the one to go to.
Monica Abdul-Rahmaan
Aug 14, 2021
Ricardo was absolutely awesome, was a difficult situation but he was patient working with my daughter and she is a very happy new owner
James Feely
Aug 14, 2021
Fantastic experience with Auto Nation Phoenix. Tony was superb! Very professional. He explained well the details of purchasing my car. I highly recommend Auto Nation Phoenix.
Kristie Scott
Aug 12, 2021
Raven Harold helped me buy a car and he was really nice and helpful, the finance people were also very good as well!
Conor Toth
Aug 9, 2021
Wow! This dealership gave us the best experience! No pressure, no haggling, just great customer service! Mr. Darin Lawrence was awesome, this was, by far the BEST car purchase experience we have had! Thank you Darin! A huge shout out to all who make this place so great!
Susana Baca
Aug 8, 2021
Darin was awesome to work with! No pressure! He allowed us to bother him for a few weeks and never complained. Made buying our new car easy!
Russell Baca
Aug 8, 2021
This review is for Jorge who I am sure will continue to succeed. He goes far beyond what I would do for any job. He is management material . I am sure he will pay great attention to details in the future helping to shape the company with core values of integrity. In fact I believe one person can make an impact so continue on Jorge keep making people smile.
Melissa Padilla
Aug 8, 2021
MICHAEL JAMES. If you are looking to buy a car Michael James is the guy to go with, the car we were looking for sadly was sold after 2 hours waiting for the customer to make up their mind and purchase it. Meanwhile we waited Michael was kind enough to buy us lunch and after did his absolute best to find us the car we wanted! Michael deserves a raise and promotion!
Eggmm8668
Aug 8, 2021
Darrin was very friendly and informative. He wasn't pushy like I've had in past experiences. The process was quick and easy and he helped me get s great deal. I would highly recommend going to this dealership in the future.
Cody ODonnell
Aug 8, 2021
Great service, friendly staff
Avinash Dhanraj
Aug 8, 2021
Good experience buying a car here! Worked with Derek and Regan, both were knowledgeable and Regan really helped figure out my insurance issues so that I could drive off the lot same day. I prefer no haggle pricing and straight numbers, which is what I got here. Long waiting times due to spike in demand for cars!
AK Brunini
Aug 8, 2021
Great customer service, patience and help. Mike James & Derek thank you. Great to do business with you. We will return
Ryyyan B.
Aug 6, 2021
Mike James was great, did a lot of running around to find us the right car and was straight forward with us.
David McAnerney
Aug 6, 2021
I came in to find a car but unfortunately I was looking for a specific kind which you guys didn't have. Mike James was the salesman that helped me and I don't know if he's a sales manager. If not he should be. He went above and beyond to try and help me as best as he could. Never had anyone work so hard for me as Mike James did. Even though I didn't end up buying anything from there I still recommended Mike to my family , friends and co-workers because he was amazing!
Isi Hernandez
Aug 2, 2021
They go out of their way to get you in a car. I have a repo and they got me a car for only 2500 down. 100 stars.
Christine Wagner
Aug 2, 2021
Michael James was awesome got my son-in-law in the car he wanted great service.
Terry Haynie
Jul 31, 2021
Very enjoyable dealership everyone was in good spirits and smiling this put me at ease!! The No Haggle price made looking for my future car easy and sped up the process. Would recommend to family & friends Thanks for all your help Bonita :)
Lisa Bene
Jul 31, 2021
MICHAEL JAMES!!! FANTASTIC! THANK YOU SO MUCH FOR HELPING MY SON GET HIS CAR! APPRECIATE YOU!
Jennifer Booth
Jul 31, 2021
Regan was very polite, patient and informative. He made purchasing a vehicle easy and did not make feel pressured at all. I'm extremely happy with my experience here and will definitely recommend him to others in the future!
Erika Florez
Jul 30, 2021
Regan was so helpful and I very much enjoyed my buying experience with him. He took additional time to show me all the features my new car has to offer. His friendliness mixed with his professionalism really alleviated any anxiety over making a large purchase. I would recommend working with him so you could enjoy the same pleasant care and time he showed me. Thank you so much Regan, you are awesome!
Angelina Ramirez
Jul 24, 2021
Regan was very helpful and knowledgeable about the vehicle that was purchased. Great to work with and friendly making the whole experience easy.
Andy Ramirez
Jul 24, 2021
Thank you to the entire Auto Nation team!! They were outstanding. Special thanks to Ed and Regan on the sales team and Adrian in finance. We highly recommend you ask specifically for them. It was an unexpectedly easy process from finding the right car to completing the purchase.
Cory Morris
Jul 23, 2021
Elliot was amazing!! He treated my son with respect.... VERY patient, excellent customer service (he even bought me a couple snacks) haha....Best experience ever!! Auto Nation USA is it...no hidden fees no lies ALL HONEST professionals...will be back soon....
Food Vision Meal Prep
Jul 22, 2021
This is my second buying experience at Autonation. Mike was very patient and helpful with us throughout the process. We will continue to purchase with Autonation.
Travis Brannaman
Jul 21, 2021
I live in New Mexico and was in an accident that totaled my car. I wanted another Ford Flex. Reached out to the dealership to inquire about a car they had. Rob responded immediately in regards to my inquiry. He was so pleasant to work with and very responsive! I drove out there the next day to get my car. Returned my rental and Regan came to pick me up. He is also amazing to work with! Both gentlemen made this experience fun and fast! Never did I doubt my decision to travel state lines to buy my second car ever! I'd come back to Rob and Regan to buy a car. Even if it's a state away because good customer service is hard to come by and these gentlemen went above and beyond. Appreciate you both, very Much. ~T
Tamara Olive
Jul 20, 2021
Great and personable service from Mike James! Thanks Mike.
Nate
Jul 19, 2021
Was in the market for Santa Fe. After shopping at few dealerships. I found the 1 I was looking for. Darin is the person that assisted me. He made car buying very easy. Will be back in August to purchase second vehicle with his help.
Juan Morales
Jul 19, 2021
I had an awesome experience at Autonation! From start to finish Regan and Darin made it was quick, easy, and efficient! They found the car I was looking for right away! If I would recommend a place this would be the one! Thank you Regan and Darin!
Gavin Jacobs
Jul 19, 2021
Great people , Regan's a cool dude !
Gavin Decour
Jul 19, 2021
I usually buy from independent car owners but I came into Phoenix AutoNation today and I left with a Jeep that suited me perfectly all with the help of Darin Lawrence JR. , Darin explained and backed up all the Details and History of the car ! He also took time with showing me other car options , I would highly recommend AutoNation to freinds and family ! Thank Darin !
Andrew MArtinez
Jul 19, 2021
Such a pleasure working with Brenda, she was great! Very helpful and professional.
cindy garcia
Jul 18, 2021
My experience with Darin and Auto Nation went well.
Dave Bey
Jul 18, 2021
Darin Lawrence was awesome to work with as well as his manager and finance staff. I work all day, and then focus all of my off time On a trail conservation non profit that we are launching (TEAMWILDLANDERS.ORG), so when I need to buy a truck, time is one commodity I have very Little of. The staff, and especially Darin, at autonation were the only ones out of three dealerships I spoke with that were willing to work with me over the phone all day until I could get to the dealership that night and finalize the deal. The other dealers told me that they wouldn't work with me until I got there. They had the truck ready for me when I arrived, the paperwork went fairly smoothly, and Darin fought to get me the deal I needed. Highly recommend their attention to detail and high level of service.
Cheney Jacobsen
Jul 18, 2021
My experience was peaceful. Unlike other dealerships, this place has it together. There is not a long wait in finance. Happy with the process.
Bonita Meedi
Jul 18, 2021
Jorge Martinez was the best and most professional sales man ever....
marisa fortier
Jul 17, 2021
Micheal James was a great guy, who sold me a great truck at a great price!!! He even bought me lunch!
Savannah Marston
Jul 17, 2021
Quick and helpful!
Jason Schroeder
Jul 17, 2021
The entire experience from top to bottom was phenomenal here. Regan was incredible to deal with before I arrived, answering questions on the car and being very accommodating even before I stepped through the door. There was no pressure, no rush, and nothing but a great experience that went well. I recommend Regan and the team here wholeheartedly and appreciate their work!
Michael Ciesla
Jul 16, 2021
My brother and I purchased a vehicle from here and had a wonderful experience. It was super easy, transparent, and pressure-free. The no-haggle approach makes everyone's life easier! My brother had the pleasure of working with Brenda Marmolejo. She was very kind, professional, and driven to find the vehicle he wanted. I worked with Regan Howard. He was phenomenal! Very knowledgeable about different sports cars and kind as well. Definitely recommend purchasing your vehicle from here. You'll have a great experience. Don't always base it off bad reviews. Customer are not always right.
Adrian Chavez
Jul 16, 2021
I came in looking for a vehicle and had the pleasure of working with Brenda. She did an amazing job explaining the differences between each car that interested me. She was courteous and professional throughout the entire process. Ultimately I didn't end up purchasing a car but I had an overall good experience working with Brenda.
Samir Soni
Jul 15, 2021
I had an amazing experience! The staff was friendly, insightful, and helpful. They walked me through the entire process and made sure I found a perfect fit.
PartyWith Strategy
Jul 15, 2021
Regan was a very helpful salesman and helped find my girlfriend a car that fits her perfectly. Definitely recommend and will most importantly NOT waist your time!!
Nick Martin
Jul 15, 2021
Simply could not be any happier with my experience at Autonation. I had the opportunity to work with Brenda and I was nothing less than satisfied I was able to work with someone as patient, kind and understanding. I will definitely be recommending friends/family to choose Autonation when it comes to finding their next car !
Carlos Zuniga
Jul 15, 2021
I would definitely recommend autonation. Ed was awesome treated me like family. If y'all need a vehicle go see Ed Escobido at autonation on Bell Rd for all your car needs. He will find the car you're looking for. Again thank you Ed!!!!!
Sonia Gonzalez
Jul 13, 2021
Regan Howard hooked us up . Gotta give thanks for your great costumer service.. Thanks
Tawfiq Zaid
Jul 11, 2021
I love my truck! This was the first time I bought a car that wasn't from Craigslist. I was a little worried, but the sales associate I worked with was perfect! Darin Lawrence worked with me patiently to find what I wanted in a price I could afford. When I need another car I'm going to go back to him specifically.
Jessica Dear
Jul 11, 2021
Regan Howard Sales Associate did a superb job helping us get the car we do wanted.. Great doing business with you.
Deana Zaid
Jul 11, 2021
Regan Howard helped me out and was great. I will recommend in the future.
Niko Thomas
Jul 10, 2021
Quick and easy awesome experience
Juan Talamantes
Jul 9, 2021
Was helped by Regan Howard, was awesome experience. Pulled a list of car with futures I was looking for! Got us into the car my wife love! Thank you Regan for the help and being awesome!
Eddy Contreras
Jul 9, 2021
Couldn't be happier with our recent purchase of a 2017 Toyota Avalon from Auto Nation USA. Their web site was informative, our sales rep at Auto Nation, Regan Howard, was extremely helpful with our on-line purchase and we were able to complete the entire transaction over the phone. Having never purchased a vehicle "sight unseen" before, we were more than pleasantly surprised when we arrived at the dealership to see, first-hand, what a wonderful car we had purchased!
Richard Chana
Jul 8, 2021
Couldn't be happier with the service. Regan helped me through everything and getting me the car I wanted. Fast and easy when getting there. Truly professional! Regan big shout out to you for one happy customer!!
Bagherea Bagherea
Jul 8, 2021
Brenda was wonderful! She was so good to us! Another party wanted to purchase the same car we were purchasing but since we drove it first she made sure we had first shot at it! It was a great car with great service from Brenda!! Thank you.
Marja Frankson
Jul 4, 2021
Okay selection (bad time to buy a used car..... they're flying off the lots). Great experience with sales person Jasmine.
Margaret Millam
Jul 2, 2021
Awesome
DBLRR ROD
Jul 2, 2021
After backing out of buying a car after already singing the paperwork, autonations 5 day money back guarantee made sure I got back everything. And the next day Regan Howard drove me all the way accross town to help me hunt down the perfect car for my needs, Regan spent hours with me and even sacrificing what was supposed to be the end of his day to make sure I was taken care of. HUGE shout out to Regan, would definitely recommend autonation and if you find yourself looking for a vehicle my man Regan Howard can definitely find something for you.
Jacob Nolan
Jul 1, 2021
Very easy and no hassle. Very sincere and great service. He can't tell the difference between blue and black though. Wink. Micheal James and Derek Miller are the best!
Laura Tarditi
Jun 30, 2021
Reagan was excellent he has exemplary sales skills and treated us like family. The ambience was nice in the dealership laid back and calm which we liked.
Marco Villa
Jun 29, 2021
This is the second time Automation has exceeded expectations. Ask for Mike the salesman, he is professional, empathetic, and honest. Svetlana is a kind soul who took her time out to give me peace of mind. Thank you to this crew!
Jeenna Poe
Jun 28, 2021
Great service, Ricardo was the best. Very patient and very informative no pressure, ask for him.
will humbel
Jun 26, 2021
Ed Escobido is a very personable man and treated us very well through 3 test drives. We got a car that we liked and in our budget.
John Morgan
Jun 26, 2021
REGAN HOWARD IS AN EXCELLENT GENTLEMEN. He was gd on explaining all that was regarding the vehicle I was planning on looking at. Test drive went well. Regan was vry helpful with any and all information and any questions I had for the vehicle that I did purchase after all. Thank u Regan for being so sweet and attentive to us. I wish u well in all ur sale's. God bless
Chula Quihuis
Jun 25, 2021
Everyone at AutoNation on Bell in Phoenix was amazing. Darin is a new salesman, but we had no idea. He was professional yet friendly, and we enjoyed riding around the lot with him as we looked at cars. Svitlana took care of all our paperwork and had us all finished up as soon as possible. It was a great experience, and I love my MINI! We will be back when we need another vehicle.
Angie Wilsford
Jun 25, 2021
Ed is great to work with and very attentive!
Serena Troyer
Jun 23, 2021
Ask for Mario.. he is amazing ! Great service and no pressure ! He made the experience nice and easy, definitely worth it the process !
Makenzi
Jun 16, 2021
Worked out better than I hoped. Came for one thing, left with another.
KWESI HAZEL
May 27, 2021
Vanessa was an excellent salesperson for me. She helped me find a good dependable car. No uncomfortable high pressure sales tactics. Just a really decent nice person. No haggling needed just like they say. Which is a relief for people who don?t want to play the game. Also they do not charge a lot of extra fees like a lot of other dealerships do. Only a doc fee which is to be expected. Some other dealerships tag on ~$1,300 for ?1 Armor and tinting? which is rather vague and jacks up the price in addition to their doc fees. AutoNation is a very nice dealership. I would recommend it based on my experience.
Sherry R
May 23, 2021
Went to buy and whole experience from greeting to goodbye was wonderful. Both sales staff and financial staff helpful and friendly.
Jennifer Gauthier
May 16, 2021
They always help me get when I'm looking for.
James Green
May 15, 2021
I had a great overall experience and I love my new car!
Robbie V
May 15, 2021
Great customer service. Very helpful and open minded.
Zechai Rivera
May 14, 2021
Both Reagan and Allison were masterminds behind my choice to purchase the vehicle best suitable for me. Collectively they gave detailed knowledge regarding the best options in the most frugal yet compelling manner. After visiting 3 other dealerships and being subjected to an online deal which gave me the run around, I was gratified with their patience, valuable updates, civility, prowess, and footwork exceeding more than I could ask for; resulting to a less stressful outcome. Special Thanks to both these sales representatives in which I'd zealously implore those in the market for new or used car inquiries to consider service aid from Allison and Reagan.
Alexis
May 8, 2021
Mike Warriner was extremely helpful, courteous and professional.
Jason
May 5, 2021
Best day of my life. They managed to get me into the car of my dreams. Allison Wactor was the best. She worked hard to find my car an 2010 Audi 2.0L Premium, she came to my house and drove me to the dealership. Everyone was wonderful from the manager Matt, the finance woman (sorry I forgot your name) the guy who detailed my car and especially Allison. I will recommend you to my friends. Thank you everyone at AutoNation Phoenix. 🥰🥰🥰
Jennifer M
May 1, 2021
Excellent experience, educated sales person, no pressure and a wide variety to choose from! We will be back!
Rick Sloan
Apr 13, 2021
Was extremely fast!!! No hassle. No hidden issues or fees or any wasting time.
Garrison
Apr 11, 2021
We came to AutoNation to buy a truck for my Grandfather. Regan Howard, a sales associate, was an awesome guy to work with during the buying process and made everything as smooth as possible. Great guy and great place to shop!
Chance Jozwiak
Apr 3, 2021
Simple and painless. We will definitely be using you guys again! Great job Svitlana and Jorge??
Jefferey A Williams
Apr 2, 2021
Your great reputation is true! What a treat! Buying a car is always stressful and you have taken that stress away! Thank you.
Sandra Paynich
Mar 30, 2021
My daughter and I were there just to look at cars for her and we end up finding her a car thank you Brenda so much for your customer service and we absolutely adore your personality
Nikki Lynn
Mar 28, 2021
Mike at Auto Nation was a true professional. Understood that we were on a time restriction and made sure we were out in an hour
Asha Ealy
Mar 28, 2021
Mike is amazing to work with no pressure very pleasant, thanks Mike!
Angela :)
Mar 21, 2021
Absolutely amazing staff. I pulled it very mad and upset because of other dealerships. It was because of the transparency of the staff here that I drove out with an amazing car with a great deal. If you are going here I highly recommend Kim for sales. She was honest and straight forward with what the best deals were.
Isaac Remtula
Mar 20, 2021
Great place and even better staff! Their customer service was amazing. They made buying my truck super easy and painless! Their female sales manger went above and beyond!
Ocsicnarf Ojelomram
Mar 15, 2021
Mike Warriner was exceptionally helpful, professional, made the process of trading in a car unbelievably easy! Mike made sure everything was perfect before I left! Definitely recommend Mike Warriner for buying a car!
Sierra Lynn
Mar 13, 2021
I love this store, everyone is always super friendly, and helpful... I don't feel like I am being pressured or lied too.. I was able to look at whatever car I wanted on the lot, and didn't have to just sit in front of a computer and pick thru cars I couldn't actually see, I was able to test drive and without being uncomfortable... Mike is AWESOME at his job, he knows the cars, he knows the lot, and he's always on top of it !!! If your looking for a car, with no BS visit Autonation USA Phoenix and ask for Mike W. I love my new Nissan Rouge best car I've ever owned, and I am thankful I was able to purchase it without pressure or feeling like I was being lied to, the process can take a min, but it's worth the customer service !!
Melissa Warriner
Mar 13, 2021
Allison was very helpful and made my purchase an enjoyable one. I recommend asking for Allison in sales when shopping here.
Floyd
Mar 12, 2021
I visited your dealership virtually after finding a great car online. Mr. Ed Escobido helped me with the transaction. He was really responsive and met me on a Sunday to deliver the car to me in Tucson. Ed was excellent in service and communication. I will do business with your organization again based on my experience with him.
Eric Potvin
Mar 11, 2021
My boyfriend and I went in with a idea in mind and left with a dream! Thank you so much to Kimberly Luevanos for the great experience. You made it so easy to understand the process, answered all of our questions and made us feel very comfortable as first time buyers! I definitely recommend making an appointment with Kimberly to talk about your options. Thanks again! 🥰🚘
Monica Lucila Mata
Mar 5, 2021
Excellent experience. Sales person was professional, considerate and caring.
Donald Beechey
Feb 22, 2021
I just want to say they stay very true to their word. We returned a car today and they were helpful. Go Regan and the Finance Manager today! Very happy with our experience. Thank you!
April Marie Rossrucker
Jan 31, 2021
Courteous, friendly, no pressure or hassles about buying.
Brian Ferrell
Dec 31, 2020
staff was very helpful to me and my family, staff kept in contact with me throughout the week and help me with purchase and viewing vehicles online.
Antoinette Thompson
Dec 28, 2020
Derek was extremely professional, courteous and was kind enough to drive me home. He is a great ambassador for your niche in the business in the auto business. He deserves a raise along with a promotion . Great job Derek!!!
Warren Philip Brown
Oct 24, 2020
Our salesperson Allison was amazing. She's friendly, knowledgeable and kept us informed throughout the process. The finance department was able to work a small miracle in getting us approved with a recent bankruptcy. I have purchased many cars over the years and this was by far the easiest car buying experience of them all. On a side note, the people at this location, from the GM to the service department, really seem to enjoy what they are doing. Will by my next car here!
Michael Perna
Oct 14, 2020
Great experience. Friendly, no pressure, easy to work with.
Henderly
Aug 28, 2020
my car after purchase began acting up..towed it into the dealership for repairs a total of 4 times still had the issue every time Misty went beyond her duties i believe to make mehappy again..she has been awesome even with my frustration..she is like part of the family now.. im very thankful for her
Donetta Jahrling
Aug 5, 2020
Reagan was easy to do business with,also he was patient we us over all good salesman
Gilberto Eurasquin
Jul 29, 2020
great place to buy a car. nice people
Stephen Teders
Jul 25, 2020
I have not bought a car from a dealership in a lot of years. The whole process was quick and easy and they really help me out a lot...
David Alcon
Jul 19, 2020
Very helpful, great customer service and the auto technician was straight up about the issue and was able to get a good deal!!
Kene Garcia
Jul 14, 2020
Floyd Brown is the man to go to for an awesome car buying experience! We will definitely be referring friends and family to him. He went above and beyond to make everything a very smooth transition from trade in to purchase. We found what we wanted and purchased from Floyd, even though we love in San Diego!
Matthew Kruger
Jun 12, 2020
Had I known how long it takes to go through the process of buying a car, I would have planned for 6 hours out of my day. Still, they regularly checked to see if I needed water, was comfortable and kind. Real people who sell and not pushy, yet encouraging and supportive.
KM
May 30, 2020
Kimberly was so helpful! I?ve never had such a great experience when buying a car!! Just awesome! Highly recommend for any one looking for a car!
Julio Torres
May 30, 2020
The service was fast and convenient and the people were friendly
Debra Gaines
May 23, 2020
NO Haggle pricing and NO pressure sales. Upfront with all costs. Great experience.
Jed Gray
May 14, 2020
I love the Car it is my third Volkswagen I really like the roomyness of the car. It is exactly what I wanted. However, I was promised floor mats, after three phone calls and a visit and an email I have given up. Apparently once you sign your contract your invisible.
Sadie Redfern
May 7, 2020
Hassle free , direct to the point , Professional dealings with customer ...HIGHLY RECOMmEnded!!!! Adrian : he is good Everyone rendered me excellent service And i love my 2019 Toyota Corolla
Bebe Ko
Apr 25, 2020
Great place with courteous service, good selection of vehicles at a reasonable price. Go see Mills Morgan!!!
Charity Packer Woods
Apr 22, 2020
Just sold my truck to Autonation North Phoenix. I had a great experience with the team, OT and Floyd gave me a great price that I thought was fair and the process was very quick and simple to complete. Thanks guys, I really appreciate it.
Doyle Buckmaster
Mar 23, 2020
they did an amazing wonderful job taking care of us very friendly and nice guys
Stephanie Ann Blount
Mar 17, 2020
Great service by Jorge, he did an awesome job!
Casey Lynn
Feb 27, 2020
Michele our saleswoman was great went out of her way to help us. Would recommend her to our friends!
Charles
Feb 11, 2020
My son and I were looking for a used vehicle everywhere but when we saw and called Autonation we were thankful for the easy processing from start to finish. We are enjoying the new used vehicle .
Debra Gaines
Feb 1, 2020
Extremely friendly quick thorough service! Best car shopping experience! No hassle!
Martha Mckenna
Jan 10, 2020
They were very quick and thorough. I appreciated the great service and will be happy to go back when needed.
Loretta Styma
Jan 3, 2020
we got a car for you!! come on down
Mike James
Dec 29, 2019
Processing was nice and everyone is relaxed and understanding for first time buyers
Justan Mcclinton
Dec 29, 2019
Great people working there and extremely helpful and courteous.
Jack Jones
Dec 10, 2019
My husband and I just purchased a car from Auto Nation. They have one of the best customer care and are empathetic from our recent accident. We will definitely go to them again. Great place and awesome people.
Virginia B Ziegler
Dec 5, 2019
I found a 2017 Chevy Volt with very low miles on sale at a very good price. I was very pleased with the deal. I checked the provided CarFax ( various documentation) and was immediately and thoroughly convinced that this was a really good deal. It was such a good deal that I was happy to pay a shipping fee to purchase the vehicle in Phoenix (where the dealer is located) and have it trucked to my home in Albuquerque, NM. The car itself arrived in exactly the shape advertised. However, it arrived at 7:45 am on a weekday while I was getting out the door and heading to work. I had no notice it would be delivered at this very inconvenient time, and was perplexed why a company would do something like this (pissing me off and making me late for work!). From there I was disappointed that the vehicle was missing its charging cord. It's a plug-in hybrid, so it can run off of gas alone, but the charge cord is pretty important to forget. I wouldn't have minded so much if they just put it in the mail and sent it to me. However, as of the writing of this review it has been over 3 weeks that I've been dealing with "customer service" at the dealer, and I still don't have a charging cord. Each time I talk to someone they say they'll get me a charger, or that it's in the mail, but then it never arrives. When I communicate back to them there's always some stupid excuse (we ordered the wrong charger, or it wasn't in stock at the place we were going to get it from). Going into the 4th week of not have a charger, I have gone online and bought one on my own. It was extremely easy to find in stock, and get shipped. So whatever completely incompetent process the dealer here is using is just ridiculous. And its because they've been so terrible at doing the simple task, that instead of focusing on a good car I bought at a good price, I have to waste hours of my life dealing with people seemingly incapable of ordering a cord on the internet. Long and short, based on my experience with this dealer, you can find a good car at a good price. But their service is woefully inconsiderate and impressively incompetent.
Mike Storms
Nov 20, 2019
Very customer service orientated, quality cars and trucks, fair pricing.
DAVID SHERMAN
Sep 30, 2019
Very smooth process. The price was exactly what they advertised. We came in with our pre approved financing . In and out in under an hour. Will definitely return on our next purchase!
C. Johnson
Sep 23, 2019
Adrian was very helpful in my car buying experience. He was knowledgeable and patient with my many questions. I love my new to me car!
Tisha
Sep 20, 2019
Very attentive. We appreciated their time and professionalism.
Shannon Tackman
Aug 25, 2019
Best customer service I have ever had when getting a vehicle serviced! Friendly, time efficient, and comfortable waiting area. Best of all they kept me informed of the status of my vehicle!
Laura Ehmann
Aug 22, 2019
Auto Nation was amazing. Very wonderful people to talk to and they did everything to make us feel comfortable during the entire process. We had what we wanted in mind and got all of it and more. We have already started to recommend them to others.
Rszakal
Aug 13, 2019
Auto Nation was amazing. Very wonderful people to talk to and they did everything to make us feel comfortable during the entire process. We had what we wanted in mind and got all of it and more. We have already started to recommend them to others.
Raymond Szakal
Aug 13, 2019
The car itself was perfect and exactly as described. The purchasing/shipping process being out of state was a disappointment with miscommunications.
Diana Graham
Aug 9, 2019
The sale rep was good. I just had an issue with the financial process, this rep did not enter the correct information, and I there is no way to get my loan information in the mail.
Emilio Ruiz
Jul 29, 2019
We bought a Hyundai Tucson here and the process was great, the no haggle price makes buying easy.. customer service was great from our sales person Ellioth.
Kevin
Jul 26, 2019
Excellent!! Was the easiest purchase I?ve ever had. Straight forward and felt comfortable.
Timothy Mcwilliams
Jul 5, 2019
This might be different depending on the state, but I was looking to purchase a vehicle from out of state, and the dealership said I would have to pay Arizona taxes Colorado taxes (normally out of state sales, don't require any out of state taxes at all). Then, they tried to slap me with a $500 dealer handling fee, which they said was standard on all purchases. All in all, it would have been nearly an extra $1000 on top of listing price to buy the vehicle I wanted, so I said no thank you and found another dealership that only charged $120 for the same fees. Overall customer service was great, no pressure sales, but watch out for their added fees that are supposedly nonnegotiable!
Jonathan Huffman
Jun 6, 2019
My husband and I had a challenging Deal because our credit score is low. Our salesman was not pushy and treated us well. It took a several hours but we were able to get financed. They had a great selection of cars that fit the budget and financing parameters we needed. We will use Auto Nation again in the future.
Amanda Brown
May 19, 2019
Michael James at AutoNation on Bell Rd. Not only made me comfortable about looking for a newer car, but didn't make me feel pressured to buy something I didn't want. I would recommend AutoNation and Michael James for anyone's future car purchases.
LauraMag
May 17, 2019
Michael James at AutoNation on Bell Rd. Not only made me comfortable about looking for a newer car, but didn't make me feel pressured to buy something I didn't want. I would recommend AutoNation and Michael James for anyone's future car purchases.
Laura Magaraci
May 17, 2019
This is my second vehicle I bought here. I always deal with Ian he is AMAZING! No BS!
Nicole Burns
Apr 29, 2019
What can I say, I love my experience, all the personal was very nice and professional, especially Maria, I am so thankful for her time and patience and wonderful job, she was kind and very professional.
Gloria Clark
Apr 25, 2019
We had an awesome car-buying experience at AutoNation on Bell Road in Phoenix. There was none of the back-and-forth negotiation nightmare so prevalent in the auto industry, the financing was done easy-peasy, even with less-than-perfect credit, and they were even willing to take on the hassle of dealing with the transmission shop where our trade-in was being held for ransom (AVOID AAMCO Transmissions in Phoenix, Arizona!). We give four very enthusiastic thumbs-up (there are two of us, so we have four thumbs) to AutoNation on Bell Road in Phoenix. It was a great experience and we love our new Jeep.
Crystal René Rector
Apr 17, 2019
We had an awesome car-buying experience at AutoNation on Bell Road in Phoenix. There was none of the back-and-forth negotiation nightmare so prevalent in the auto industry, the financing was done easy-peasy, even with less-than-perfect credit, and they were even willing to take on the hassle of dealing with the transmission shop where our trade-in was being held for ransom (AVOID AAMCO Transmissions in Phoenix, Arizona!). We give four very enthusiastic thumbs-up (there are two of us, so we have four thumbs) to AutoNation on Bell Road in Phoenix. It was a great experience and we love our new Jeep.
wispycrys
Apr 17, 2019
We had an awesome car-buying experience at AutoNation on Bell Road in Phoenix. There was none of the back-and-forth negotiation nightmare so prevalent in the auto industry, the financing was done easy-peasy, even with less-than-perfect credit, and they were even willing to take on the hassle of dealing with the transmission shop where our trade-in was being held for ransom (AVOID AAMCO Transmissions in Phoenix, Arizona!). We give four very enthusiastic thumbs-up (there are two of us, so we have four thumbs) to AutoNation on Bell Road in Phoenix. It was a great experience and we love our new Jeep.
Crystal Rector
Apr 17, 2019
Very good reception in Finance. Thank you Sam!
Sergio Silva
Apr 12, 2019
These staff members are great! They were extremely helpful and catered to all of my needs and questions. I loved doing business with them.
Kayden Windsor
Mar 21, 2019
5 Stars! I purchased an BMW from AutoNation USA Phoenix last week. My Sales Consultant was Svitlana Clemmer. I have bought multiple BMW's from the BMW dealership, and was surprised how phenomenal our buying experience was with Svitlana and her manager Johann. Svitlana was very helpful, courteous, and amazing during the process. We plan on continuing our relationship with Svitlana and AutoNation USA Phoenix for many years to come and highly recommend them to anyone looking to purchase a used vehicle.
Anthony F.
Mar 16, 2019
No pressure. Easiest and quickest experience I've ever had purchasing a car.
Timothy Lange
Mar 14, 2019
I purchased a Nissan Leaf 2016 in February of 2019 from AutoNation USA. Ultimately I am very happy with the experience. The sales associate we worked with, Kim, was very attentive and responsive, even weeks after we purchased the vehicle. There were a few things that happened during the buying process and related to a missing SD card in the car that we were not happy with afterward, but the dealership worked hard to fix all the issues and held up to their promises. I would not hesitate to purchase from them again, and I smile when I see the "Drive Pink" license plate on other cars. Most of all I enjoy my zippy electric car. (This was cross-posted to Cars.com.)
coolsleeper
Mar 9, 2019
I purchased a Nissan Leaf 2016 in February of 2019 from AutoNation USA. Ultimately I am very happy with the experience. The sales associate we worked with, Kim, was very attentive and responsive, even weeks after we purchased the vehicle. There were a few things that happened during the buying process and related to a missing SD card in the car that we were not happy with afterward, but the dealership worked hard to fix all the issues and held up to their promises. I would not hesitate to purchase from them again, and I smile when I see the "Drive Pink" license plate on other cars. Most of all I enjoy my zippy electric car.
Tina Sleeper
Mar 9, 2019
Quick and affordable oil change. Personnel very polite and handled my visit efficiently.
Jennifer House
Mar 9, 2019
Service was friendly and adequate and fast I got things done thank you
Tonynuno
Jan 6, 2019
You guys just did okay. You could've hooked me up with a owners manual and a key fob or at least the reprograming cost sunce they were missing.
DavenSandy Minor
Nov 18, 2018
I worked with Svitlana, she went above and beyond to make me happy and get the right deal. if you need a vehicle, go to AutoNation on the i17 and Bell road, ask for Svitlana. She really was great to work with! Thank you Svitlana and AutoNation!
Treze Daily
Nov 16, 2018
They were great in helping us find a used car and financing for my son.
Sheryl Kasun
Nov 4, 2018
If you're looking to trade in or buy a car, go see Eddie Gaxiola! New to town and skeptical about car buying, he was absolutely amazing. Eddie greeted us upon arrival, shared stories with us, helped us weigh our options, and helped make our first car buying experience not as scary as my husband and I thought it would be. We were sad to see our Subaru go, but it was time. We absolutely love the 2015 Nissan Altima we got!
Janna Kulish
Oct 26, 2018
I have always been leery about car dealerships but Autonation has been such a pleasant experience. This will be car #3 for my family in the past couple years from Autonation. We bought my husband's 2016 Silverado, and my 2016 Malibu from the Arrowhead location, and now our son is going through his first car buying experience at the Phoenix location. Svitlana has been amazing! Even though we told her we would likely not be purchasing today, she spent hours with us, test driving multiple cars, and asking questions, finding out what my son wanted and needed. It was all about US! She listened and got to know us and made us feel valued. I am so glad my son had a pleasant experience, as my first car buying experience at his age was terrible!! We did end up finding the perfect car and will be going back today to get it. Not ONCE did we feel pressure or pushed, only welcomed and valued. Thank you once again Autonation for a pleasant experience, and especially to Svitlana, for all the time you spent with us making yesterday a wonderful day for our family. We just love you! (And my son has already recommended you to another friend!!)
Erin G.
Jul 5, 2018
I had THE BEST experience here, AGAIN! I bought my Z here 06/02/18 and worked with Mrs Jones on the purchase of the car. While I came in knowing exactly what I wanted, I was treated with respect and was never pressured into anything I didn't want. She understood I had very little time to do anything so they worked with my schedule and completed the transaction in less than 3 hours. Knowing they were working with me and giving me so much flexibility made me feel like the buying experience was exceptional. I really cannot say enough good things about how my purchase was executed. 3 weeks later I had an issue with my used car and called the Manager Matt. He displayed professionalism and willingness to work with me. He got my issue resolved and ensured resolution right away. I would highly recommend not wasting your time at other dealers. Your time is important and they will ensure you are taken care of.
Waldo Corrales
Jul 2, 2018
Today we had the privilege of being with our daughter as she purchased a prior owned 2013 KIA Soul. The salesperson, John, and Travis, the sales manager bent over backwards to help her find what she could afford, and coming up with a payment that fit into her budget. We were treated with respect, and the time was taken to explain each step. She drove her " new" car home today and the KIA handled smoothly and was an enjoyable ride. My husband and I will hopefully be returning to look for a vehicle ourselves in the next couple of weeks. Great service and true "gentlemen". Also, Bri, was very personable and friendly. Good experience all around.
Charlotte Roberts Fortier
Jun 30, 2018
I had a very positive experience at AutoNation USA in Phoenix. Both Julian and John were incredibly helpful. They kept their word and honored a great price for my car and made the entire process very easy for me. I would highly recommend this business to anyone looking to sell or buy. Thanks AutoNation!!
Mary Yago Landau
Jun 18, 2018
Michelle is absolutely wonderful. She went over and above to help us buy our 2017 sante fe. Her customer service was the reason we bought here. These sales people are not on commission so she wasn't motivated outside of anything but giving good service. She is quality. Thank you Michelle. Go see her of you are looking.
Rachel Politte
May 22, 2018
Michelle and Travis are awesome people. Friendly and knowledgeable
Cristle Richmond
Apr 7, 2018
More
Show next 5 Reviews
AutoNation USA Recognized as a CARFAX Top-Rated Dealer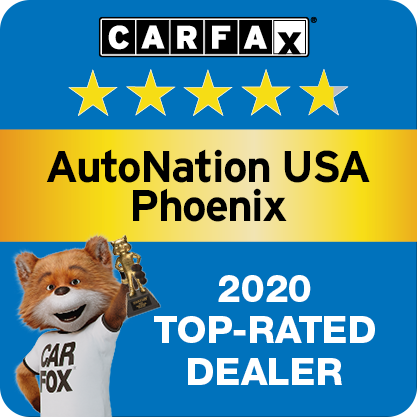 AutoNation USA is being honored in the second annual CARFAX Top-Rated Dealer Program. The 2020 CARFAX Top-Rated Dealers received an average of 4.6 stars out of a possible five stars. The select group of dealers are being celebrated for their commitment to building consumer confidence through exceptional service and customer care.
"CARFAX has more than 2.2 million verified customer ratings and reviews for dealerships around the country," said Bill Eager, CARFAX Vice President of Dealer Business. "The Top-Rated Dealer program recognizes the best of the best for exceptional service and customer care."
"We at AutoNation USA are incredibly proud to have earned this CARFAX Top-Rated Dealer recognition. It is a direct reflection of our commitment to provide the best experience possible to every customer we serve. From all of our team members, Thank You for making this possible!"
You can look for AutoNation USA 2020 CARFAX Top-Rated Dealer badge on the CARFAX Vehicle History Reports they provide customers.
About CARFAX
CARFAX, part of IHS Markit (NYSE: INFO), helps millions of people every day confidently shop, buy, service and sell used cars with innovative solutions powered by CARFAX vehicle history information. The expert in vehicle history since 1984, CARFAX provides exclusive services like CARFAX Used Car Listings, CARFAX Car Care, CARFAX History-Based Value and the flagship CARFAX® Vehicle History Report™ to consumers and the automotive industry. CARFAX owns the world's largest vehicle history database and is nationally recognized as a top workplace by The Washington Post and Glassdoor.com. Shop, Buy, Service, Sell - Show me the CARFAX™. Based in London, IHS Markit is a world leader in critical information, analytics and solutions
Our Commitment To You
1. Quality Cars at Guaranteed Prices - The price you see is the guaranteed price you get-online or in person. No haggling. This takes the pressure off you-and our sales associates.
2. AutoNation USA Worry-Free Pledge - Each pre-owned vehicle comes with a 125-step inspection process and a Money-Back Guarantee*.
3. A Happy Sales Force - Remember how we told you our no-haggle, guaranteed prices take the pressure off you - and our sales associates. This frees up our sales force to focus on other things - like answering all your questions and providing you with all available resources needed to ensure your next pre-owned vehicle purchase is your best one yet.
4. Know Before You Go - You don't have to wait at the car dealership as long. We've made it easy for you to do all your research online first with our extensive pre-owned car and truck inventory. Click the 'Find A Car' button and you can search by year, make, model, body style, price, and compare multiple vehicles at once.
5. Turn Your Car Into Cash - Get an offer on your current car in about 30 minutes and take up to seven days to decide if you want to sell it, with no obligation. Good at any AutoNation store.
*Money-Back Guarantee is valid for 5 days or 250 miles, whichever comes first. Subject to certain terms and conditions.