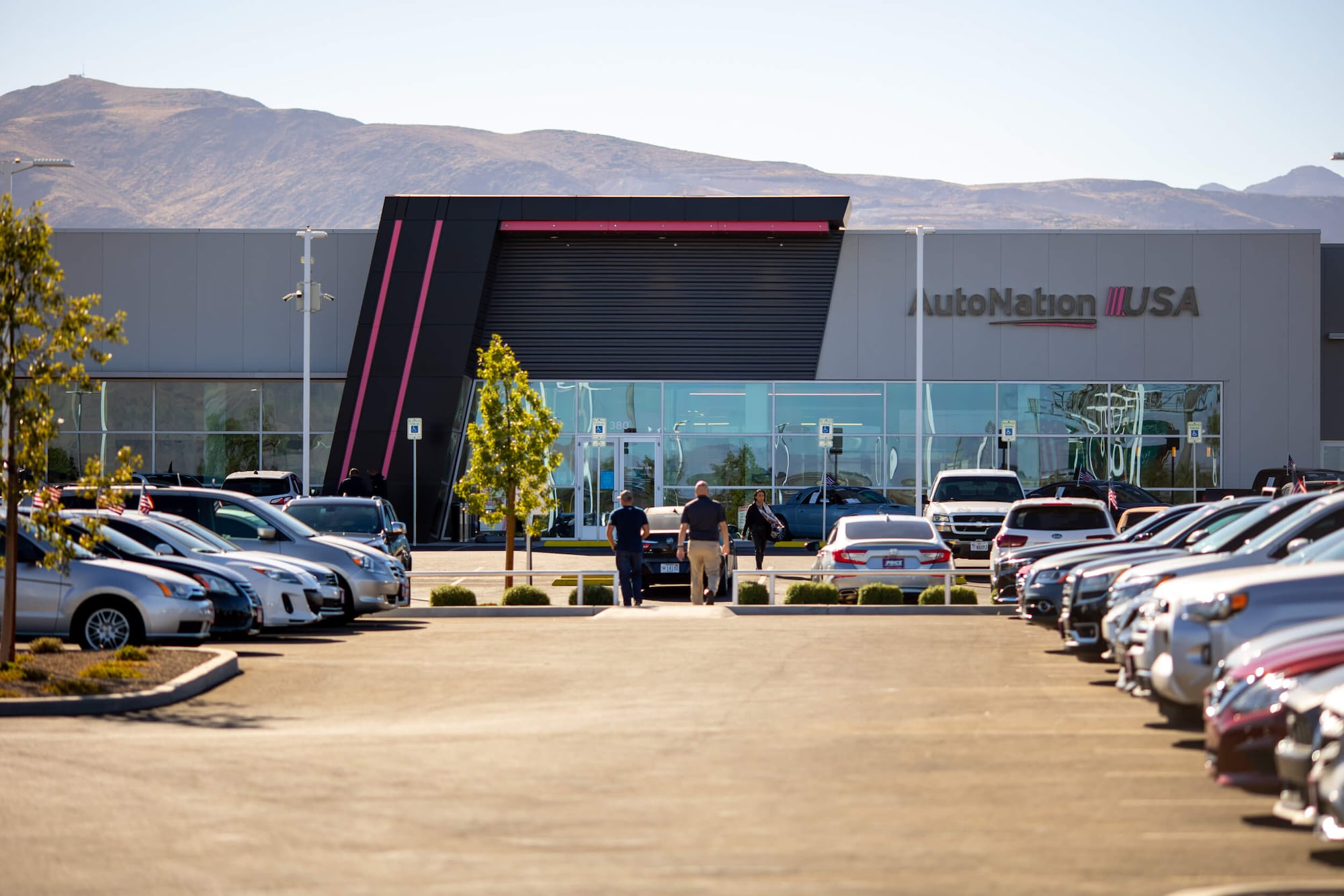 About AutoNation USA Henderson
Looking to Sell Your Car in the Henderson area? We've got you covered! We'll buy your car, no purchase necessary.
Browse thousands of quality pre-owned vehicles, each with a low no-haggle price.
Shop by Bodystyle at AutoNation USA in Henderson
Shop By Used Car Brand in Henderson
Top Used Models For Sale in Henderson
Get in Touch
Contact Our Sales Department

:

(725) 201-7650
Monday

9:00am - 8:00pm

Tuesday

9:00am - 8:00pm

Wednesday

9:00am - 8:00pm

Thursday

9:00am - 8:00pm

Friday

9:00am - 8:00pm

Saturday

9:00am - 8:00pm

Sunday

Closed
About AutoNation USA Henderson near Las Vegas
Looking for a used car for sale in the Las Vegas area? Drop by AutoNation USA Henderson at your convenience to browse our expansive pre-owned vehicle inventory. Each vehicle that we sell has been subjected to rigorous testing in order to satisfy our stringent requirements to be considered showroom-worthy.
AutoNation USA brings quality used cars and trucks to the residents of Las Vegas, and we are pleased to be a part of this community. Whether you're commuting into Henderson or you live in the surrounding area, turn to AutoNation USA Henderson for all your used car purchases. We are the local dealership of choice, providing peace-of-mind car sales and noteworthy customer service.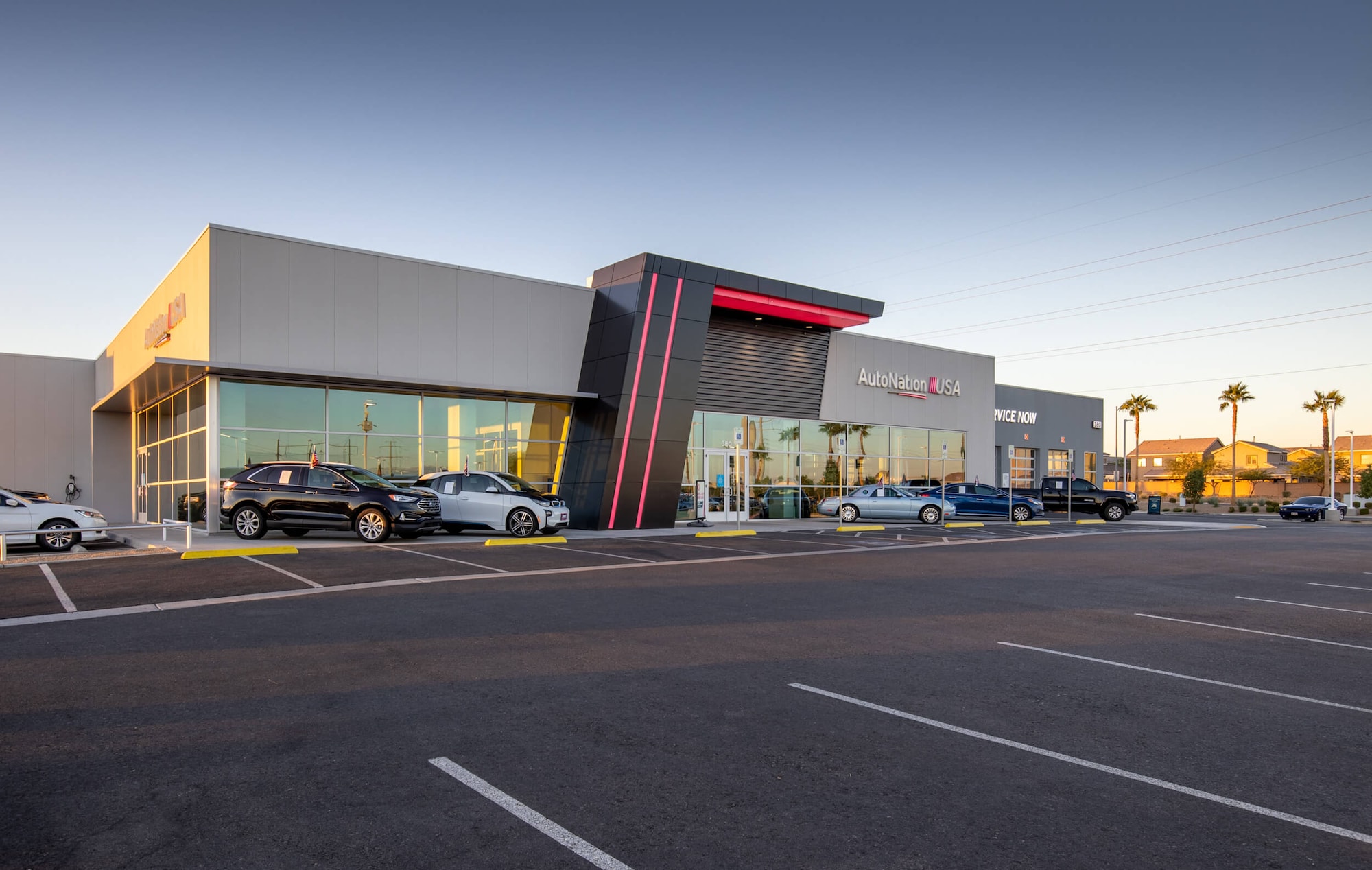 About Our Las Vegas Area Dealership
AutoNation USA Henderson has everything used car seekers can ask for when browsing and comparing used cars, trucks, and SUVs in Las Vegas. If you're ready to transition out of your old vehicle and into a pre-owned car that has plenty of value and reliability to offer, you've arrived at your one-stop-shop for finding excellence in a used vehicle! Here's a quick rundown of what our customers can expect when shopping for their next car here at the AutoNation USA Henderson dealership.
*Money-Back Guarantee is valid for 5 days or 250 miles, whichever comes first. Subject to certain terms and conditions. 
Recent Reviews from AutoNation USA Henderson
Excellent service! Jacob was really personable, professional, not pushy, and made it a great experience overall. Thank you for getting me into my Cadillac! I highly recommend this place and Jacob!
Ryan McDowell
Apr 13, 2021
Nice place
Edilberto Rodriquez
Apr 13, 2021
Great service. Easy to work with. Tania was a pleasure to work with. Would for sure sell a car with them in the future.
Trischa Villar
Apr 12, 2021
Great service and very professional i recommend every one to go here you will drive away with the car you want thank you again.
Miller Cynthia
Apr 8, 2021
Mark G. Made the process of purchasing my truck very satisfying. He was easy going, but attentive. Willing to answer all questions. Alhondra was also very patient and took her time to explain the entire the contract, procedures, warranty, and protection plan. Thank you Mark and Alhondra.
Jose Tabares
Apr 8, 2021
Let me just start off saying Joseph did an amazing job, he was very polite, communicating, and professional! He walk me thru every step of the process and it was just like floating on a cloud! Thank you so much! I would recommend this place!
Allen Garcia
Apr 8, 2021
Big Joe was incredible! Everything went exactly as presented! Definitely shop here again!
Timothy Merziotis
Mar 31, 2021
Came in on a Monday Evening not expecting to walk out at 10:30 pm with a new car. Thank you Ron Salter for making the buying process so smooth. We appreciate ya staying late.
Sonia Alfaro
Mar 29, 2021
Great place to get a car welcoming greeting and happy faces. Jacob (Jake) Linnel was awesome helped us find the vehicle we needed, was patient, polite, and never pressured us into anything. He explained every vehicle in detail, found a vehicle that fit our budget and even followed up on us to guarantee our satisfaction! Dude is a Rockstar! Highly recommend
Archie Pitts
Mar 29, 2021
The entire experience was amazing! Customer service, friendly, personable. Got us into a 2019 Ford Explorer and I love it!!
Deanna Dotson
Mar 26, 2021
they have been amazing so far. very personable and ready to help. felt very comfortable.
Deanna Dotson
Mar 26, 2021
Buying at AutoNation was a fabulous experience! From the warm friendly greeting to the speed of getting a quote on my car and then they beat the Carmax quote. My salesman Chris was very in tune with my wants and needs and got to know my taste quickly and was even able to make suggestions of cars I would like. It was a nice fast experience and I drove away in my new car in no time at all.
Delinda Crampton
Mar 25, 2021
Easiest car-buying process I have ever experienced. Absolutely no pressure, and the staff was very transparent.
James Smith
Mar 24, 2021
Big Joe was amazing at helping me find my new BMW!
Lestine Daniels
Mar 23, 2021
I'm 45 years old and I've purchased many new cars from dealerships before and I will tell you this was the best car buying experience I've had. Great job autonation. When it's time for another vehicle I know where I'll be going to get it!!!!!!!!!!!.
marty zuber
Mar 22, 2021
I had the pleasure of working with Roy and Shawntelle in Henderson. Roy was an amazing salesman and Shawntelle was the best financial advisor I've ever worked with. They were extremely knowledgeable, patient and helpful. I went in knowing exactly what I wanted and they helped make that happen! The process that usually comes after you know what car you want seems so tedious and the entire team made this purchase so seamless and smooth (I literally walked out of there with my new car that day). I would highly recommend this dealership if you're looking for a certified used car and great employees to make that dream a reality. Thank you Autonation! When I'm ready for my next one, I'll be back! Shannon
S Lemieux
Mar 20, 2021
Best place to buy and repair.......... love it......
Mario Reyes
Mar 19, 2021
Huge THANK YOU to Josh for making our shopping experience the best one! To all my military people especially our veterans I guarantee he will make your day! And to you Mr. Josh thank you for your service 🇺🇲 and thank you for all your help 👊
Adriana Jauregui
Mar 17, 2021
Thank you so much for welcoming me. I'd like to thank Mr. Jacob Linnell for taking the time to help me find a car I needed and am very happy with. Management, finance, and the whole team helped to make this the best car buying experience and I'm so grateful. AutoNation in Henderson – the best place and the best deals! I recommend everybody go there to find a good car you can trust. Thank you! Ida B.
Ida Berle
Mar 16, 2021
Love my new vehicle. Joe and the rest of the crew did an amazing job. Thank you all
Victoria Espinosa
Mar 10, 2021
Great experience, proficient, fast and friendly service and very professional team. I would recommend autonation USA to all my friends and family.
Vanessa Santos
Mar 8, 2021
Melissa Coronado (Sales) was AMAZING! I highly recommend any and everyone go to her at AutoNation to buy a vehicle! I had the beta experiment buying my new car!
Dominik Torres
Mar 8, 2021
Joe was a pleasure to work with!! He let us go over everything and gave us time to make our decision!!
Maria Crockett
Mar 4, 2021
Had a wonderful experience from beginning to end. No pressure from anyone and Irene Calvillo was so nice. Just a great experience overall and we couldn't be happier. Thank you for making my son's dream come true.
Gabrielle Krueger
Mar 2, 2021
Great 👍 ask for chris and jose they'll make things smooth! Love our Suv with 3rd row ❤ Also aloha to brianna our hometown girl who also assisted in finding our vehicle......
Tigers Den
Feb 25, 2021
I?m very pleased with my experience with Auto Nation Service. They go over and beyond with meeting my needs. I?ll always be a loyal recommendation.
Adesko Bankston
Feb 25, 2021
ASK FOR CESAR HERNANDEZ My Husband and I recently traded in our cars for a newer model with Auto Nation. I have to give kudos to Cesar Hernandez who took several weeks to work with us on what we wanted and was always attentive to our needs. If you go to AutoNation, ask for Cesar, he will give you the attention you need without the over the top salesman personality. If he is busy, wait for him, he's always busy for a reason. Lydia & Pete Barnes
Lydia Garcia
Feb 24, 2021
Excellent car buying experience!!! Jenelle was great in handling my purchase being from out of State. She was not pushy and made sure that I was comfortable in moving forward with the purchase. She kept me up-float with what to expect, from start to finish. Everyone in this dealership are super friendly. Will definitely be back!
LadyK Zareno
Feb 24, 2021
Tania was so great helping me sell my vehicle. She was very accommodating and I had great experience overall, would highly recommend! Thanks again!
Jasmine Iverson
Feb 22, 2021
This was the first time that I actually sold a car outright without a trade and I was filled with trepidation at the thought of having to go from dealership to dealership in hopes of getting the price I wanted. AutoNation USA Henderson was my first stop due to Joseph Christensen's perseverance in staying in contacting with me. His follow up was tantamount to my making AutoNation USA Henderson my FIRST stop, out of all the dealerships that are available in Las Vegas. His friendliness, excellent customer service skills and professionalism speaks volumes! I was absolutely thrilled with my entire experience at AutoNation USA Henderson. Darren Cobb, General Manager saw to it that I received the price I was looking for, thus making AutoNation my first and last stop for the day. That's what I call excellent service! What a nice surprise! The folks at AutoNation USA Henderson has definitely earned a customer who will be coming back again and again!
E. A. Raynor
Feb 22, 2021
Prentice went above and beyond to help me find my perfect car! It you are looking into getting a new car go see him!
Chandra Palow
Feb 22, 2021
Cesar and Joshua were both amazing. This was the second time I was able to helped by Cesar, and he is as pleasant and friendly as always. I will always come here and long as Cesar here. Joshua has a positive, uplifting attitude. I love my car. Thank you everyone
April Bloo
Feb 22, 2021
Josh and Big Joe was amazing as well Autonation !! Great Cars and low prices great service and coverage/warranty
Ramon Gonzalez
Feb 20, 2021
Great experience! Prentice, our salesman, made the vehicle-buying process quick, easy, and enjoyable!
Meagan Mims
Feb 20, 2021
Joseph C was wonderful.thanks a bunch.
Erica Erica
Feb 18, 2021
Wonderful experience. Joseph C. was a great salesmen.
Erica Slumdogg Gray
Feb 18, 2021
In 2018 I bought a brand new 2017 Hyundai Tucson there with 40% discount. I already own it for more than 2 years, and I love it. Never had any technical issue. Wonderful people and services!
Deen
Feb 17, 2021
Big Joe was a great help ! Hooked me up with a 2020 Elantra with 0 stress! Would highly recommend AutoNation w/ Big Joe ! WHOOP WHOOP !
Cameron Rangi
Feb 15, 2021
I got a great deal and value on a car. Thank you Joseph and Breana for helping me find a good fit along the way.
rxnvaz18
Feb 13, 2021
I would like to thank Breana for all her help with me finding the right car that fit my budget. she was super friendly and very helpful! Breana spent half a day with me and never got frustrated, pushy or upset that it took me a long to to find a vehicle. I actually, found a potential suv, she was kind enough to set it aside< so I could ponder the purchase. She was very understanding, told her i would be back to bring back my son. she had done all the leg work with my finance company, so when i called her the next day to come in and finalize the deal, Breana was like come when its best for you. When I got there she greeted me, like we knew each other for years. she got everything ready for me to do the paper work. it gets better, when Brian one of the finance managers came out to introduce, his self to me and tell me that he would be ready in about 20 minutes, Breana, took the time to chat with me, and my Dog Rosco,
Rodney Griffin
Feb 11, 2021
Joseph was really helpful and gave my husband and I great service. Love my newer Ford Edge.
Karee Hollander-Cunningham
Feb 10, 2021
Josh is awesome! A great experience! He provided V.I.P. service and the whole Auto Nation staff was stellar!
Travis Walls
Feb 9, 2021
The sales associate that took care of my boyfriend and I's name is Joseph. And we had an amazing experience! I first saw Joseph last Friday just to test drive an Audi Q3 that I saw online in their location. He was very attentive, patient, and not pushy. I left Friday to think about the purchase, and came back on Tuesday with my boyfriend to retest drive it. Joseph answered all of our questions for about 3 hours. He was very thorough and broke down everything we asked about, brought finance over, and then would answer more questions. We left and came back around 8 pm after running more errands and thinking it over. It took another couple hours, before we decided it was the right choice. Alondra was our finance department guide, who helped break down all of our options and went as far to rearrange the numbers as much as possible so that we could stay within the payments we wanted, with as much coverage as we needed. They stayed late, never made us feel rushed, and really guided us to make the best decision for ourselves. I was able to trade in my 2016 Jeep and left with a 2019 Audi of my dreams! Although the experience was long, which was definitely on our part because we really wanted to make sure we made the right choice, both Joseph's and Alondra's professionalism and customer service was top tier; and we never felt like we were dealing w your usual "pushy salesman". I'm so happy with my new car, and will continue to do business with them in the future! Thanks for the great experience you guys!
Jasmine Garde
Feb 9, 2021
Joseph Christiensen was amazing. He worked well within my budget and didn't force me to look at things I couldn't afford. He made sure not to put me in anything too old, me being young. Worked very well with my entire family and made sure that I was getting the best deal while getting a car I was comfortable in. He was very helpful and gave lots of information! I definitely recommend him if you are in the area!
Camille C
Feb 8, 2021
Ask for Big Joe! He so helpful and genuine and really helped my friend with trading her vehicle. Amazing job.
Haley Shook
Feb 6, 2021
Had the wonderful opportunity to work with Jacob Effil. This sales rep is fantastic.. They don't push you. The prices on the vehicles are what they are.. I was rushing in the day while in route to project, stopped to see what's on the lot, he came in, friendly guy, easily to get alone with, convo good.. and i explained to him my time frame and I didn't want to waste his time at the moment browsing, told him I would be later.. came back and we got a deal done.. that simple.. Paperwork completion done with Juan Guerra.. another awesomeness edition to the team, we got paperwork knocked out and ready to venture home and dinner waiting on me. Great team. Need a rep.. Get these two guys... Can't go wrong.. Hats down, 10 thumbs up.
Skye DuCreay
Feb 5, 2021
In January 2021 my husband and I went to AutoNation USA in Henderson to look at cars for my mother-in-law. Prentice Palmer helped us find a great care that she loves. Because of the service we received from Prentice and others at AutoNation I returned to buy a car of my own yesterday, February 3rd! I have never purchased a car on my own, so I was feeling overwhelmed, but I know I would get great service and I would feel comfortable at AutoNation. Prentice, thank you for all your help!
Laura Hite
Feb 4, 2021
Had a great experience buying from Autonation Henderson. I had the experience of buying my first out of state car and flew from California to Nevada for this purchase and drove back. However, the associate Cesar Hernandez made the experience very easy with very detailed pictures, details and everything that I needed to make me comfortable to take the flight to Nevada and expect no surprises with the purchase. I was very impressed with the follow up time on requests, the details of the car and knowledge of the buying process and autonation also picked me up from the airport and gave me a very positive buying experience. Through the finance process the rest of the team and managers were also very thoroughly proactive and involved and shared with me everything in a very detailed manner. Additionally, the team also set me up for the car to be registered in California through a third party and overall made this a very pleasant exchange. Hope to do business with them again in the future. But thank you Cesar and team for this transaction :)
Ali Shafi
Feb 3, 2021
Big Joe helped me get my dream car, a jeep! Thank you for all your help
Alyssa Hantak
Jan 30, 2021
I have been looking for a car for about a month before I finally bought one and out of all the other places I looked at auto nation always stood out!! I am very grateful that I had Cesar and Mark to help me find my first car. I appreciate all what they did to help me find the car I needed!
Victoria Townsend
Jan 28, 2021
I really had a great experience buying my vehicle from Ron Salter. They were very straight to the point and got me my vehicle I wanted. Thanks again to Ron and autonation and the management for the great experience.
Phillip Johnson
Jan 27, 2021
Jason Bonello was a great salesman he made the process quick and easy. Autonation USA was a hassle free car purchase
Gina Glass
Jan 27, 2021
Jacob Effel did a wonderful job at helping get us the car we needed. He was patient and informative and helped us make the best car choice for our family.
Elsa Reynoso
Jan 25, 2021
Joseph was so helpful and new exactly what I wanted. I felt like he was always being honest and giving me the best options.
Jania Quinones Teran
Jan 21, 2021
Great experience. Chris and Jacob did a great job answering my questions quickly both in person and over the phone. I have spent a lot of time sitting in dealerships before and this time I spent very little time waiting and was always being attended to. 10/10 would recommend!
Elliot Silveira
Jan 19, 2021
Excellent experience. Very smooth transaction. Jacob was an excellent agent! Definitely will buy my next vehicle from AutoNation.
euniceferrer
Jan 16, 2021
Mark and Prentice are so great! They both are super kind and not pushy. Mark made it super easy to test drive the vehicle, and Prentice was kind enough to spend some time walking around the lot with us. Overall, it was a great experience.
Dylan Heath
Jan 12, 2021
Great service
Calvin Dixon
Jan 10, 2021
I want to thank Jacob for helping us in buying my moms suv. He made us feel so comfortable and happy. Thanks autonation USA for hiring people like Jacob he made our experience a great one. I recommend autonation USA and please look for Jacob. He is awesome!
Reina Hernandez
Jan 5, 2021
Jacob Effel helped us out so much. So friendly and nice and made the whole thing super easy!!
Kara Roberson
Jan 5, 2021
No pressure sale. Josh was wonderful to work with; very friendly and explained any questions that I had.
Karina Gedgaudas
Jan 4, 2021
Cesar and Shawn are the best...very people oriented! Had an appointment, we were a little early but it didn't matter. Customer service is awesome! Best experience in 47 years of buying a vehicle. No running back and forth between a manager and coming back with those little pads and scratching numbers...just good and smooth service. Thank you
Fronnie Shackelford
Jan 1, 2021
This place, is beyond amazing! I searched for a dealership that wasn't trying to scam me or pressure me into anything and that's just what I found here. Jose and Josh are absolutely amazing, the level of customer service here is outstanding! I'm so thankful to have found them and even more thankful to have found the car I want without breaking the bank!
Erica Gilmore Ealy
Dec 31, 2020
Highly satisfied with the customer service, more particularly my car sales rep Jacob! I got the car that I really wanted and he assisted me with every question and requests I had especially with negotiating rates for financing. I even had bottled water and coffee served and offered to me by this staff! I highly recommend this car dealer Auto Nation USA for people who want superior customer service and very reasonable price! I love the 2015 Hybrid Camry that I purchased! Thanks to Jacob for such great customer service. Also, thanks to David, another sales rep who assisted me initially while Jacob was attending to another customer. My entire experience was very satisfactory and very pleasant.
Ed Loteria
Dec 29, 2020
My wife and I went to purchase a new car and we were absolutely blown away by the service we received from Jacob E. He made the entire process simple and seamless and I highly recommend him and the whole team at Autonation USA if youre looking for a new vehicle!
ricardo carmona
Dec 28, 2020
I popped into autonation on Thursday December 10th, after reserving a 2015 Toyota Tacoma. I had been on the lookout for this truck for a couple of weeks, even looked at a 2020. Jason Bonnell met me with the truck and asked the usual questions, however he didn't come at me like like a wolf looking to get in on someone else's kill, he was supper professional. I looked the truck over and took it for a test drive. Discovered that this truck felt no different than a brand new one, and it didn't have all those useless frills, and the 2015 year was rated better overall than the current 3rd generation. Jason helped me finally get my Toyota ,and he handled the deal superbly. 10 outta 10 id probably return again if they had what I was looking for.
Tacoman
Dec 25, 2020
I always like to evaluate the service. And talking about Henderson's autonation I am happy to evaluate my experience. I bought a car in 2019 the car was excellent and whenever I needed an assistance the team was always available. The service of Jose Guerra is incredible excellent professional with experience at work makes a purchase becomes simple and the best conditions. Thanks Jose, Thanks Autonation Henderson, you guys are amazing. Deyverson Odilon Souza
Deyverson souza
Dec 24, 2020
Great service after the sale. We purchased my wife a certified nearly new equinox, was a great deal we love the car and service department is honest and trustworthy.. Thank you..
Lee Ketten
Dec 23, 2020
Had exactly what we were looking for. Jacob E. was friendly and professional, as well as patient with us and our two energetic children. I don't have much experience buying cars, but this was a great experience.
Charles C
Dec 21, 2020
Very clean. Great sales ability as well as fantastic office personnel. Turned a bad experience into a great one. Great job in the end. Goes to show a little care for the customer goes a long way. Thank You.
Larry Parascandalo
Dec 18, 2020
Turned a bad experience, into a great one. Special thanks to Ms. Irene Calvillo. Also Salesman Prentice Parlme. Great rebound. Thank You.
Larry Anthony Parascandalo
Dec 18, 2020
Breana is a ROCKSTAR and made it so that I practically purchased my car from bed. Consistent communication and honest straightforward answers, plus friendly and knowledgeable staff (Special mention to Shawntelle in F&I who tag teamed with Breana and got me out of there quick. I can't explain how efficient this was! Thanks again!
aly singleton
Dec 17, 2020
Today we bought a car from Autonation Henderson a Car for my daughter, and our dealer was Mr. Jacob Effel, and I have no wards to express how excellent service we got, keep up the good work. Thank you!
Naty Makoy
Dec 17, 2020
Probably the best experience I've had with a car dealership. Josh was super nice and and me being a ball of stress he was very good at giving me information and not pressuring me into something I didn't want. I'm very happy with my new car and would recommend AuntoNation to anyone looking for good deals and people who care about you and not just selling a car.
Holiday Rist
Dec 17, 2020
I just purchased a 2019 Nissan Rogue SL from Breana today and I couldn't be happier. Not only was she helpful and informative about the SUVs I was inquiring about but also friendly! Customer service was exceptional from both Breana in Sales and Alhondra in Finance. MAHALO to AutoNation! So much better than CarMax.
EJ D
Dec 16, 2020
Jacob was our sales person. He was extremely cordial, nice, and worked with us completely on our 2016 Audi. Great service, nice people, and clean facility. Great selection of cars. One car we wanted to look at was at another sight across town, and Jacob drove over there to go grab the car for us. Highly recommend.
Sean Benton
Dec 12, 2020
If you're looking to buy a car and want the best dealership in town go to AutoNation USA Henderson on Gibson Rd., Joseph Christensen went above and beyond to get me into the perfect car with a down payment and monthly payment that didn't break the piggy bank and I could afford. The general manager and all of the staff there are very polite, respectful and very friendly. They make you feel like you are apart of the family. This is the only dealership I recommend everybody should buy their car from them. They are #1
Cheryl Hildebrand
Dec 11, 2020
AutoNation USA Henderson is by far the best dealership in Las Vegas. Joseph Christensen went above and beyond to get me into the perfect car with a down payment and monthly payment that didn't break the piggy back. The general manager and all of the staff there polite, respectful and friendly. This is the dealership I recommend everybody should buy their car from. They are #1 in my book
cheryl Hildebrand
Dec 10, 2020
love autonation and especially Janelle and alhondra whom I dealt with. Alsways feel comfortable doing business with them.
Pamela Singh
Dec 10, 2020
I purchased a car today from Autonation. Mark G. was my sales advisor. COVID has made everything stressful in life, but Mark assisted me and helped me feel safe during our transaction. Mark went above and beyond to assist me- from finding the perfect car for me, to following up at every level. He was professional and friendly. My finance advisor, Alhondra was also remarkably professional and knowledgeable. I have never had such a seamless, easy and stress-free experience buying a car. I recommend Autonation in Henderson wholeheartedly.
elizabeth gee
Dec 9, 2020
Breana Romano was so helpful on so many levels. She went above and beyond for us. The whole team who helped us were insightful and answered all our questions. We couldn't be happier with our purchase and we couldn't have done it without them. Thank you Breana!!
Amy Celayaa
Dec 8, 2020
JOSEPH ; was the best tbh. I will be going to him for all my future purchases and also my family. He understood me . I was done wrong by another automation in Las Vegas and every since than he communicated with me everyday willing to help me with my situation and I appreciate him for that you don't find many caring people in this world 💯💯💯 honestly. I thank Him for everything I recently just purchased a 2018 Toyota Corolla thanks to Joseph he's the best thank you for everything '
Sharon Renee
Dec 8, 2020
Great experience. Our sales rep Joseph and finance rep Brian were great! They missed a bad battery when they tested it, but we got one free of charge after our mechanic caught it.
Zach Glover
Dec 7, 2020
I bought my FIRST CAR here at Auto Nation USA!! Breanna was so patient and explained the process; she honestly took all the nerves I came in with away. I left with a '17 Chevy Traverse and I'm so so happy!! Thank you 🙏🏼
Remmy Seleuco
Dec 6, 2020
Very clean and welcoming as soon as you enter. Breana was very nice and helpful. I was currently renting a car and she helped me out by picking me up from the rental car place then took me back to autonation the day of my purchase. The car I was interested in wasn't at the henderson location so they went to get the car and brought it to the henderson location. Breana really worked with me to do get me the car I wanted at the b price I wanted.
Ilka Bryan
Dec 6, 2020
Excellent experience selling my car. Offer was higher than I expected, and entire process was easy and relaxing. Would highly recommend.
LAVALLE Miller
Dec 5, 2020
I just love my new car, I never had a toyota before but this c-hr is great, I didnt think I could get out of my lease, but Roy and the finance people were great and made it happen at Autonation USA
j michele n
Dec 1, 2020
Joseph was AMAZING, he helped my wife and I through a very long process to find the perfect fit. He went out of his way to help us locate a car after we discovered that the car my wife wanted had already been sold by another AutoNation location.
Eric Ruberson
Nov 30, 2020
Our salesman was Joseph. Christensen. He was fantastic. We went in on a Friday with our final choice narrowed down to 2 SUVs. He had them both ready upon arrival. We ended only test driving one and bought it because we loved it. He went above and beyond his job. My husband had an appointment to pick up the SUV and it wasn't ready. Joseph himself went out and washed and did any final prep for him to drive it home. Joseph was in constant contact with us and our credit union that we used for financing. If you are in the market for a car, go see him!
Kristina Ruberson
Nov 30, 2020
My husband began his hunt for a 3rd row SUV a couple of months ago, when we learned that we are expecting baby number 3. He is very thorough in his searches and reviews for any product, and this was no exception. We had seen a number of vehicles and he test drove many, but was very interested in the Ford Flex specifically. For whatever reason, this car sells rather quickly, and would be sold before he could even test drive one. He had corresponded with Joseph from AutoNation and mentioned this interest to him. Joseph took my husbands number at the time of meeting. After a couple of weeks, Joseph actually texted him to let him know that they were expecting a Flex at their lot, and arranged the test drive with him. My husband fell in love with it and we ended up buying the car. It goes without saying that it was an incredibly personable experience, given that Joseph kept my husband in mind and kept in communication to get him what he wanted. His overall patience and demeanor was wonderful, and he made the experience positive and easy. We highly recommend him and the AutoNation team!
Sylvia Stoehr
Nov 25, 2020
This was my very first experience buying my own car and Cesar was incredibly helpful, patient and insightful throughout my entire process. I left leaving extremely comfortable and happy with my vehicle.
Josh Kinney
Nov 24, 2020
Great service
Eman the Hulk
Nov 24, 2020
Good experience. The staff was very helpful and friendly. We had Mark and he was incredibly nice and helpful. He helped us find the exact Sentra that we wanted and guided us step by step through the whole process. It was an easy thing with him. When it came to financing, Alohandra was very experienced and guided us through the paperwork with ease. It was a great experience due to the excellent staff.
Logan K
Nov 21, 2020
I had a great experience every time I came in to get help whether I was looking to buy or just had question about the car I purchased. David Morales was patient, kind, and attentive and he made the long hassle of shopping very smooth. Their service advisor Dakota was also very respectful when we came in to make sure everything was working fine. He gave detailed explanations of what's going on that a someone who isn't car savvy could understand. 10/10 would recommend
Jonice
Nov 17, 2020
We went in to see Mark and he took good care of us by helping us find exactly what we wanted. Very professional and courteous as well as understanding. Then went over to see Brian who was very professional and courteous and did a very excellent job by getting us a good rate on our purchase. I am very very happy with the customer service and my vehicle thank you.
MIKE GUTIERREZ
Nov 15, 2020
Man it was beyond a pleasure to work with this dealership and more specifically Cesar Hernandez. I'm from Los Angeles, CA. Cesar helped me get approved over the phone before I made that drive and handle most of the paperwork online so that the process was super smooth when I got out there. The building is beautiful and the vibe in there is really nice, somewhat futuristic with all the white shiny tile and pink lights. The highlight of it all, besides me leaving with the Challenger, was Cesar Hernandez. From start to finish, phone calls and emails, it was clear that he was pushing for the best rates possible for me. Once Cesar got a good deal for me. I made that drive and when I was signing the paperwork they told me they lowered my APR% by more than 14% than what I agreed upon. I was blown away and If I could give more than 5 stars I would.
billy vaughn
Nov 14, 2020
Big bearded Josh is super down to earth 🌎 as was everyone else. Highly recommend any day!
Maryanne
Nov 10, 2020
Josh (big bearded guy)was so friendly, professional and kind!! Not pushy in anyway! I recommend him fully!
Cathrine Conner [Transportation]
Nov 10, 2020
I bought a car here from out of state and everyone made the process so seamless. Bryan went above and beyond to make virtual showings of the car and send me all of the data. When I came to pick up the car, Cesar showed me everything about the car and even helped us find things to do while we visited. Shawntelle did all my paperwork and explained all the DMV processes to me very clearly. I am very happy with the service I received here at AutoNation USA Henderson and would definitely come back here again.
Karen Gagnier
Nov 9, 2020
Great place to buy a new car!!
Jophiel Silvestrone
Nov 9, 2020
Breana was great, we loved her, she worked with us and found us exactly what we were looking for. Brian was wonderful too, they made the wait not so bad. We knew what we were getting ourselves Into looking for a new vehicle tho but they took care of us.
CHARMAINE DIAMOND
Nov 8, 2020
I was in a car accident the night got out of the hospital fri the 6th selected a Ford Escape today walked out with it today our sales associate Palmer prentice was very nice I was hurt in the accident and he did everything g to make things easy for. Me he brought the cars up right to the door for me to look at he is very nice my husband bought a Shelby 500gt co ra mustang from them a couple moths ago the person was very.nice and helpful also I recommend autonation to everyone who wants to buy a car they even take trade ins like my accent and added it to the amount of. Of my husbands car these people are wonderful
mindy Kain
Nov 7, 2020
This is the best place in town to purchase a quality used vehicle.
Nella Elson
Nov 7, 2020
Had the pleasure of buying a car from here today. Just wanted to come here and say I had a great, absolutely no pressure experience from this big bearded guy Josh. Helped me find the right car for me and my family, felt I got a great value for my trade in. For sure will be visiting Autonation again when we're ready for our next car! Thanks again you big bearded man!
Dave M
Nov 7, 2020
The sales folks were friendly and professional. So we decided to purchase the vehicle and went with the money. My only complaint is that it took way too long to ?do the paperwork.? It should not take 3 hours to buy a car when you?re paying cash!! Not sure what they were doing but in the old days, I give you the money; you give me the title and I drive off. Not now!
Klontz Family Trust
Nov 6, 2020
Breana was awesome!! Knowledgeable and professional. she always made sure that we where comfortable and made the experience enjoyable and effortless as possible.
rodney jaski
Nov 5, 2020
The salesman Chris made it his priority to get us into the vehicle we wanted .
Lawrence Reyes
Nov 3, 2020
I was a first time car buyer & they made this a really good experience for me😊 Highly recommend!
Amy Garita
Nov 2, 2020
Staff was very polite and helpful
Tracy Rau
Oct 30, 2020
At first I was worried about a purchase of an older car but they took it back and got me into a newer model -- Jake L exceeded our expectations -- great customer service -- Jake's Mgr was also very easy to work with
tim ryan
Oct 28, 2020
Briana was awesome!! Knowledgeable and professional, she made the experience enjoyable and effortless. I recommend her highly.
Patrick Brendel
Oct 28, 2020
Jason was our sales representative. He was quick to reply to questions that we had whether it was by email, phone or text. We especially appreciated the "no pressure" approach. In the past we have had horrendous experiences at other dealerships. Thank you Jason for introducing us to AutoNation Henderson, and making this a pleasant and confidant buying experience.
Norm Kunselman
Oct 27, 2020
I had an amazing experience here. I filled out an inquiry form on their website and Breana reached out to me right away. I set a last minute appointment and she had the car ready in the front. She even offered us to test drive it, which none of the other dealerships did. I have been searching for a car for the last 6 months or so. Breana was very knowledgeable, funny, and nice. The process isn't short and she made sure we were comfortable and even got us snacks. Thank you for making my experience amazing and thank you for helping me with the new car I absolutely love! My credit is rebuilding and they never made me feel inferior because of it. Thank you again !! The rest of the staff was amazing as well. Brian in finance was also an amazing help ! Definitely recommend AutoNation USA compared to other dealerships (trust me I went to at least 10 lol).
Yolanda Kassa
Oct 24, 2020
Great experience, efficiency and fast service thanks Auto Nation!
David Chavez
Oct 24, 2020
Ron was the one who helped us. It was the most pleasant car buying experience we've had. Not once did they mention our credit score. We weren't just a number to them. We were treated more like guests, not just customers. There was no haggling at all. Definitely recommend this place.
Rosemarie Zapata
Oct 24, 2020
It was a very simple process. I had been looking at used cars at other dealerships and there always seem to be some hidden expenses or small print. That was not the case here. Jason Bonnell was my salesperson and he was very pleasant to deal with. It was a transparent process. Also there was no pressure on financing. I was pleased with the trade in value for me car that I traded in. The whole experience was great
Sabrina
Oct 24, 2020
After having shopped for a new car I was exhausted from negotiating, hidden expenses and small print. That was not the case at Autonation at all. Jason Bonnell was our salesman. He was great. It was a pleasant and transparent process. No surprises; not any pressure on financing either, not were they pushy on warranties. It was offered, but that was all. I also got a decent offer for my trade in and ended up with an awesome truck.
Sabrina Odsgaard
Oct 24, 2020
The process was fast and pleasant. They never, not once, mentioned my credit score. We weren?t just a number, we were customers! There was no haggling. The nicest people I?ve ever dealt with when it comes to car buying. Ron was accommodating , courteous and very helpful.
Rosemarie Zapata
Oct 24, 2020
A great experience not just once or twice or three times but "every" time I have gone to this location for service. Whether you happen to have a vehicle from AutoNation or not, if you are looking for a great place to take your vehicle for maintenance and repair stuff this "is" the place to bring it... The staff is awesome!!! AutoNation as a whole should use this location as the model on "how Customers should be taken care of" for these guys have nailed it... Many thanks to Shaylea, Andrew, Caleb and the rest of team - your assistance & guidance (and truly having my back especially with Warranty related items) is always much appreciated, thanks for keeping my "ride" running like new!!! You guys rock!!!!!
Mike Blecher
Oct 23, 2020
We bought an Acadia from AutoNation last month and Melissa was amazing! I can be slightly picky when it comes to features and Melissa worked with me every step of the way. She sent me so many options and really searched hard to try and check all those boxes. It was a very seamless and enjoyable experience. I would definitely recommend anyone I know to buy a car here and would definitely go back in the future!
Chad Tobler
Oct 23, 2020
They made surethe car was clean and ready to go. Ther service was quick and easy and affordable.
Michele Zendejas
Oct 23, 2020
Was in the market for a car and was helped by Breana Romano. As I was out of state she went out of her way to make me feel as if I was right there seeing the car in person. She pointed out some things that they were stilling working on to get the car ready which I didn't even notice. Called me every step of the way and held the car for me until I was able to make a decision. A pleasure to deal with and definitely someone I would work with for my future car buying needs.
Zan Li
Oct 17, 2020
Great process and very friendly team of people. Will go back.
Inked Angel
Oct 17, 2020
I bought my 2016 Jeep Renegade from Cesar! I saw it online and immediately went down there and bought it! He was very helpful and it was hassle free! Art Toombs, his manager, was fantastic! Making sure that all our needs were met and questions answered! I would definitely recommend buying a car from them!
karen stites
Oct 16, 2020
Fantastic experience!! Staff is friendly professional and respectful. They did what no other dealer can Tania is awesome she will make sure you leave there happy . highly recommended
Mohamad Chehab
Oct 16, 2020
very good staff great to work with better then competitors my first visit there
Malik Hoodbhoy
Oct 16, 2020
Car broke down and i needed a new car. Jacob reached out to me and i decided to come down. Glad i did, it was a good experience. Easy and fast. Everything was explained and broke down things easy enough to understand. Prices are very good and affordable. Really appreciate the help! Thanks for the great customer service Jacob!
Bird Isdaword
Oct 14, 2020
Jacob, Christian and Joseph, did a great job helping me find a very beautiful car. They are very polite and helped me tremendously even though I might have been a difficult costumer. Thanks guys!
Yasha Chapman
Oct 13, 2020
Cesar was awesome ! We traded our older van for a 2020 vehicle and the process was super easy. We got lucky on a new arrival ! When we came back to pick up our new vehicle we were surprised that the finance department was also able to get us some extras and lower the APR and payment than what we were originally told. All in all we are very happy and satisfied with the service. We recommend Cesar ! And their finance girl Shantelle is super awesome too !
Jessica Alvarado
Oct 13, 2020
Prentice Palmer was my salesperson. He was nothing short of AMAZING!. He wasn't pushy like other dealerships I went to. I had a short time to complete the purchase due to me picking up my son so I couldn't stay long to complete the purchase so Prentice and the Finance Mng "Shawn" came to my home to finalize the deal and delivered my new truck, needless to say It was a great buying experience! I highly recommend AutoNation USA - Prentice Palmer will get the job done!
Shawn C
Oct 12, 2020
Pleasant enough experience. I wish it was closer to where we lived
Aaron McGahee
Oct 12, 2020
Went down to buy a GT Mustang. The experience was amazing even before heading down. Joseph kept reaching out. Always answered all my questions. He's awesome. Cesar was the one who helped out with the sell because my parents wanted someone who spoke Spanish & he was our guy. Both Joseph & Cesar super friendly. Definitely ask for them if you go
Stephanie Camacho
Oct 9, 2020
I walked into Autonation USA Henderson thinking it was just your Regular Dealership, where they have you sitting around waiting most of the time and pressuring you.Our experience was with Mark,Jacob and Shawntelle was very professional and Stress free. We came in the first day to look at a vehicle we saw on line, ended up looking at a few more.If I would have asked them to line up 10 cars side by side so I could compare them they would have no problem. After looking at a few other Dealerships, I called Mark told him which vehicle we wanted to purchase, he got the ball rolling. When we got there we started the paperwork, we were out of there in a little more than an hour. These guy are AWSOME!! Thank you Vinnie and Dianna
Vincent Smitley
Oct 2, 2020
We worked with Melissa and Jenelle during the purchase our 2018 Kia Soul !, not only were they both professional and knowledgeable, they were also fun and no pressure. Melissa was my first point of contact, unfortunately she was going to be off the day my husband and I were able to go in together for the test drive, so she set us up with Jenelle. When we arrived, Jenelle had the car pulled up and waiting for us. She gave us time to ourselves to talk things through and when we were trying to make the numbers work but were falling just a little short, she was able to get us a little more for our trade in. When we left to look at the only other Soul ! in Las Vegas, Jenelle wasn't dismissive she understood that we need to do our due diligence and was respectful of that. Needless to say, since I am writing this review, we returned the next day and finalized our deal with them. The sales team was fantastic! Thank you "Soul" Sisters! 😉 Here were the downfalls that I do not feel are or were the fault of these two wonderful ladies... 1. The doc fee is $599 and they will not budge on it, even if you bring in your own funds. 2. We did our own financing and the delivery still took over 3 hours. Neither of those things would prevent us from purchasing another vehicle from AutoNation, especially if we got to work with the same sales team.
Steve & Kelly McKean
Oct 2, 2020
Great customer service, Tania Melero was pleasant to deal with, she was kind, and professional I'm very happy with the price I had gotten for my vehicle and the service I received from the staff at AUTONATION.
Dan Schlax
Oct 2, 2020
Jacob, Mark, and Shawn all made the experience very easy and hassle free.
Tiffany Smitley
Oct 1, 2020
friendly staff that works with you
Nick
Oct 1, 2020
I take my vehicle here for all routine services and could not be happier with their friendly customer service and affordable work they perform. Thanks AutoNation USA Henderson, for keeping my family and I safe on the road!
Melissa Coronado
Sep 30, 2020
The process of getting our family car was smooth. Josh and Shawn were a pleasure to work with.
Ashley Dixon
Sep 30, 2020
EXCELLENT CUSTOMER SERVICE!! I was a little late due to traffic, but when I arrived I had no hassle! No one complained! The team jumped up right away and apprised my vehicle like clockwork! Came to told me the value and need I say more! It was right we're I wanted it to be almost got top $$$ in with a few flaws!! Thank you guys for doing business with me!
Travian Williams
Sep 28, 2020
Great experience. Excellent customer service, policies, inventory, along with reasonable prices for no haggle.
Steve Webb
Sep 21, 2020
No nonsense, in and out in three hours!
Geoff Frangos
Sep 16, 2020
Auto Nation is awesom!! Hagle free, they did what they said they were gunna do and I left with the perfect car couldn't be happier. Alejandra is amazing super friendly and gets you the best deal she can. I would refer all my family and friends
Jennifer Jones
Sep 13, 2020
I would only recommend the Henderson, Nevada Service Location. Adk for Shaylee, the service and attention to my concerns were exceptional. Not at all like the Phoenix Bell Road Location. I will never send anyone there!
WisdomSOUL Wellness
Sep 12, 2020
I will only have my car serviced when Shaylea Rickett is there. She's the best!
Ralph De Blanc
Sep 11, 2020
Melissa was superb and Jose was terrific! Quick and as axvertised....no games.
Patrick McNicholas
Sep 11, 2020
Great experience car shopping would recommend to anyone wanting a hassle free car buying experience.
Paul Dean
Sep 10, 2020
Very knowledgeable staff. Quick repair time.
Alice Corley
Sep 1, 2020
Fast and friendly service
Jeffrey Borowski II
Aug 31, 2020
Excellent service. Top salesman! he best i have ever had in all the years of my car buying experience. The lady in financing exceeded my expectations.. She made the process so painless! I wont hesitate to refer customers!
Antoinette R Lyons
Aug 31, 2020
Thank you so Melissa and autonation for helping me purchase my new pre-owes vehicle. Melissa was very accommodating to me by finding the right vehicle for me. She even went to another store across town to pick up my car so I could do a test drive. The progress was easy and stress free and I am so thankful for Melissa's help.
Kirsten Young [Foothill HS]
Aug 27, 2020
Got what I wanted from them. Highly recommended dealership!
Susan Harding
Aug 24, 2020
Melissa,and Mark are the best. I love my ne Mercedes.
Sheree Little Vernon
Aug 23, 2020
If you're looking a place for practicality and easy to work with sales representatives, this is the place ! I am a first time car owner and felt comfortable making decisions with a sales rep. Rafael (Raffi) was a very very helpful person. The process took long due to me being a first time buyer, but Raffi never gave up on me and help me through this whole process effectively with the best deal. I think this dealership is very easy as they sell the vehicle as is. No mark ups, no hidden fees, everything great. Raffi is very genuine and prioritizes his customers. I recommend stopping in and seeing Raffi to take care of you on your next car purchase!
Denisse L.
Aug 21, 2020
Wonderful experience, and I've already recommended AutoNation USA to friends and family
Ben Bachelder
Aug 20, 2020
A truly wonderful experience, we highly recommend these guys! Jake in Sales and Alondra in finance were so friendly and efficient!
R H
Aug 15, 2020
Very happy with the service Jenelle C. provided my husband and I! She made the process as smooth as can be and never left us out of the loop. Top of the line service! If we could give more than 5 stars we would definitely put it down. Her dedication to our needs and ensuring we had the best experience were phenomenal! We highly recommend her! We also want to thank Manager Matt and Melissa for your kind attention! Keep up the great work guys! cheers!
Juju Bee
Aug 15, 2020
Couldn't imagine my transaction going any better. Professional and timely.
Jesse C
Aug 13, 2020
Timely and professional. Always a great experience!
Jesse
Aug 13, 2020
Excellent customer service over the phone and in person. We picked the right place to do business.
Antonio Flores
Aug 13, 2020
friendly helpful employees and good service.
Robert Brown
Aug 11, 2020
Chris was great. Texting me pictures and having car ready under covered parking when we drove all the way across town to see it. Only dealership who let my son (who I was buying the car for) participate in the test drive. There was almost an hour wait when we came back for the actual purchase even though only 2 other customers in the store, I had arranged my own financing and sent the paperwork as well as insurance cards ahead of time and had set up a specific time to return. Otherwise it was a nice experience.
Racheal Belen
Aug 10, 2020
If I could give it 10 stars I would! I had the best car buying experience here at AutoNation! Prentice Palmer helped me out and let me tell you, he was/is AMAZING as well as all of the other staff, from other associates, managers and financiers! Literally cannot thank them all enough for great customer service, prices and my expectations!
sierra shaw
Aug 8, 2020
very friendly staff! very accommodating to our needs. Joseph Chris and art And Jose were awesome! would definitely recommend Autonation forvyour car needs
Tracy Rau
Aug 7, 2020
Great service and wonderful attitude. No hassles. Best experience working with a dealer to date.
Mary Dellavalle
Jul 31, 2020
Caleb is A man of word as well as the repairmen that have worked on me vehicle more than once.
Thurman Arnold
Jul 27, 2020
The best, most honest and helpful staff. Thisnis the second time we have purchased vehicles from Auto Nation. We did our research and tried other dealers... however, nonoter place was able to compete with the trust Auto Nation had already earned.
Mario Casillas
Jul 27, 2020
My experience at autonation was great! My sales person Jacob was patient and took his time showing me different cars that it was in my budget he did not pressure me and he was funny too! I would recommend going to him!!!!! He is very nice person and everyone there too the managers were politer and welcoming! I'm very happy with my new car and it works great with and I'm just in love with it😍❤️❤️👌🏻
Valeria Crespo
Jul 24, 2020
Very helpful and easy process wanna give a big thanks to Cesar Hernandez for helping me and making it easy to get me a car
Pete Carroll
Jul 23, 2020
If you want to purchase a car, go to AutoNation and find a gentleman by the name Jacob Linnell. He is very knowledgeable, honest, and very helpful. He was able to get my daughter in the car she wanted and reasonably fast. Will visit him again and purchase my next vehicle.
L Mateo
Jul 18, 2020
This place is amazing! Ask for Mark G, he was absolutely fantastic and he made the process so easy! Great place for first time buyers, highly recommend!
Jess The Best
Jul 16, 2020
Greatest dealer ever
Thomas Haney
Jul 14, 2020
Very nice people very helpful did everything in their power to get me in a car
Raymond Pittman
Jul 14, 2020
Breanna and your staff handled my purchase with the utmost professionalism. All my needs and questions were handled quickly and the sale finished in a reasonable time frame.
William Rader
Jul 9, 2020
AutoNation USA Henderson was our third and final stop at a dealership. When my wife and I walked in, we were greeted by Roy, and the rest was history. Roy's patience, humor, and honesty went a long way for us, especially considering that we had just left another dealership with pushy salesmen. I felt that they genuinely wanted me to believe my life would have been so much worse if we did not purchase a car right then and there. On top of that, they had arbitrary dealer fees around $3500 for things that had little to nothing to do with a car we considered purchasing. Well, I am glad that we did not buy from them and went to AutoNation USA Henderson. Roy affirmed our feelings that the previous dealership was scamming us and let us test drive our top picks. Once we knew what we wanted, Roy worked with us as it took us some time to get through paperwork, and he never rushed us. It does not get better than that for a first-time buyer. When it is time for us to buy a second time, we want to see Roy. Plain and simple.
Tre Norman
Jul 4, 2020
Although there were numerous problems and delays with this repair I want to compliment and thank Caleb for his follow up and courtesy. He kept me well informed and worked hard to get the job done. I nominate him for employee of the month!
Kelli Carlson
Jul 3, 2020
BEST and easiest buying experience ever. Worked with an excellent individual named Mark Grusenmeyer...MARK G!!! Mark coordinated with my elderly, disabled parents to provide amazing customer service. They received the vehicle they wanted and couldn't be happier!!! Buying your next vehicle can be easy...ask for Mark G!!!
Frank Olsey
Jul 1, 2020
Joseph our "salesman" explained the whole process as we went through it. He was very transparent, honest and extremely helpful. This was a first experience for my husband and I at AutoNation, or selling a vehicle to a dealership in general. We were both pleasantly surprised. We would HIGHLY recommend AutoNation for buying or selling a vehicle.
Sheila Palache
Jul 1, 2020
Great experience working with Mark Grusenmeyer on purchasing a newer vehicle for my mother. Mark was very compassionate, helpful, and understanding the situation and ensuring my mom was comfortable in the vehicles. When one didn't work, he didn't try to pressure us into that vehicle, just moved on to the next. Mark found what we were looking for at another Auto Nation dealership and we went to view that vehicle to ensure it was what it appeared to be. Explained the situation with Rances Lopez at AutoNation Mini and he showed us the vehicle, no questions asked and was doing what he could to help Mark make the sale. Should you need help with a vehicle, I would recommend both Mark and Rances as they are very adept and helpful with their clients. Will definitely use them again next time in need of a car.
Jonathan Rader
Jun 28, 2020
***Update from my most recent experience at Auto Nation. *** My family and I were in the middle of moving, and the following day I got in my car to pick up more boxes, and my car wouldn't start! It was dead. At the worst time possible... I called auto nation and spoke to Caleb*, I explained what was happening and he was so helpful and went the extra mile to help us. He sent out two of his associates to jump start my car ! I nearly cried because I was so stressed wondering how I would get my car to the dealership. After they jump started my Kia Sportage, I drove it straight to auto nation because I was afraid it would die again! Caleb really made me feel valued as a customer and very taken care of. I appreciate people like him so much! Both experiences at Auto nation have been positive and awesome. So happy with them. I purchased a new battery with life warranty and I feel reassured. I am really happy with my experience at AutoNation, Mark was awesome! He was never pushy, and gave us space and was really helpful and knowledgeable (which unfortunately was not the case at other dealerships I visited, I felt pressured and intimidated) . I really enjoyed the atmosphere at AutoNation. It was my first time buying a new car at a dealership and I am happy I stopped by. Mark was attentive, and followed up with us via text. When I text him that I was on my way to see the car (I visited friday night, and test drove the car of my dreams, then went back with my husband on Saturday) He brought the car up to the shaded area so the car wouldnt be so hot when we got there. I really appreciated that. I highly recommend AutoNation, I am in love with my new car.
Gabriela De Leon
Jun 28, 2020
Jake was great! TY!
Bonnie Berns
Jun 26, 2020
Had an amazing experience at AutoNation Henderson! Mark G. was a great help and was very knowledgeable. He brought the vehicle from across town for us and listened to our needs. Stop by and ask for Mark!!
Michael A.
Jun 22, 2020
Breana was my salesperson. She was friendly. She wasn't pushy like other dealerships I went to. It was a great buying experience!
Jolene Stever
Jun 22, 2020
Can I tell you have amazing it is here! I will tell you, I got my car at United Nissan, and the staff there CANNOT compare to the ones here. Art and Ron gave us over 110% of customer service. It didn't even feel that they were trying. It was all natural and that's the kind of business you want to go to. I'm all about customer service and I'm so happy that these gentlemen were here to help and here to make our experience on getting a car incredible. I will be referring people here hands down. No questions ask. Thank you Ron and Art! We really appreciate all your help today!
Liat Rubinstein
Jun 20, 2020
I've been here a few times with my mother in law who last year bought a great car from them, then today sold them a different car. This is honestly the only dealership I have been to that I actually like. They are always courteous when we go in (even just for minor maintenance on the cars) and every time we go in and see them, Art Jones he always has a smile and a few jokes. If your planning to sell a car they will give you a good offer, and if your looking into buying one from them they have fair prices. Thank you guys for giving this family a dealership that is better than the rest!
Krystine Connelly
Jun 20, 2020
Sales consultant Melissa Coronado and her team were extremely kind and patient, they allowed me to take my time in order to get my insurance on the spot and were understanding to all of my needs. I am so thankful for my experience with Melissa, and would recommend her to anyone who is looking for a trustworthy person.
Daniela Lopez
Jun 19, 2020
Everyone was very nice!! Good customer service
Araceli Montoya
Jun 18, 2020
This is the sales guy who will go beyond the call of his duty and the finance lady was a true angel. I started out with a 11.99 interest rate ' but this angel of a lady got me a much lower rate at 6 percent. I love my new Challenger RT and if your looking for a great car please tell them Robert sent you. I will tell all my friends and family to buy from here. This dealership is the best. I have my dream car now and it's all because of Rafael and the angel finance officer. Plus I give great thanks to my lord in heaven for making it so smooth. God bless to all at Henderson Auto nation. Robert
Tall Rob
Jun 17, 2020
I had an amazing experience here at AutoNation Henderson! Their service was fantastic and ensured that they actually listen to their customers. Joseph Christensen was the one who helped my find a car that suits to our budget and liking. I liked how professional and patient he was even though I was undecided and picky. He went out of his way to get the car that I wanted. Thank you again and to the rest of the team! Great job!
Princess Emelie Duenas
Jun 17, 2020
Big Shoutout to Joseph C., for helping me as a first time buyer. Joe's process from the beginning was all focused on my needs, and what I was looking for as a customer. For being a first time buyer, I was afraid of someone getting over on me, so at first I was very skeptical. As I continued to ask questions, Joe made sure he broke everything down Perfectly. Very knowledgeable and able to help people understand things better. I'd recommend anyone to ask for Joseph C. if you looking for a new vehicle, a quote, or even just intel on anything Car Business related. Highly recommended, great staff, and excellent customer service.
Aira Phineas
Jun 15, 2020
I hate buying cars, but my wife hates it even more, so we went shopping together, and she found one she liked at Autonation Henderson. We asked for a testdrive, which was arranged quickly. I was surprised at the lack of pressure to make a purchase. Rafael (our salesman) was knowledgeable and friendly, and made the process quick and painless. Hopefully, the service after the sale is just as good.
Robert Cowan
Jun 14, 2020
I deducted 2 stars because other than Mark and Mellisa were excellent, but I'm not happy on how me and my wife were dealt with after we bought the Ford fiesta, we traded our Nissan leaf back in in late November to early December instead of canceling our warranty for the Nissan leaf it now we been charged 1 time and our down deposit for the warranty, so idk what is going on with our refund for this but who ever is in charge of financing needs to be evaluated we called paylink who is the warranty service and they said AutoNation never put the request in for refund not cancelled so I'm wondering is what is going on? As soon as I bought the car and left there lot she totally forgot to put our refund in? So I'm not happy aside of they're service,and Mark and mallisa I won't be a returning customer in the future. Update as of June 2020, The team here overall gets 5 stars, I do think they go above and beyond for they're customers I really do as a former carmax employee I can tell they train the sales,and sales management very very well and mark, Melissa and the team stuck with us at the end of the day it was worth they're business and for what is worth I'm glad I came to AutoNation that's why I drop a 5 🌟 because they deserve it!!!!!
LoveTheSmell OfJetFuel
Jun 12, 2020
My experience here was awesome. All the salesmen were nice, polite and kind. My salesmen Joe was amazing he took his time with me and got me the BEST deal ever on my new car. I would like to thank Joe (Salesmen) and Art (Manager) for helping get in my 2019 Nissan Altima. Thank you fellows again for all your help. I appreciate you! Take care stay safe and well.
Mieshawn Bradley
Jun 11, 2020
Mark was the man of the job! No rush no hassle get you in the car you'll need.
Sean Jardinel
Jun 10, 2020
I felt like they went the extra mile to figure out why the alarm kept sounding randomly.. The jeep is in like new condition now..
Dr. Dave Popple
Jun 5, 2020
The detailing service was fantastic! I'm really impressed with how everything came out. I will see you once a month!
Chris G
Jun 2, 2020
Very Happy with the Service we received from ALL the Staff at AUTONATION!!
Patricio Gallegos
Jun 1, 2020
Car runs strong. Right on budget. Thank you!
Lou Lou
Jun 1, 2020
I sold them a car at the Henderson NV location. The process was simple and quick!
Brianna H
May 29, 2020
Tania was very helpful and went above and beyond to help me.
Adrian Robert Alexander
May 28, 2020
We were so impressed with the customer service we received from Mark. I was looking for a specific vehicle and Mark delivered. He even was able to get me $1000 more than what a neighbor dealership offered for my trade. He worked hard to make sure I got what I wanted and even went to the other store across town to pick up the vehicle. The car looked brand new. Very happy with our experience at Autonation. The showroom was super clean and comfortable as well.
Paige Romero
May 23, 2020
I was not looking forward to car shopping because it can feel like jumping into a pool of sharks..especially for a woman. I had chosen a vehicle online to see, prior to going to the dealership. Once I got there and met with Josh, I did not feel like I was in a shark pool, lol. We looked at several vehicles, he answered a zillion questions for me, even personal ones because I like to know who I'm dealing with, all while smiling from behind his mask, (since we are in a pandemic). He was friendly, courteous, personable and knowledgeable and his actions showed that he was really listening, not just trying to make a sale. Even though I was nervous, Josh's manner put me at ease. I changed direction from the vehicle I originally went to see and ended up with the perfect thing for me. The whole experience was comfortable and everyone I dealt with was super nice. Alhondra in finance was awesome and provided a lot of good info, answered all my questions with a smile. I operate very much on the energy vibe in all areas of my life, including business transactions. This interaction was smooth and much easier than I expected. I even cried when we did the key hand-off, out of happiness and relief, lol. I feel like Josh and the dealership went beyond my expectation and has continued to be helpful when I've had questions a couple weeks out. I have shared my experience with my friends and family and I highly recommend Josh..the guy with the beard, lol and AutoNation USA in Henderson! Thanks Again!
Elizabeth Thompson
May 23, 2020
Jenelle I can't say enough good things about! She followed up with me and was so patient and kind. I have bought quite a few cars in my life and never have I been shown the respect and care that Jenelle showed me. Dareen followed up with me within hours of finalizing my decision at the time and I felt really taken care of. If you are in the market for a vehicle please visit this place and ask for Jenelle or Darren. You won't be disappointed!
Amber Ritchie
May 23, 2020
The woman that helped me in service department was friendly and knowledgeable.
David Davies
May 22, 2020
I really appreciate the kind and thoughtful service I have received from the employees and workers. They seem to vend over backward to help get my wants satisfied.
Dixie Story
May 22, 2020
Chris was great to work with. Knowledgeable and answered every text I sent without fail and right away! I would recommend him for sure and will buy from him again In the future.
Tanya Huston
May 21, 2020
Great experience here. Joshua helped me out with my internet shopping and then Cesar helped us at the dealership. Both are great guys. Cesar was easy to work with and was very nice. The dealership is very nice as well. I would definitely recommend this dealership and also make sure you ask for Cesar or Joshua.
Nick Janeway
May 21, 2020
Thank you for your Team's hard work. My little Ford Fiesta runs smooth now and there is no more shaking. Greatly appreciated!
Natasha Ortega
May 21, 2020
Thanks to Mark for helping us out!!
angela christoff
May 20, 2020
Josh was able to find my vehicle so quickly and efficiently. The whole process was very smooth for my partner and I and we came out of it with my new car. I would highly recommend Josh and his team, they made us feel so taken care of. He's your guy to go to for any new car situation!
Heather Stebbins
May 20, 2020
Was a great purchase and the staff was pleasant and accommodating.
MATT FiveM
May 19, 2020
we had a nice experience at autonation thanks to Mark G, thank you !!!
Angela Christoff
May 17, 2020
I had an awesome experience buying a vehicle with auto nation, seamless to say the least. In particular I dealt with Mark G, he was very straight forward with me and quick to answer all of my questions. I've been through the whole typical "car salesman" bit before and this was far from it. Again, great experience and I would absolutely recommend shopping here for vehicle purchases.
degan Stewart
May 15, 2020
Having to purchase a car during this pandemic was not something I was looking forward to. I shopped around at other dealerships and the service I received was horrible and very disheartening. I was a David Wilson's Toyota customer and went back to them to buy a 2nd car and was treated so poorly with the assumption that because I chose to be on furlough for the safety of my kids, I had no money and no income which is thr furthest from the truth. I went to Autonation Henderson because we have purchased our BMW there, and coming straight there within thr same day of having a poor experience at David Wilsons Toyota, the experience doesn't compare. My salesperson was Josh and with his help paired with the Manager Matt, I was able to get exactly what I wanted at a price that could not be beat. They took the time to make sure I got what I wanted, even with all the frustrations of buying a car they never pressured me into a buy or tried to close me without making sure its what I wanted. Even when I went into financing, the finance manager Brent was amazing as well. If/when the time comes to get another or even if a family member ever needs a place to buy from, we will absolutely be going back to Autonation USA Henderson. Josh and Matt are the car buying experience dream team.
Elaila Drake
May 15, 2020
Hou them treat the .costumer
Marin Ramirez
May 15, 2020
This is my second time purchasing a vehicle from AutoNation and both times I?ve had a great experience. The staff is friendly and helpful.
Deangelika S Porter
May 14, 2020
Truly had the absolute best experience at AutoNation. Everyone was so helpful and made my daughter Cassidy first car buying experience so wonderful. Appreciate Jake and y'all there. Thanks guy's
Selena Baughman
May 13, 2020
"Not the AutoNation Toyota Las Vegas" had a very bad experience but then tried "AutoNation in Henderson" and had the best car experience I've ever had buying a car. Everything was like night and day going from the worst🤥to the best car buying experience🤗 "AutoNation Henderson🚙Thank you team! love you,love you,love you💕"
Debra Riser
May 7, 2020
AutoNation Henderson Nevada?. Thank you for turning a bad experience into a great experience you did a wonderful job I love my car and I will definitely recommend AutoNation Henderson to ALL car buyers ?.
Debra Riser
May 7, 2020
We had a great experience with AutoNation USA Henderson! It started with Melissa the Internet Sales Manager. She contacted us right away after we had inquired about a vehicle they had listed for sale. She had us get everything together before we went and test drove the vehicle. We also were called by Matt the GM before they pulled our credit. They handled the social distancing and sanitizing in a very professional manner. The whole sales experience was an easy process. Alhondra, who handled our financing, took great care of us and got us the best interest rate! They all made the experience a GREAT one!
Cindy Goddard
May 3, 2020
Fantastic experience! My salesperson Melissa was outstanding and worked tirelessly to find me the right vehicle. Melissa and the entire staff are gracious and inviting, even during this very stressful time due to the COVID 19 issues. I highly recommend contacting Melissa with your vehicle needs. Sean
Sean Gustafson
Apr 28, 2020
Chaleene (spelling) is amazing. She's always good with letting us know how to keep my car up to date and running well, and always with a welcoming smile. I never get the guys in the background who work so hard on my car, but they are very quick and good at keeping my car safe and on point.
F2KE
Apr 28, 2020
Cesar Hernandez was really great. He explained everything to us, he was very professional , and we would recommend him to our friends. Great job!!!
RickRita
Apr 26, 2020
Was not looking forward to purchasing an auto. It is always such a hassle. I was greeted by Rafael and he took good care of me. It took time to complete the paperwork. That is normal. Rafael took a lot of time showing me features on the car, helped me program the initial settings, and was a total pleasure. I am sorry that i cant recall the lady's name in finance. It started with an "A". She was a total pleasure. Thank you, AN. Hoping to do business in the future. I love my new Ford Explorer.
Bart Alexander
Apr 25, 2020
Routine maintenance. Great service. Very timely. Followed all corona virus rules. Very pleased.
James Harrell
Apr 25, 2020
Service advisor was very helpful very good customer service.
Miguel Gutierrez
Apr 24, 2020
This was my first new car purchase in a long time and I can?t believe how easy and efficient AutoNation made it. I am extremely pleased on the service especially from Melissa Coronado who made the buying process very easy and her customer service was second to none! Thanks very much to the whole AutoNation team.
Daniel Taylor
Apr 23, 2020
We sold our vehicle to Autonation and we couldn?t be happier with the experience. They offered a very fair price and handled the transaction professionally. The staff was very friendly and helpful. We look forward to doing business with Autonation in the future!
Brittany Mykhale Buist
Apr 23, 2020
I called Cesar to see if the car I saw online was available. He was prompt and quite helpful. My wife and I went in to test drive the car. Everyone was quite safety conscientious, including social spacing, hand sanitizer and masks. Cesar was very helpful and no pressure or haggling. The best car buying expierience we have had for many years. We will go back for our next car as well. The entire process was very painless.
Tim Hartman
Apr 22, 2020
Thank you Auto Nation Henderson and Joshua Tapia for your professional sales process. I will recommend all my friends and family.
Christopher
Apr 18, 2020
Mr.Mark G. The salesman we had four my car,is a very good salesman, very politely help my wife and myself to find the vehicle that does fit our budget.He"s the best.
Earnest Rollins Jr
Apr 16, 2020
Great service and a great price. People say that you can not get a good deal at one price car lots but I found out that this is not true. Got a great deal on a great vehicle.
Vince Calabrese
Apr 14, 2020
I wasn't in the market to buy a car when we took my boyfriend's daughter car shopping, but I couldn't pass up a new 2019 Ford Escape with 2k miles listed well under MSRP than anywhere else. I would purchase from them again.
Shannon Holbrook
Apr 14, 2020
We get second car at autonation same location at Gibson. My husband got accident 1 week ago and our car was totalled and decide to get another car just went in this location and and in just two hours or less we go home with the car we been wanted despite of our not good credit score. So happy and satisfied everyone so friendly. Thank you all specially to Jake and Alhondra. More power to you guys best service as usual every time we come to your store. God bless us all.
Valerie Cavinder & Family
Apr 7, 2020
Sales representative Chris Suasaeng was exceptional. He provided prompt and helpful communication, flexible appointment setting, and wonderful customer service. I would highly recommend him.
Jessie Humphries
Apr 6, 2020
Smooth. Professional. Up-front. Quick transaction.
Kirk Pittman
Apr 2, 2020
Great experience. Our car buying experience was easy and actually quite fast. All staff was friendly, professional and happy to help.
c onnie takeshita
Mar 28, 2020
Very good experience here ..Chris s. Really took care of me and ultimately bought a car I'm really happy with for a fair price. There document fee of 550 was a bit high, but I got great service and even extras that really helped me out over all.
Dorian Carey
Mar 24, 2020
I love my sales rep Joshua tapia he is so freaking awesome. THANK YOU
Billieanna Bibbs
Mar 23, 2020
Received excellent service and updates while the car was being worked on. Super thanks to Shaylea Rickett for staying on top of what was going on!
Kenneth Loso
Mar 19, 2020
they are quick & efficient. also washed my car which needed it.
SanaRae Davenport
Mar 17, 2020
Being a first time car buyer, I was really skeptical and anxious about finding the right place to buy a car and I was pleasantly surprised with how well Autonation treated me in my car buying experience. Cesar and Joe were more then helpful and friendly during my time or finding the right fit car for me. I was able to find a beautiful car with a comfortable monthly payment, they even inspected and made sure the car was perfect before leaving the lot. I will recommend Autonation to everyone and I'm really grateful for my the great experience I had!
Makenna Hamblin
Mar 17, 2020
Everyone was knowledgeable
Mercedes Hackney
Mar 14, 2020
Had an amazing experience here. The entire staff was amazing but especially sales person Janelle. Felt at home the minute we walked in and got a good deal on a reliable car. They even put on brew brakes before we took our new car home. Thanks Auto Nation Henderson!
Danielle Ritter
Mar 14, 2020
Everyone was very helpful from the moment I walked through the door. The staff answered all my questions and ran all the numbers. I was very pleased to walk out of there with a great Toyota Camry with a very competitive rate. Now I know where to buy my next vehicle when the time comes.
ronald viernes
Mar 13, 2020
Always great fast sevice
Erin Christensen
Mar 12, 2020
Jake was very friendly and professional, he made the transaction easy.
bmgoodnight
Mar 10, 2020
I was I bit upset when I went back on the 5th day. Because I wanted to get my trade back and put cash down instead. but still keep the new vehicle. Told me I had 5 days only to find out my trade in was already gone even before I had brought in the title for it. All in all good service, love my new suburban, they work well with you at the time of the purchase. Not a ton of pressure.
Debbie Pillman
Mar 9, 2020
I was in desperate need of a new or used vehicle. I?ve previously had a good experience with selling my son?s car as well as repairing my other cars at Auto Nation. I made an appointment with Josh and told him the year and make of the car I was looking to purchase. When I arrived the next day, a car was waiting for me to take my test drive. I was please with the huge selection of cars on property. The last time I was on property I don?t recall seeing a lot full of vehicles. From the huge selection of vehicles I finally found the right one. I traded in my old car I left in my new car satisfied with my car buying experience. Thanks to all the employees who make this possible.
Jeffrey Whitehead
Mar 6, 2020
My car was deemed a total loss almost a week ago. I was devastated. We bought it brand new two years ago and got an awesome deal. Looking at comparable vehicles with a decent price was looking pretty slim. My in laws suggested AutoNation, which is where they bought their vehicle about two years ago. I looked and found my car I just bought a couple days ago. Rafael (raffy) was amazing through the entire process! He shared every piece of information he could about the vehicle we were interested in. He made me feel like is was his family. I even waited a couple of days to purchase the vehicle because I wanted to buy from him! You can best believe if we ever buy used again we will be going straight to AutoNation of Henderson!
Jennifer Sullivan
Mar 4, 2020
Your staff is always extremely friendly. I never have to wait as long as they say I am expected to. I could take my car anywhere but I absolutely love how honest and respectful AutoNation is so I always come back to you guys.
jacee riser
Mar 2, 2020
Raphael is the man to go to! As a first time car buyer I was a little nervous but He was SUPER helpful with information and getting me into a car! He was so genuine too! If you need a car, GO SEE RAPHAEL AT AUTONATION USA !!!!!!
Keya Dunn
Mar 2, 2020
Selling a car to autonation is the fastest and easiest process you'll ever do. No Haggling or negotiating is needed. Plus get check in your hands the same day!
Alonna Kuveke
Mar 2, 2020
I had a great experience. They gave me more than Car Max and was very professional with follow up phone calls and emails. They automatically sent me a thank you for doing business with them
Sandy Brooks
Mar 1, 2020
Twice in 7 Days! My grandma found a great Jeep here with the Help of chuck And today I'm driving off with an FJ Cruiser. Start to End, the service here is great. An awesome selection of cars at great prices and the long term warranties available for used cars makes Auto Nation a incredibly convenient company to buy from. Suhc@autonation.com Ask for Chuck & Say Brian T. Sent ya! Thanks again
Brian Tickes
Feb 29, 2020
My car was totaled eight days ago, and I put in a bunch of inquiries. Joseph Christensen called me first, and boy, am I glad he did. He went way above and beyond to help me. Thank you to him (sales) Art (management), Alondhra (finance) and rest of the team at AutoNation USA Henderson for making this as simple as possible. Joseph pretty much did everything he could to make this a fantastic experience! I got my dream car for an amazing price. #dreamlife
Kate Kaufman
Feb 28, 2020
Great experience. Melissa was so fast and easy to work with. Made the experience very pleasant. It was my first time buying a car without my parents help and I always remember them saying how horrible it is so that's why I waited so long to do it. Thank you Melissa
Tara Morris
Feb 26, 2020
By far the best car buying experience. Cesar, Roy and the rest of the team were incredibly nice and non pushy. Will definitely return
Deserea Fraser
Feb 21, 2020
Once again nothing but a very positive experience from the Service Team at AutoNationUSA Henderson. Been bringing my car there for some time for everything from basic wear and tear stuff like routine Oil Changes, to Tires, Brakes, etc. to Warranty related items and all I can say is that every time I have gone to this location for assistance, the staff - especially the Service Team has been awesome -- extremely helpful, courteous and always doing what they can by going over and beyond to ensure my issues get addressed, resolved and that my overall experience is nothing but a positive one -- every time! Many thanks (again) to Chaylea, Nathan, Caleb and the Techs for all you do! All the best...
Wireless
Feb 16, 2020
Once again nothing but a very positive experience from the Service Team at AutoNationUSA Henderson. Been bringing my car there for some time for everything from basic wear and tear stuff like routine Oil Changes, to Tires, Brakes, etc. to Warranty related items and all I can say is that every time I have gone to this location for assistance, the staff - especially the Service Team has been awesome -- extremely helpful, courteous and always doing what they can by going over and beyond to ensure my issues get addressed, resolved and that my overall experience is nothing but a positive one -- every time! Many thanks (again) to Chaylea, Nathan, Caleb and the Techs for all you do! All the best...
Mike Blecher
Feb 16, 2020
Thank you guys for everything you guys did for me
Sevag Kurdian
Feb 15, 2020
Very happy with Autonation's staff and auto tuneup service. The contact service desk person is outstanding, terrific :)
Mark Scanlan
Feb 14, 2020
Easy and fast purchase. I will continue to come back.
Richard West
Feb 14, 2020
Every one who who works there is very pleasant thay dont ignore you. Treat you like you are important l like autonation usa will always take my car to be service d there my son too likes. There friendly service thank you guys
Jacqueline Connelly
Feb 13, 2020
I like that the price listed is the set price. No bargaining on that. The price of the Lexus was a great deal. Nice and patient. They stayed late on Christmas Eve to finish the deal. My trade in was in the range of Kelley Blue Book but I would have liked a little more but who wouldn't?
Allen Schwartz
Jan 7, 2020
The staff was all very kind and helpful! We went in knowing an idea of what we wanted and they made it happen!
Colby Swieton
Dec 25, 2019
fantastic customer service experience! Briana was amazing! the finance department was incredible! best experience ever buying a car. highly recommend!
Jennifer Bowling
Dec 21, 2019
Staff is great. Breana the sales person is awesome. She went above and beyond to get me the car I wanted.
Jerry Ortiz
Dec 2, 2019
Great Service. Breana is awesome and really cares about her customers.
Jerry Ortiz
Nov 28, 2019
My service adviser Shalee did a great job. The car was finished at the time she said and she took care of all the paper work needed for the service.
Jason Holmes
Nov 17, 2019
Repair was done on time and professional. I scheduled my service and I got in to see them right away.
David Reynolds
Nov 14, 2019
GREAT CAR BUYING EXPERIENCE FOUND THE SUV WE WERE LOOKING FOR
Shirley Ramirez
Oct 22, 2019
Very pleased with the whole process. Very timely and friendly.
James Harrell
Oct 22, 2019
I bought my car 3 weeks after my first visit to the store. They sent me stock update emails weekly. The process of reserve the car, test drive and negotiate the payment was easy and they helped me charging a portion of the payment in my credit card. The store is beautiful and pleasant, the car stock is huge. Both the salesperson and the store manager are great professionals and very attentive.
Marciana Potrich
Oct 10, 2019
No pressure. Friedly but not fake.
Jen Burns
Oct 8, 2019
He was amazing.manager Matt extremely unprofessional! I would not send my worst enemy to Matt ! Logan made up for his actions.disappointed after all was done and was in car asked for second fob (key) to car and there wasn't one . I feel I should receive one with no charge to me .
Cheryl s
Oct 3, 2019
Service Was Great! Staff was very friendly
Sean Strand
Sep 27, 2019
It was an amazing buying experience overall, the car i was looking for was in great condition for a great price, fast and reliable service , friendly salesmen , took care of my every needs so that the vehicle would be as i wanted it.
Marc Leon
Sep 23, 2019
By necessity, I had to relinquish my current car to a relative in need. I was away from my home state and needed to buy a car quickly to drive back and get back on track. Fortunately they were able to quickly find me a car within my budget and need plus the complications of registering and purchasing a vehicle out of state was smoothly transacted.
Dr. Scott Homer
Sep 16, 2019
Great Value!!! Excellent Customer Service!!!
Tammy De
Aug 31, 2019
Very happy with their prices and choice of vehicles. Payed less for 2016 Lexus Is 200t ...
Jennifer Murphy
Aug 31, 2019
Logan Wise was fantastic, he made the whole shopping/ buying process pain free and even fun. He was knowledgeable about the vehicles that I looked at which made my decision easier. I love my KIA!
Bonnie_
Aug 27, 2019
Logan Wise was fantastic, he made the whole shopping/ buying process pain free and even fun. He was knowledgeable about the vehicles that I looked at which made my decision easier. I love my KIA!
Bonnie
Aug 26, 2019
Customer service was excellent, they made the whole process exceptional and painless. I would recommend them to anyone I know.
Daniel Gene Golod
Aug 14, 2019
The service Dept is wonderful. Very friendly and reasonable prices! I will be back!
Mike Portillo
Aug 13, 2019
Excellent service. No hassle. And no hustle. Much better car buying experience.
Michael Collins
Aug 6, 2019
Sales and Finance were great to work with! My sales associate rocks! Finance, Sales Managers, everyone was a part of my great experience at Auto Nation of Henderson!
dplush01
Jul 28, 2019
Sales and Finance were great to work with! My sales associate Breana rocks! Brentt in finance, Mark and Arthur in sales, they all are part of my great experience at Auto Nation of Henderson!
Dennis Plush
Jul 28, 2019
Elizabeth and her team had everything together when I arrived all I had to do was sign the paperwork. She went above and beyond to find the vehicle that I desired. I would refer to her again. She was helpful, pleasant, understanding, and she has a great attention to detail.
Margaret Dixon
Jul 25, 2019
The vehicle they sold us is almost perfect. My wife and I could not be happier. The one star dock is because it is so hard to reach anyone by phone. Otherwise, I will definitely recommend this dealer. Also, a follow up from the sales team in a few weeks is always a great way to show that you care. If they want repeat customers, try following this concept and make customers feel appreciated even after the sale is completed. :)
Shalviin
Jul 21, 2019
The vehicle they sold us is almost perfect. My wife and I could not be happier. The one star dock is because it is so hard to reach anyone by phone. Otherwise, I will definitely recommend this dealer. Also, a follow up from the sales team in a few weeks is always a great way to show that you care. If they want repeat customers, try following this concept and make customers feel appreciated even after the sale is completed. :)
Shalviin Singh
Jul 21, 2019
We are from out of town and went there to look at a specific car we had seen online. There was no pressure to buy and everyone was really friendly. I was treated with respect and all my financing options were given to me. They found the best interest rate for me and made the whole experience painless. I was given the option of purchasing an extended warranty which I bought because it's not a brand new car. I would definitely buy another vehicle from them in the future. And I've received two follow up phone calls to see how we are doing with the car, etc.
Gabrielle Stelzer
Jul 11, 2019
Great place to buy or sell your car! If you are looking for a new ride or just wanting to sell your current car, this is the place!
Logan Wise
Jul 7, 2019
I recommend Auto nation of Henderson It is a great place to shop and friendly people.
Alan Hotaling
Jun 30, 2019
A little high on the price of the vehicle and a little low on the trade-in price with no flexibility either way
Gary Kozlowski
Jun 15, 2019
Very friendly. Logan and Darrin are awesome! No BS. Just straight to the point and we had such an easy selling experience.
Julie Marie Davidson
Jun 14, 2019
Really quick and easy experience selling my vehicle I definitely would recommend this to anyone looking to sell
Jeffrey G Kisla
Jun 10, 2019
Friendly, no pressure and a good deal.
Markvegas1
Jun 7, 2019
Logan was super nice, no pressure, easy to talk to and work with! I really loved my experience with this place! Darren Cobb, the GM, is also very friendly and professional! He's trained his staff well! I'd highly recommend AutoNation to anyone looking to sell a vehicle (or buy)!
Julie Davidson
Jun 4, 2019
very friendly team and willing to help doing good business! Melissa is really nice and efficient. She and her managers are really doing an amazing job! would definitely recommend AutoNation Henderson.
Michael Vayssie
May 31, 2019
Nice friendly, quick , fair price, professional....I would buy or sell my cars from here again.....
dschedeneck
May 24, 2019
Everyone at this dealership from the moment I walked through the door was amazing!! They made me feel comfortable, unpressurized and thankful to have walked through their door! From my salesman David, the finance manager Art to the GM Darren, they are all exemplary of what great customer service should be! Heck, we even had several laughs along the way!! I would recommend this dealership 1000% to everyone!! Thank you all for being so great to me!!!
TMartinez
May 24, 2019
Great experience! Awesome sales people, very nice and generous! They helped me choose and buy my amazing car
Saige Devrieze
May 11, 2019
Quick no bsing around get in an out an happy an I Will be back to do service with them
George Williamson
Apr 17, 2019
David Gomez at Autonation was so great to work with. Patient and kind and not your typical "car sales" experience.
Maria Ruiz
Apr 16, 2019
David, the salesman, did a marvelous job! Friendly and efficient service. All the staff we interacted with are amiable and helpful including the Finance Officer, who are usually a pain in the xxx, but he is not one of those. Clarissa even went out of her way and hand carrier our DMV files that we need for registration.
Pacita Florida
Apr 7, 2019
Salesman Mark G. is great. Dealership was very clean and friendly. No hard pressure to buy now. Very enjoyable
Blue Mule
Apr 4, 2019
Salesman Mark G. Is great. Dealership was very clean and friendly. No hard pressure to buy now. Very enjoyable
Lisa Ferguson
Apr 4, 2019
The most helpful people ever and car buying experience
Tina Gonzales Elizondo
Apr 1, 2019
I recently sold a car to AutoNation. Was a very positive experience I got a good price without any drama. Highly recommend to anyone wanting to sell a car. Josh was helpful and made the experience very positive.
Jeremy Courtney
Mar 23, 2019
The staff was absolutely amazing from the moment i walked through the door made me feel comfortable and confident with my purchase i couldn't have asked for a better experience.
Shalise Lloyd
Mar 12, 2019
Great service, friendly staff, fast service, very helpful
Elaine Brown
Mar 10, 2019
Awesome customer service especially The manager Darren Cobb. One email to him and he will take care of the issues/questions you have with your car.
Renzo Lo
Mar 8, 2019
Great experience from start to finish. Luvette and Matt were great. Very streamlined process. Painless.
Jonathan Parry
Mar 2, 2019
It was a very pleasant experience for me to be a first time car buyer, Mark who works for Autonation really helped me understand everything before I signed my name.
Patrick Roman
Mar 1, 2019
Sold them a car! Pleasant, Cordial, Efficient, Professional! Best auto dealership experience I've ever had in my 83 years. Will do business with them again! I have nothing but praise!
Harold Gerecht
Feb 21, 2019
Great, no pressure environment. We trusted Mark G and the information he provided. Definitely would purchase from AutoNation again.
Colleen
Jan 23, 2019
Fantastic place to find a vehicle. We originally went in looking at a car but it wasn't quite what we needed but then we found another vehicle that was perfect and AutoNation was excellent at assisting us with all the details and purchase. Great customer service. I would definitely recommend!
Cameron Tendler
Jan 6, 2019
THIS WAS THE BEST, MOST PROFESSIONAL CAR BUYING EXPERIENCE I'VE EVER HAD. SPECIAL KUDOS GO OUT TO SALES CONSULTANT, JEANETTE PELL & USED CAR MANAGER, BOB MISPAGEL AND TO THE ENTIRE AUTO NATION TEAM. THANKS FOR A JOB WELL DONE AND KEEP UP THE GOOD WORK!
LAYTON BENSON
Jan 2, 2019
Purchased a used Camry from Alhondra. Never been to Nevada in my life so I wasn't sure how this was going to work out. The car is nicer riding than almost every car I've had before! And she was SUPER easy and accommodating....she had me in and out testing cars straight thru to purchase in 24 hours. Answered every single question. I would not use any other salesperson or dealership as long as I'm in Las Vegas!!!
KaraMarie
Dec 31, 2018
This place is one of the nicest dealerships I have ever seen. I wanted to pay for my car in cash because I'm new to Las Vegas. My salesperson Alhondra was perfection- we handled everything super fast. She was available for every tiny question I had. I would call and ask for her because I dealt with several other people in Las Vegas and no person compared
Kara Kinnevy
Dec 31, 2018
Luvette was very friendly and professional during the whole process.
Stephanie Edwards
Dec 16, 2018
Everyone was very pleasant. No pressure from the staff. We went in for a quote for them to purchase our vehicle and look for another larger car. Jeanette Pell was very knowledgeable and helpful.
Kathy Helm
Dec 14, 2018
The service advisor Andrew was amazing. He was very kind informative and attentive. I felt completely comfortable with the service process. I use to take my vehicle Findley Dodge but now I will be going to Autonation USA.
Emily Sutton
Nov 13, 2018
Great friendly service with a smile by Shaylea! She shared great services you offer for the needs of my car! I'll be back and be sure to spread the word!!!
Ken Rickett
Nov 12, 2018
Surprisingly great used car buying experience. No B. S. Car just as described. Flew in and they picked us up at the airport. Josh Tapia, our sales person, was about as honest and personable as could be. Thanks AutoNation USA Henderson. You get our recommendation!
Steve in SLC
Oct 30, 2018
Autonation Buick and GMC in Henderson didn't have the courtesy to call or email me that they wouldn't be servicing my vehicle. So I want to thank AutoNation USA for being kind enough to make sure my service was amazing. Shaylea Rickett was the first person to come to my aid and assist my needs. Another salesmen walked over to me at the table I was waiting at to make sure that I was being helped. Overall, really amazing staff.
Jasmine Gilbert
Oct 5, 2018
Quick and Easy for their part, extremely accommodating, Delivered My Car!! Thank you for all your help Colton Hargis and Lynn West, we will definitely recommend! Have to give them 5 Stars...yep!
Bonnie Tajc
Aug 20, 2018
Great experience, it did take a little long but other than that it was a good experience all the way around. Will definitely go back. Thanks to Colton and Co for all their help.
Claudine Merino
Aug 17, 2018
Loved the service they provide great attention to those shopping for a car@very nice fast responce ability to work with me just wish the car i liked didnt sell so quick but since it did very sad i couldnt work with them more.
Angela Michelle Cingel
Aug 4, 2018
Best car buying experience. Thanks to Josh Tapia. We had alot of fun. Got the car we wanted. Josh is professional with a great sense of humor. Also thank you to Diane. She made the paperwork part easy. Thank you.
Laurie Wagner Hess
Jun 9, 2018
This was the best car buying experience I've ever had. Thanks again to my salesperson Lynn West for taking the time to find me the perfect truck
Michelle Rafter
May 13, 2018
More
Show next 5 Reviews
Our Commitment To You
1. Quality Used Cars at Guaranteed Prices - The price you see is the guaranteed price you get-online or in person. No haggling. This takes the pressure off you and lets our associates focus on your needs.
2. AutoNation USA Worry-Free Pledge - Each pre-owned vehicle comes with a quality inspection process and a Money-Back Guarantee*.
3. A Happy Sales Force -
 Remember how we told you our no-haggle, guaranteed prices take the pressure off you--and our sales associates? This frees up our sales force to focus on other things--like answering all your questions and providing you with all available resources needed to ensure your next pre-owned vehicle purchase is your best one yet.
4. Know Before You Go 
- We've made it easy for you to do all your research online first with our extensive pre-owned car inventory. Search by year, make, model, body style, price, and compare multiple vehicles at once.
5. Turn Your Car Into Cash - 
Get an offer on your current car in as quick as 30 minutes and take up to seven days to decide if you want to sell it, with no obligation. Our offer is good at any AutoNation store.